How to Design a Contemporary Kitchen in Your New Home
Posted by Danny Margagliano on Friday, June 19, 2020 at 1:15 PM
By Danny Margagliano / June 19, 2020
Comment
Learn how to get a stylish kitchen for your new home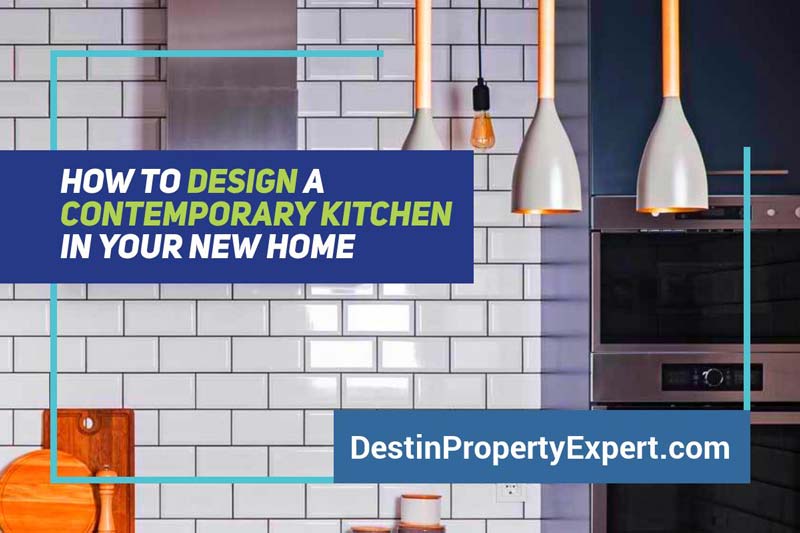 There are not a lot of things in this world that can feel as amazing as moving into a new home does, especially if you've managed to buy that home with your hard-earned money. There are several options when it comes to buying a new home. You can either go for a completely empty space, semi-furnished, or entirely furnished. Chances are that you'll want to give the space your own, personal touch.
If you opt for a home that's completely empty of any furniture, it will allow you to truly see the space you get to work with. This will make choosing the best design for a given area much easier. The kitchen is usually the first room that acts as a starting point when it comes to designing your new home and for a good reason. The kitchen is considered to be the heart of any home. It's also the place where you'll prepare all the delicious meals and treats for you and your family. So, it's only natural that you want to make it as beautiful and as functional as possible.
However, moving to a new home can be a bit overwhelming. You might find yourself puzzled with all the choices and options. Which may leave you feeling stuck all of a sudden. That's why we've prepared a small list of all the necessities you should consider implementing in your new kitchen. Check it out.
Start with the basics
Instead of thinking about all the new cutlery you wish to buy, at this point, you should be thinking about your kitchen basics instead. First, assess the amount of light you have in your kitchen. If you have only a single lighting source, know that it simply won't be enough. Kitchens should always be very well illuminated because that way, all the meal prep efforts will be much easier and not to mention safer. So, if you feel like your kitchen could use additional light sources, take care of that first and layer thin lighting like a pro.
Next, consider the color of the walls. Colors like red, orange and yellow promote the appetite which makes them a good choice for this room but makes sure you go with a muted hue to avoid making the space too loud. Alternatively, if this colorful vibe is not something that appeals to your aesthetics, you can go with more toned-down looks, such as the monochromatic design.
Finally, once you determine the main color scheme for your kitchen, move onto the next step which is the layout. The layout of your kitchen should be functional above all else, so determine the best location for all the furniture pieces individually. If you're having difficulties orienting yourself properly, you can get a piece of chalk and map out every piece of kitchen furniture on the floor. This will allow you to assess early on if there's enough room in your kitchen for everything you wish to implement, which will make shopping for kitchen furniture and appliances much easier later on.
Go shopping
Now that the base for your future kitchen is set, it's time to go shopping! Since you probably already know how much space you're working with, choosing the right appliances and furniture should not be too difficult. Since this year, functionality is put front and center, you should check out various multipurpose furniture options. Instead of chairs, consider placing two benches in your kitchen that has a hidden storage space under the seating part.
Next, get a separate built-in oven and burners. They will allow you to save up much more space than a full range would. Additionally, consider other multipurpose appliances as well, such as the combined refrigerator. Realistically you don't really need two separate units. Of course, always go for the most eco-friendly and energy-efficient options to make sure you're not wasting energy and, well, money. An additional tip is to think about purchasing a comprehensive home warranty to protect these new appliances.
Finally, install one of those practical under sink water filters to ensure that you and your family always have access to fresh (and safe) drinking water. These filters have practically become a must-have in every household. Not only do they remove toxic chemical particles (if there are any) from the tap water, but they are also very durable and easy to install and maintain.
Accessorize
Now that all the necessities are in place, it is time to grace your kitchen with a personal touch. First and foremost, find interesting cabinet hardware that will match the aesthetics of your custom kitchen cabinets. These are super cheap and usually really easy to install but they make a huge difference style-wise. If you're looking for functionality, install larger custom kitchen cabinets to store large goods such as vacuum cleaners and cookware. Why not have some door-less cupboards that can be used as extra storage for books? Paying extra attention to these details will keep potential buyers happy.
Next, decide on the color and material for your backsplash. In a monochromatic kitchen, you can even choose to go for a backsplash made of stainless steel, but if your kitchen is more colorful you can choose to make a mosaic using kitchen tiles or opt for any other look that fits your aesthetics.
Finally, use kitchen utensils and small kitchen appliances for an additional pop of color. Also, decide on the lighting fixtures and wall art, because these small details also have a crucial role in the overall kitchen décor. For example, go for Edison light bulbs if you want to make your kitchen a bit more eclectic or choose one elaborate chandelier as the statement piece if you're going for a more elegant vibe. Either way, make sure that the bulbs you choose are energy efficient to once again minimize your electricity waste.
In Summary
And there you have it. These tips will help you out immensely if you found yourself spoiled for choice when the kitchen design is concerned. As we mentioned earlier, it is very easy to become overwhelmed when faced with such a task, so having a little useful guide to keep you on the right track will prove to be very practical. Remember, your new kitchen should cater to all of your needs – functionality, practicality, and design-wise. So make sure that you use your new kitchen as a blank canvas and create an environment that will work with and for you. Enjoy your new kitchen!
Other notable real estate articles
Don't lower property value with these ugly home improvements – by Bill Gasset
First-time house flipper mistakes – by Jamohl DeWald
Home staging for a quick sale – by Joe Boylan