How to Know If Your Property is Priced Too High
Posted by Danny Margagliano on Thursday, June 18, 2020 at 9:41 AM
By Danny Margagliano / June 18, 2020
Comment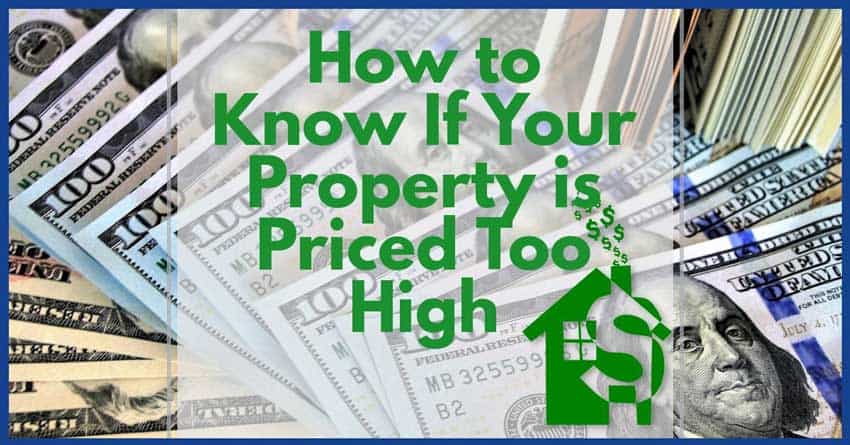 Pricing your property right is a crucial element to listing and selling any property.
When you price a property right, you gain the interest of savvy buyers who know the market and increase the likelihood of finding a buyer. On the other hand, pricing the property too high can be a deal killer and can be the difference in selling your property quickly, having it sit on the market, or not selling at all.
Many sellers often make the mistake of overpricing their property without being aware that they are doing so. To avoid running into this scenario, research your market thoroughly beforehand and make sure and find info on recent sales in your market. Having an experienced Realtor working with you will increase the odds of pricing your home correctly. This article will cover some red flags to avoid and provide you with the insight needed to know when your property is priced too high.
Low Number Of Online Inquiries
Since the advent of the internet, a lot of buyers start online when searching for properties that meet their buying criteria. To filter through the bulk of listing results and narrow down the results, buyers will often use a selected price range that meets their buying criteria. If your property is priced too high outside of market prices in the area you may not even show up in a prospective buyer's search results. Even though your property may belong there.
If you have received little or zero online inquiries, there may be issues with your property listing, and the price is the first item to examine. Most of the time, properties priced too high are a significant deterrent for buyers. That's why the price is crucial when it comes to selling your land or home. Pricing your property right can help attract your target buyers. You will want to price your home higher than your target selling price but there is a fine line to be priced well and be overpriced.
You can ask your real estate or listing agent about the internet statistics and online inquiries concerning your property listing.
Too Few Showings
The number of showings can be a helpful sign to figure out whether your property is overpriced or not. There must be something wrong if there are only a few buyers wanting to see it. If your property is in good condition and the home is in a good neighborhood, the problem must be with the pricing.
In this case, you need to adjust the price of the property to attract more potential buyers, especially if you've listed it several weeks or months ago and have had a low amount of showings and no offers.
No Offers
A real estate property that has competitive pricing can get buyers on their feet to buy it. Typically, just within a few weeks since the listing, a seller will receive an offer from an interested buyer for correctly priced homes or land.
If you're selling a property in a seller's market, with low comparable inventory, you should be receiving inquiries and even offers within the first week or so. Aside from a competitive price, other factors, such as the condition of the property and property location, contribute to a successful sale.
Your Price Is Much Higher Than Similar Properties in the Area
Typically, property values will be relatively consistent in most neighborhoods. Thus, you should check similar properties that are up for sale in the area and compare it with your pricing. Your Realtor should be doing a CMA (Comparative Market Analyst) for you prior to making the listing "live" to make sure that you don't overprice your property. One sign that your property is overpriced if it's listed more than 10%-12% higher than other similar properties.
Other Properties in the Area Sold Much Faster Than Yours
Another sign that your home may be overpriced is when neighboring properties are selling much faster than yours. You'll surely notice it if your property sits on the market for a long time, and still, no buyer is game.
The thing is that most buyers will look for a home that has a competitive price. If they are finding a property in your neighborhood that is much more affordable than yours, they will surely buy the affordable one.
The price you offer for your home for sale can make or break your chances of getting a successful sale. If you start with the right price, buyers will most likely buy it within a reasonable timeframe. If it's priced too high, they will likely look at other properties they believe are priced correctly. You should check out the signs mentioned above to determine if the property you're selling is overpriced.
Additional Real Estate Resources
Everyone that sells their home attempts to price it right the first time but many do not succeed. Eileen Anderson discusses many different mistakes their sleep
Is overpricing your home really a big deal? Sharon Paxton tells us the incidents about pricing a home correctly and what could happen if you praise it too high.
Find out what is true and what is false when it comes to pricing a home for sale. Michelle Gibson goes over real estate pricing – myths verse reality.