How to Save Money On a Long-Distance Move to the Emerald Coast of FL
Posted by Danny Margagliano on Friday, April 21, 2023 at 4:49:07 PM
By Danny Margagliano / April 21, 2023
Comment
Moving to a new home can be an exciting adventure but also a stressful and expensive experience, and when it comes to long-distance moves, the costs can add up quickly. Between hiring a moving company, transportation expenses, and unexpected costs, it's no wonder that people often feel overwhelmed and financially burdened.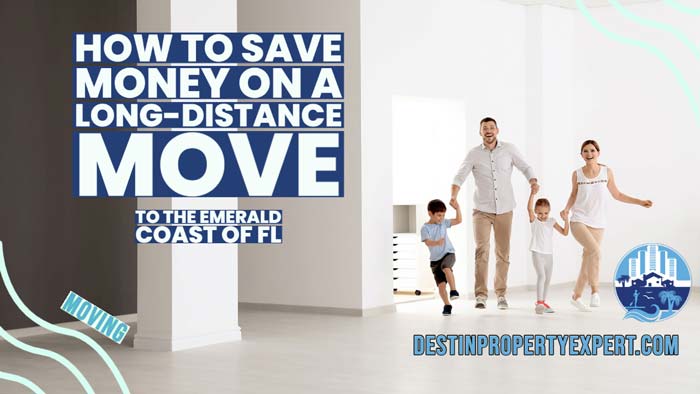 However, you can save money on long-distance moving in several ways and still have a smooth and successful relocation. From downsizing your belongings to finding affordable packing materials and negotiating with moving companies, here are some tips to help you save money and avoid unnecessary expenses when moving long-distance.


Choose the Right Time to Move
Moving during peak season can be more expensive, so planning and trying to move during the off-season is important. Generally, mid-winter (January through March) and late summer (September through October) are considered the best times of year to save money on a long-distance move.
You can save money by avoiding major holidays like Memorial Day, July 4th, and Thanksgiving. Moving companies tend to be busiest during these times of the year, which may result in higher prices or unavailable services. If you need to move during peak season, aim to book at least eight weeks in advance. This will give you ample time to compare multiple moving companies and get the best deal. The earlier you book, the better your chance of getting a discounted rate.
Declutter and Downsize
The more stuff you move, the more money it will cost. Before you start packing for your long-distance move, take some time to review your belongings and decide what to keep and get rid of. This will help you eliminate unnecessary items from your move, saving you time and money.
You can donate unwanted items to charity or have a garage sale to make some extra cash. Not only will this help you save money on your move, but it can also be a great way to de-stress and prepare for the transition. Most moving companies charge by the weight and volume of your belongings, so the less you need to move, the cheaper it will be. If you have large furniture or appliances you don't want to transport, consider donating or selling them.
Get Help From Friends and Family
Some moving companies charge extra for services you can easily do yourself, like packing and unpacking. If you have any friends or family members who can lend a hand during your move, it's worth asking for their help. This will save you money and make the move much smoother and less stressful.
Knowing what they can handle and what you would rather leave to the professionals is key. Depending on your situation, friends, and family can help you with various tasks, such as packing boxes, carrying bulky furniture downstairs, or loading items into the moving truck. Supervision is also very important when it comes to long-distance moves. Someone should always be present to ensure the belongings are properly loaded and unloaded from the truck.
Invest in Affordable Packing Materials
Packing boxes and other supplies can be expensive, but there are several ways to save money on packing materials. You can ask your friends and family if they have any boxes or packing materials they need to be using. You can also purchase used boxes from retail stores like Walmart or Home Depot. These often come at a discounted price and are just as sturdy as new boxes. Additionally, you may find free boxes at liquor stores, bookstores, and even online.
However, you should always invest in high-quality packing materials, such as bubble wrap and packing peanuts, to protect your belongings from damage during the move. If you plan on working with a moving service, check out their packing options to see if they offer discounts or specials. Some may provide packing materials as part of the package, so be sure to ask.
Look for Discounts and Deals
Interstate moves can be complicated to handle, so you must work with a long-distance moving service. Shop around and compare quotes from different relocation services to find the one that best fits your needs and budget. The moving company you choose should have a good track record and plenty of experience in making long-distance moves.
Hiring a mover is also worth looking for special deals and discounts. Some companies may offer percentage discounts or other deals if you book beforehand. Many services also waive certain fees, such as fuel charges during peak seasons, so ask about any promotions or discounts they may have. The number of services you book can also affect your total cost. Try to bundle as many services together (packing, loading, transportation, unloading) as it will usually be more affordable than booking them separately.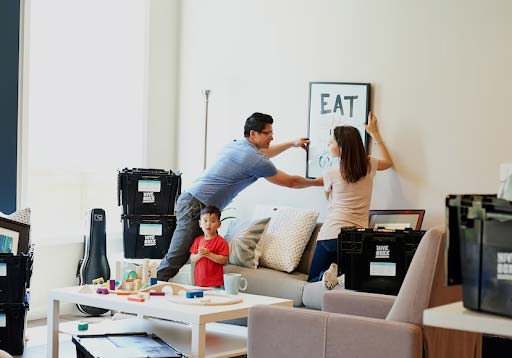 Make an Early Start
Moving can still be stressful no matter how much you plan ahead and save money. So it's important to give yourself plenty of time and start early to ensure a smooth transition. Start by making a detailed list of all the tasks that need to be done and create a timeline for each one. This will help you track your progress and ensure everything is done before the move.
Be sure to plan enough time for packing and organizing, as this process can often take longer than expected. Additionally, consider booking your mover a few weeks ahead, as they tend to be booked quickly during peak moving seasons. Remember to give yourself enough time to clean and make necessary repairs before you move out.
Consolidate Shipments
Hiring a moving company to help you move a few boxes does not make sense. But if you have many items that need to be moved across the state, it may be worth consolidating those shipments into one big move. This could be more cost-effective than having multiple small moves and will make your life easier as you won't have to coordinate multiple trips or packing sessions.
Another option is to rent a moving container and deliver it to your home. You can then pack the container yourself or hire professional help if needed. The company will pick up the container and deliver it to your new destination. However, be sure to talk to the moving company before making sure that this option is the best choice for your particular situation.
Prepare for Emergencies
No matter how much you plan and prepare, something may go differently than expected during the move. It's always wise to anticipate any potential issues beforehand and be prepared for them. Have an emergency kit with essential items such as a first aid kit, flashlights, and batteries. This can be helpful if you experience any delays or other unexpected occurrences.
Having extra cash on hand in an emergency is also a good idea. You may need to purchase extra supplies or pay for services not part of your moving contract.
Movers' insurance is also essential when it comes to interstate moves. This type of coverage will help protect your belongings in case they are damaged or lost during the move. Be sure to ask the moving company about what type of insurance they offer and what it covers.
Setup Your New Home Immediately
Once you arrive at your new destination, setting up your home as soon as possible is important. Unpacking and settling in will help make the transition smoother and reduce stress. You don't have to worry about finding storage space as you'll already have a place to keep your items. Ensure that all the necessary utilities and services are connected so that your home will be comfortable and functional immediately. Additionally, set up some basic furniture, such as bed frames and couches, so you can get a good night's sleep and enjoy your new space without delay.
Pack With Care
Be sure to pack your items with care. Label all boxes clearly to quickly identify what's inside and where it goes in your new home. It's also a good idea to use packing materials such as bubble wrap or foam sheets to protect fragile items during the move. Delicate items such as china and glassware should be packed separately with plenty of cushioning material.
Ensure appliances are disconnected properly before packing them and that any liquids or hazardous materials are securely sealed to avoid any messes during the move. For items that you won't need right away, consider renting a storage unit for the short term. This will help free up space in your home and keep your belongings safe until you're ready to unpack them. Your moving company may even offer storage services to make things easier.
For a stress-free move, it's essential to plan and get organized. Researching and comparing moving companies, making an early start, consolidating shipments, preparing for emergencies, and setting up your new home are all great ways to ensure an easy transition. With these tips in mind, you'll be ready for whatever comes your way on a moving day.