Clever Ways to Instantly Add Value to Your Home
Posted by Danny Margagliano on Thursday, June 18, 2020 at 11:31 AM
By Danny Margagliano / June 18, 2020
Comment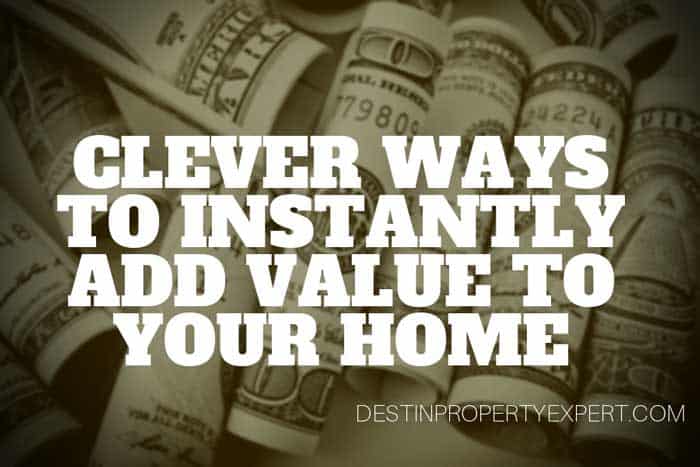 If you're a homeowner, chances are there will come a time when you need to leave your home behind in favor of a bigger one in order to accommodate your expanding family or, in some cases, even downsize to something snugger and invest the money surplus in a different aspect of your life. Regardless of the reasons why you're putting your house on the market, it's important to do your best and boost its final selling price. Let's look at some adjustments and investments you can make to instantly add value to your property.
1. Invest in Smart Home Technology
In this day and time, anyone looking to buy property will definitely swoon over a home that's already equipped with smart and useful pieces of technology. These additions can be either fixed or portable, for the owner to take away with them. We're talking climate controls with smart thermometers that can be programmed to heat the place up while you're away on a ski vacation or cool it down just in time for your return from a torrid commute through the city. Other useful smart home upgrades can be automated blinds and smart lighting, a smart home security system or smart locks.
2. Consider Glass Replacement
It can come as a surprise how something apparently so insignificant as scratched windows or glass walls in a home can put off a potential buyer. Make sure and check these don't look used, beaten down or cheap. If you see noticeable signs of wear and tear or simply want to change the glass style throughout your home, consider calling professionals and replacing everything before you sell your home. This way you get an extra chance at making your property look more desirable to prospective owners and with it you increase the opportunity to sell it at a better price.
3. Revive Your Home with a Fresh Coat of Paint
This is something any homeowner should do before putting their home on the market for sale and for good reason too. A freshly painted house will instantly feel brighter, cleaner and more attractive to a potential buyer. If you've done the walls, don't think you can put your painting days behind you just yet. Look around and assess what else can use a color upgrade. For example, a few other areas of the home can be painted are the cabinets, the window sills, shutters, and the doors. Let your creativity shine and try to put yourself into the shoes of an interested buyer – solutions will come right away.
4. Don't Turn a Blind Eye to Your Outdated Kitchen or Bathroom
Upgrading your kitchen and bathroom may feel overwhelming at first, but you don't necessarily need a full revamp in order to boost your home's value on the market. It's all about those adjustments that are easily seen by a potential buyer walking into your home for the first time. Replace any appliance that is outdated and replaces shabby-looking cabinets. One of the least expensive and easy changes that make a big difference to a kitchen or bathroom are changing outdated handles and knobs to something more modern. If you are very handy you may be able to repaint the cabinets. Otherwise, there should be local companies that can do a professional refinish to the cabinets and drawers. Apply the same principles to your bathroom and you'll definitely get a return on investment that you'll thank yourself for later on.
5. Focus On Landscaping
If you're selling a house and not an apartment or condo, you need to focus on the outside of your home as much as you do on its interior. Your main focus should be landscapin. Everything from well-trimmed trees and well cared-for flowers to a nicely manicured lawn. This is the very first impression a buyer will get on your home and you'd better make sure it's a positive one from the first minutes of interaction. Apart from an important aesthetic role, certain trees and flowers are also pretty useful in reducing noise and pollution. If you have landscaping like previously mentioned you will certainly impress homebuyers from the moment they get to your house.
6. Summing It Up
Having said all this, if you go through the list of home improvement above you'll definitely notice your home looking fresher and more modern than it ever did. These investments do require you to put aside some extra cash, but you can be confident they'll also bring a quicker sale, higher sale price, or both. All you need to do is to take an objective look around your home and think like someone who would be interested in buying it. You'll immediately take notice of what needs sprucing up or replacing, giving you the opportunity to act on it proactively.
Additional Real Estate Resources
Find out what the worst and best bathroom remodeling projects to do in your home in John Cunningham's short but informative article.
When it comes to home staging rarely do people think of their bathrooms. But are they missing a valuable portion of the home to highlight? The answer is yes. Find the best bathroom staging tips and Kevin Vitali's article.
If you have a tired bathroom and you will love Karen Highland'sarticle. She lists some excellent ideas and trends to give any bathroom and an easy facelift for function and value.
Kitchen s and bathrooms are undoubtedly areas of a home that can increase its value and help it sell easier. Brian Davisshows his readers how to cheaply transform your properties kitchen and bathroom and to do it the easiest way possible.