Investing Retractable Awnings Adds Value Property
Posted by Danny Margagliano on Wednesday, June 17, 2020 at 10:19 PM
By Danny Margagliano / June 17, 2020
1 Comment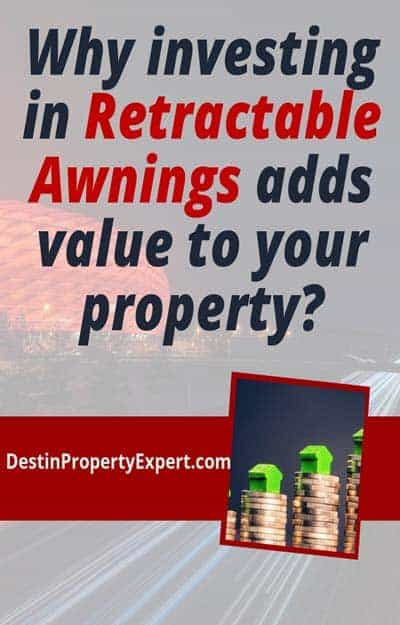 Nowadays, there are numerous home improvements you can invest in, especially high-tech ones. A plasma TV, a security camera, or an intercom system all seem like sound investments that promise to increase the value of your property. However, buyers are interested in old-school home improvements that are still quite functional, like windows awnings. They come with multiple benefits that prospective buyers know to appreciate so you can freely raise the asking value of your home if you have retractable awnings installed on it.
Saving energy in summer
One of the most significant upsides of window awnings is the fact that they are energy-efficient. During the hot summer months, awnings can be extended to prevent sunlight from directly hitting the window panes, thus preventing the glass from turning red hot. As a result, sunlight cannot heat the air inside the house as it would without window awnings.
This means that air-conditioning doesn't have to use extra power to cool down your home, resulting in lower utility bills. Don't think that people interested in your house don't know about this benefit of awnings. If nothing else, the realtor will have an excellent talking point on how awnings help preserve energy.
A stylish exterior
Even if you didn't know anything about awnings, you could still say they look nice, right? Well, there is more to their looks as they have the power to transform the exterior of your house. They come in different styles, patterns, and colors, which will give you plenty of experimentation options.
If you wish to fit them into the existing décor of the façade, then go for awnings in the color of the facade. This will make them blend into the existing hue. The most commonly used neutral colors for awnings are grey and white. On the other hand, if you are aiming for a bold look, then use contrasting colors to bring the awnings into the foreground. Brighter colors like light green, yellow, and even orange will serve this purpose ideally.
The durability of the material awnings are made from
Having mentioned the shape, size, and the various color patterns of retractable awnings, we must point out the durability of the material. The canvas used for making retractable window awnings is no ordinary piece of textile. Its fibers are extra strong, and they are waterproof, which means that rainwater will roll off them. Furthermore, this means that retractable canvases can withstand not only direct exposure to punishing sun rays and even a hailstorm. Unless torn, due to a mechanical force, the canvas should be able to last decades without the need to be replaced.
Weatherproof retractable awnings
Rainfall is one thing though they can withstand strong winds, typical to many parts of the world? The question is a valid one when we take into account that awnings protrude from the façade of the house, making them vulnerable to strong wind gushes. Although non-retractable awnings are quite susceptible to damage caused by strong winds, retractable awnings are structurally stronger.
Retractable folding arm awnings made from durable metal parts won't budge even during a gale storm. The spring-loaded mechanism is built to last.
Finally, a window awning will divert rain and snow far away from the window. This might seem trivial at first, but wait for rainwater to damage your sofa and other wooden furniture before you become thankful you installed awnings, and this is something prospective buyers know as well.
A functional patio
Are you one of the thousands of house owners who have a backyard complete with a patio but never seem to use this outdoor space? If you are, then all the extra room you have outside is going to waste every with every passing summer you could have thrown a barbecue party. You can start using the patio to its full extent after it gets covered. In this sense, large awnings protect more the window directly underneath them, as they can act as a canopy of sorts.
Retractable awnings for more natural light
The biggest drawback of a permanent awning is the fact it is slanted continuously in from of your windows blocking sunlight. As a result, your home receives less natural light. So you have to turn on artificial lighting earlier in the evening. Not only will this result in a slight increase in the electricity bill you'll be exposed to Led lighting than can be harmful at times. Namely, if the LED lights in your home are significantly below or above the 3000K mark, then you risk harming your eyesight.
Also, your realtor will advise you to stage your home at midday when the natural light is the strongest, but a non-retractable pergola will display in your residence even in a bad light. Furthermore, a retractable pergola can be folded in to let a flood of natural light inside.
Little to no maintenance
A home that exerts minimal maintenance, and that is sustainable is always going to draw the attention of potential buyers. Such houses don't necessarily have to be energy-efficient but merely have fixtures and improvements that require little to no maintenance. A retractable awning fits the bill perfects because of its simple, yet efficient design. The materials awnings are made from include vinyl and glass which require virtually no maintenance. This means that there are no costs of repairs and material replacement. Which is precisely what real estate buyers prefer. An occasional wipe of wet cloth is all the maintenance window awnings need.
Revamping an old property
Finally, windows awnings can be real estate agents' secret weapon. Namely, when faced with a daunting challenge to sell an old house. They come up with a fresh and bold canvas design and install retractable window awnings. Installing retractable awnings on an older property will give a signal that the property has been recently updated.
Final thoughts
All of the 8 reasons listed above clearly demonstrate that installing retractable window awnings is an excellent investment in terms of increasing your property's market value. They are durable, help protect the inside of the house against the elements, and they look stylish. What more could both the seller and the buyer ask from an affordable home improvement!
Additional real estate resources
It does not have to be an interior home-improvement to increase the value of your home. In Lynn Pineda's post she discusses ways to increase the value of your home with landscaping.
Lighting is used on the interior and exterior of one home. For those who know how to use their homes lighting to their advantage, they can increase the value of their home. In Eric Jeanette's article, he discusses some great ideas exactly how to increase the value of your home with lighting.
There is a wealth of knowledge about how to increase the value of your home by making your backyard a better space. Anita Clark give some solid tips on what to do and what not to do when it comes to your backyard.
Have you ever wanted to have the ultimate outdoor space? More specifically building a backyard deck to add value to your home. This is what Karen Highland discusses in her article about outdoor rooms and spaces.
Bio: Patrick Adams is a freelance writer and rock-blues fan. When he is not writing about home improvement, he loves to play chess, watch basketball, and play his guitar. More than anything, he loves to spend his time in his garage, repairing appliances and creating stuff from wood.