Why Investors Love Florida Panhandle's Real Estate Market for 2023
Posted by Danny Margagliano on Friday, November 17, 2023 at 1:08 PM
By Danny Margagliano / November 17, 2023
Comment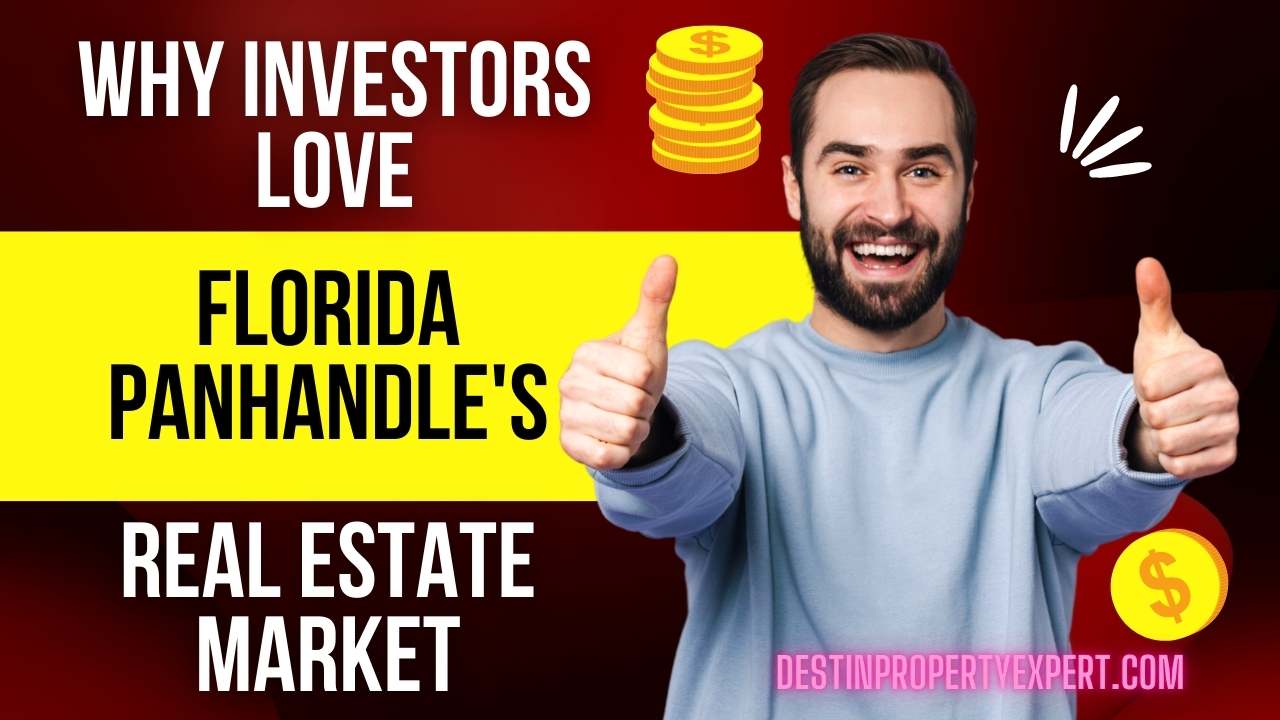 Coined the 'Sunshine State,' Florida enjoys year-round sunshine and is a well-known global tourist destination boasting world-class theme parks and more. Florida's economy is diverse and robust, with a government that backs business and development and many international business headquarters based in the state.
It's no wonder that real estate investors have long favored Florida, and they continue to do so in 2023. Here's why.
Increasing population
The population of Florida was 20,899,527, having grown by almost 15% in ten years. It is currently the third-largest state in the US, and according to US News & World Report, every one of the top ten fastest-growing areas in America in 2021 was in Florida.
Population growth is a crucial factor in determining a sound investment location. The more people need homes, the greater the demand for new properties and rentals. From this perspective as well as many others, Florida's property market is a clear investment hotspot.
Strong economic growth
Despite its solid reputation for leisure and holidays, one of the primary reasons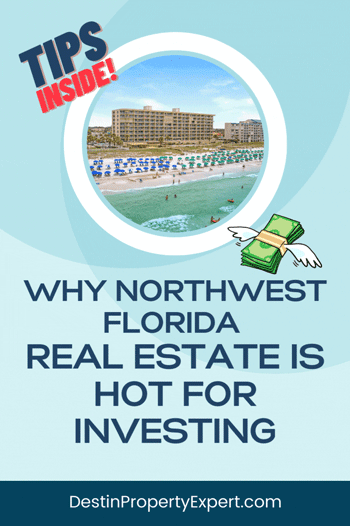 for Florida's growth is that it has been marketed as an ideal location for business enterprises. Thanks to the state's proactive government, job growth increased by 5.4% in Florida between January and September of 2021, and the state's unemployment rate is just 4.6%, with professional, information, and business service sectors experiencing the fast growth alongside the Florida staples of the leisure and hospitality industries.
Employment growth is an essential component in fostering a favorable property investment climate. Residents with consistent, well-paid jobs have greater buying power. Florida's job growth is currently outpacing the national economy, and its unemployment is set to further decline through 2022. Increasing job opportunities with new and relocating businesses inevitably results in heightened demand for homeownership and tenancies.
Airports of Northwest Florida
Whether you're going to Mexico Beach, Panama City Beach, Destin, or Pensacola Beach, you will find that they are easy destinations to get to. Although most of the people who vacation in these areas of Florida drive here, there are also numerous airports to choose from.
In Panama City Beach, you will find Delta, Southwest, and United Airlines flying in and out of Florida Beaches International Airport (ECP). For areas like Fort Walton Beach and Destin, the nearby Fort Walton Beach Airport (VPS) is the obvious choice. For those vacationing further west, you will find the Pensacola International Airport (PNS) extremely convenient. With all of these options, it is no wonder why so many tourists and investors are flocking to Northwest Florida.
Thriving tourist market
Investing in a property market that is in the relative vicinity of a thriving tourist market can result in an increased return on investment (ROI). This is because vibrant tourist destinations benefit from continued growth and development, including infrastructure, amenities, and transportation improvements.
Florida has long been favored as an investment hotspot due to the magnitude of its tourism industry pull. The state is jam-packed with pristine beaches, theme parks, and other significant attractions. After such a tough time navigating the conditions of the pandemic, many domestic and international travelers have their sights firmly set on holidaying as restrictions ease. This combination of factors is expected to create record highs in vacation rental demands for the state in the coming months.
Booming real estate industry
Despite many metropolitan areas continuing to suffer downturns since the pandemic, the real estate market in Florida is flourishing. The latest figures from Zillow show that the average cost of a house in Florida is currently $348,732 - representing a 28% increase year-on-year.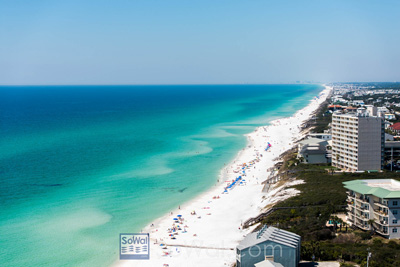 According to a report published by WFLA in November 2021, the number of cash buyers for single-family homes in Florida increased by almost half in the third quarter. This trend demonstrates continued desirability in the state from wealthy investors. Given that Florida is not only a world-class holiday destination but also a progressive business-friendly location, Florida property prices will inevitably continue to rise despite interest rate increases. The state's popularity is also further bolstered by its zero-income tax policy, making it even more attractive to investors.
Interest rates to remain low
Interest rates are expected to remain low for the foreseeable future and certainly through 2022. While some rate hikes are necessary to assist the US economy in its pandemic recovery, they are likely to be minimal to continue to support active growth markets.
Real estate markets have been booming throughout the US in recent months, and while some may cool off as new constructions increase and rates climb, Florida will weather these changes far more resiliently. Due to its lifestyle and tourism appeal, coupled with its pro-business government strategies, the Sunshine State will continue to attract investors and experience growth regardless of any rate rises.
Tampa, Kissimmee, Jacksonville, Daytona Beach, Ft. Lauderdale, Cape Canaveral, and a smattering of other long-term market leaders continue to be popular destinations for investors. However, many more are now thinking outside the box and considering what some of the previously lesser-considered areas have to offer - and the answer is: A lot.
Can your property pay for itself?
The most common types of real estate investors in the Florida Panhandle are those who own short-term vacation rental properties. We already know that the majority of people come here to visit the gorgeous beaches. So it makes sense that they want to stay in homes and condos on or within walking distance to the Gulf of Mexico.
The goal of most real estate investors along the Emerald Coast is to purchase a home or condo near the beach that they can use with their families and rent out the rest of the time. The best news of all is that you can typically put 20% to 30% down, use the property a few times a year, and rent it the remainder of the time. When doing this, you should be able to pay your mortgage, taxes, insurance, and other costs of owning the property. In some circumstances, you can use your property multiple times a year, pay off your mortgage and other bills, and even still turn a profit!
Florida Panhandle represents excellent investment opportunities
Florida's Forgotten Coast & Emerald Coast - the 'Panhandle' - is becoming increasingly popular among investors. Between the stunning white-sand beaches and clear emerald Gulf waters, Florida's Panhandle offers up a rich variety of activities for the sun, beach, fishing, boating lovers, and more. When you consider that some of the more long-standing Florida hotspots, such as Palm Beach, realize upwards of $850,000 in average sale prices, there is plenty of room for appreciation further north.
These appreciations are already charting their course, but there is still room for significant wins by investing in the Northwest of Florida.
Panama City Beach home values have soared upwards by 29.4% year-on-year, now going for an average price of $435,844. Fort Walton Beach has seen recent revitalizations to its historic downtown, with condominium developments along the intercoastal waterway adding to the area's investment opportunities - homes in Ft. Walton Beach were also up by a similar 27.7% year-on-year, achieving average sale values of $320,000.
As of January 2022, home prices in Santa Rosa County were up 27.5% year-on-year, achieving a median price of $340,000. Meanwhile, homes in the world-class fishing destination of Destin have also increased by 15.2% since last year, selling for a median price of $550,000.
Final thoughts
Florida continues to be a popular state for all investor demographics, attracting professionals, families, entrepreneurs, and holiday-makers alike.
The weather is borderline perfect, the attractions are abundant, the outdoor living is rich and varied, and the economy is booming under a progressive business-minded government. Throw in the zero-income tax cherry-topper and a post-pandemic trend towards seeking new and improved living and vacationing, and you've got the perfect ingredients for an investment super-hotspot.