Is Now a Good Time for Second Steppers and Upsizers to Buy?
Posted by Danny Margagliano on Sunday, September 27, 2020 at 3:35 PM
By Danny Margagliano / September 27, 2020
Comment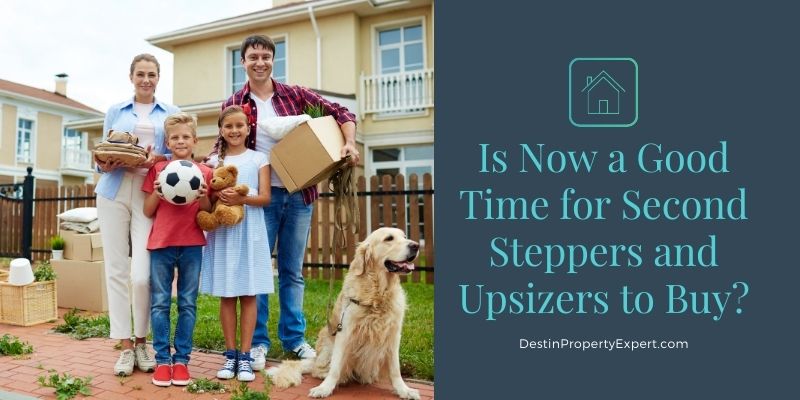 When people buy their first home, they are not always planning on staying in that property for the rest of their lives. In many cases, people specifically buy a smaller, more affordable home with the intention of moving into a larger property later. These people are usually referred to as second steppers or upsizers.
If you fall into one of these categories, you may be wondering whether now a good time for you is to buy. These are a few things you should consider if you are thinking about buying a larger home.
The Housing Market Varies Based on Location
While the housing market has generally been stable, this is not the same in all areas. Some parts of the country have seen a significant increase in home prices, and in other areas, prices have dropped. If you have a clearer picture of your local real estate market, it will be easier for you to determine what your next step should be.
Learn more about the market in the area you live in. Look at properties that are like yours and find out what these homes have sold for. Check to see how long properties are staying on the market. Find out whether you'll be able to afford the kind of home that you want to buy.
In some locations you may have a difficult time finding a home that checks off all the boxes that you're looking for. If the real estate market in your area has a low inventory of homes for sale you may want to think about purchasing a new construction home. When building your own home you will have to wait somewhere between 9 and 14 months on average but you can pick and choose all the options that you desire.
Assess Your Current Home
Before you can buy a new property, you will need to sell the home that you are living in now. You should evaluate the property you are currently in and determine whether it is ready to sell. If your home needs some upgrades, or if it needs repairs, you may want to address these things before you put your property on the market.
If your home has recent updates and is in excellent condition, you will have an easier time finding a buyer. In fact, because renovation work is usually at its most valuable when it is recent, you may want to list your home sooner rather than later.
Talk To A Realtor
Speaking with a real estate agent will not cost you a thing, and it will give you a much clearer picture of what your current options are. Realtors are experts and have access to resources that the average person cannot access. During a meeting with a realtor, you can talk about listing your home and homes that are on the market right now.
Deciding to move is a big decision, which is why you may not want to make this choice on your own. If you have a conversation with a real estate agent, you will be able to get more information and decide whether you would like to continue to work with that professional in the future.
Look at Interest Rates
It is likely that you will be taking out a new mortgage to fund the purchase of your new home. You will want to look at your lending options and see what your interest rates are likely to be.
Even if you are not sure if you are ready to buy a new home, you may want to get pre-approved for a home loan. This will give you a clearer picture of current interest rates, and it will also show you what lenders are willing to offer you. You can also read here for more tips and suggestions.
Consider All Your Options
Selling your current home is not the only option that you have. You also have the option of renting out the property you live in now. Whether this is a viable option for you will vary based on the rental market in your area. You will also have to consult with a lender make sure your debt to income ratio is low enough to be able to keep and rent your current home get another mortgage for a new property.
If you do plan on renting your home, you will want to make sure you are prepared to deal with the responsibilities of being a landlord. You may want to work with a property management company that will handle many of these tasks on your behalf. Find out whether renting out your current home will cover the cost of your mortgage.
Start Searching
At the end of the day, the real estate market is all about timing and opportunities. If there is a beautiful home in your area that has everything you are looking for, you may want to make an offer before someone else snatches it up. Getting the inside scoop on a home for sale before a house hits the market can be the best way to get a good deal on a home and have less competition.
However, if you are not seeing any properties that stand out to you, you may want to hold off on buying for now. You should start exploring the market now so that you can see the kinds of options that are available in your price range. See if you can get what you want at the right price.
The present can be a great time for second steppers and upsizes to move into a home that is a better fit for their needs. However, you will want to take a closer look at your situation before making any decisions about how to proceed. Look at the pros and cons of buying a new home and decide what you want to do next.
Additional real estate resources
Joe Boylan has put together a guide for downsizing your house. He talks about working with a good real estate agent, knowing what to keep, how to save space, and more.
Bill Gassett has written a great article about mistakes made when downsizing your home. What may seem like an easy task many people fall into difficult traps to get out of when downsizing. Follow some of his tips to make the process easier.
Listwithclever. Has a great article about large homes. Have you ever wondered how big is a mansion? Find out the different types and names of mansions in this Clever article.