Is Now a Good Time to Renovate or Should You Wait Until 2024?
Posted by Danny Margagliano on Tuesday, April 18, 2023 at 2:11:17 PM
By Danny Margagliano / April 18, 2023
Comment
Your property is your most valued asset, and it's important to treat renovations carefully. Many aspects factor in when you plan to renovate your home. If you don't wait long enough or wait too long, you might have to spend more than your budget allows.
There are times when property renovation projects fail because of increased prices. The home remodeling process requires a lot of supplies. Home renovation is an investment just like any other. Therefore, the best option for homeowners is to wait for market timing.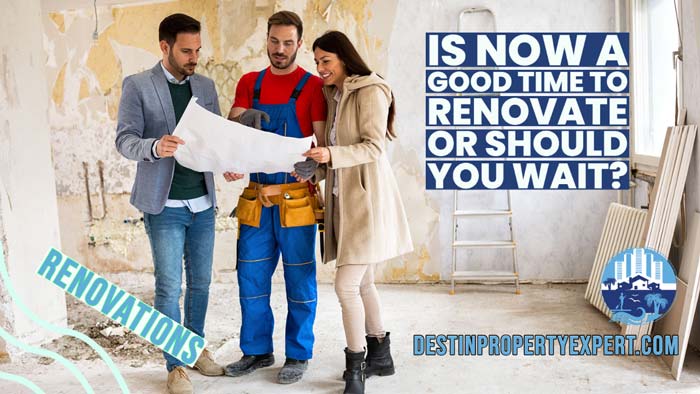 Covid-19 and the Rise of Home Improvement Spending
Covid-19 had a large impact on all of our lives. Although you might be tired of hearing about this topic, it's relevant to major decisions in the 2020s. During 2020 and 2021, everyone was at home, and it's not surprising that many homeowners noticed flaws in their properties or got tired of looking at the same color of walls. Therefore, many homeowners started renovation projects, and DIY home makeover projects became hugely popular on the internet.
A large number of homeowners completed DIY remodeling projects at their homes, building shelves, painting walls, and using creativity to redesign their homes. Mostly, these jobs would be left for the professionals to handle, but many homeowners decided that remodeling on their own would save a lot of money and would be an interesting way to be productive and spend time at home.
Labor and Materials Shortages
Like in any other business, when the demand for home remodeling materials increased, the prices jumped up as well. People started remodeling because it was affordable, but so many homeowners joined the trend that prices increased by 20% - 35%. Because of this, home remodeling became more expensive than in the past.
Will Renovation Prices Drop?
The housing market is cooling off, which gives the homebuyers an upper hand. However, the question homeowners need an answer to is whether or not the material prices will drop in the near future.
Most of the time, when the demand drops, the material prices decrease, too. However, this is a weird time in history. We are facing inflation and a great economic crisis that creates unpredictable outcomes for different markets.
Experts think renovation material prices will likely decrease slowly over time. Materials such as doors and windows will become cheaper sooner than others.
If you are worried about contractors, you should rest assured that well-kept and successful contractor companies will fail due to lowered demand. Contractors who have experience and offer high-quality services will likely accept reasonable payments.
Is Now A Good Time To Renovate?
Now that we have discussed pricing, we should answer whether renovating in 2023 is a good idea for homeowners. The short answer is yes. 2023 is a great time to renovate your property but try not to overdo it.
Keep a Budget
You need to keep a budget in mind. Sometimes, homeowners start purchasing renovation products and go overboard. When you enter a mall and see many beautiful decorations, wallpapers, and other design materials, you might get overwhelmed and start grabbing everything you like. This is why it's crucial to set out a plan and keep a list of things you wish to purchase.
According to these Los Angeles property managers, when homeowners start remodeling their homes, they tend to lose sight of the original interior design they had in mind and the renovations turn out to look less than ideal. You can avoid such issues by either hiring a property management professional or an interior designer.
Keeping a budget will help you stay focused, renovate tastefully, and ensure that you have not gone overboard when remodeling your home. If you want to renovate your home now, it's important that you have the means for it and you can afford any unexpected expenses.
Final Thoughts
If you keep all that in mind, you will be able to redecorate your home however you want this year. There is no need to wait for 2024 if you can afford the necessary materials. However, if you have big plans for your home, it's best to consult with a professional before making a decision.