Is Pensacola Beach, FL a Good Place to Invest?
Posted by Danny Margagliano on Saturday, September 17, 2022 at 1:51 PM
By Danny Margagliano / September 17, 2022
Comment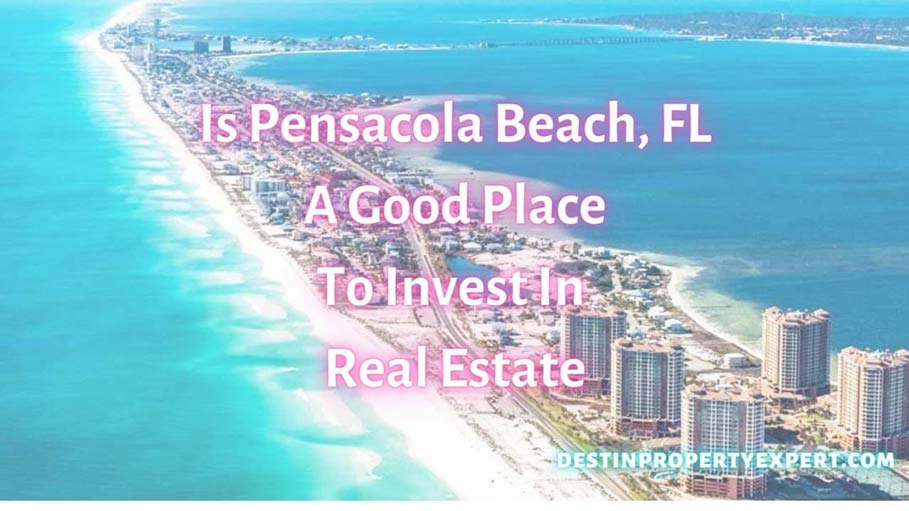 People think saving to buy an investment property is difficult, but it might be the easier part. When it comes down to picking where to invest things get more real. Once you make such a huge financial commitment you cannot leave whenever you feel like things aren't going your way without incurring huge losses. Also, you need the assurance that the location you pick is great for the kind of investment you have in mind. Florida has significantly grown as a business hub hence the recent influx in the number of investors. One of the notable places to invest in this state is Pensacola Beach. Many things make it an ideal investment location including:
Low-risk investments
It's common knowledge that high-risk investments also have high yield potential. However, this is the last thing you want if you are not stable financially. Budget investors are better off picking low-risk investments as they build their net worth. Wealthy people can afford to take high risks in business because losses may not have a huge impact on their finances.
Real estate is one of the low-risk investments that is bound to have good rewards. Pensacola Beach has plenty of investment properties at affordable rates. Whether you are a first-time real estate investor or an experienced dealer you will have plenty of options. Low-risk investments also allow you to learn through your mistakes without plunging into bankruptcy.
Better ROI
Since Pensacola Beach is a tourist hub, vacation rental owners record high returns on investments. This only requires you to pick a strategic location and furnish it properly. Tourists want better standards in every experience while they are on vacation. You have to consider this when preparing the house for guests.
You will earn money through renting out the condo or house as well as make great profits when the time to sell the property comes. Remember that property value appreciates in many cases as time goes by. When you factor in the rental income you will earn and how much the house will sell at eventually, you will realize that a condo in Pensacola Beach has better ROI than an average house elsewhere.
Budget-friendly properties
Unlike in the past when only wealthy people could afford to buy properties, things have changed in the modern world. Even young people with an average income can get into this industry courtesy of lenders. Also, there are many budget-friendly properties in Pensacola Beach for beginner investors. You'll do well even with one investment property as long as you have a clear business plan on how to expand. Affordability is essential in any industry to attract more investors. Instead of spending more to buy a property with lesser potential elsewhere, it is better to invest at Pensacola Beach.
High Market Demand
If your investment is renter-oriented then Pensacola Beach is the best place to be. Whether it is a short-term, medium, or long-term rental, there is a high market demand for that. There is a strong middle-class and wealthy population in Pensacola beach who are ready to spend their money on the finer things in life. Properties have long been a show of wealth and if you identify your target population and do your best to cater to their needs you will always be in business. It isn't difficult to do that when you have the right information. Rental pricing growth in Pensacola Beach shows a positive trend. Also, better architecture and more facilities are being witnessed in the upcoming structures which is is one of the reasons why buyers and renters are excited about vacationing or living in Pensacola Beach.
Retirees and Snowbirds
Birds migrate depending on the weather to escape extremes as well as find food. Snowbirds move from the freezing north to Pensacola Beach seasonally because the latter enjoys mild winters. It is quite the sight that brings many people to the community. Additionally, it is a wonder to experience and that's is one of the things you'll be signing up for by choosing to make roots in this community. There are a lot of retirees in this community as well. If you are a senior citizen or a middle-aged individual wishing to buy a retirement property then Pensacola Beach is one of the best choices. Not only are the properties beautiful and affordable but you will find plenty of people in your age group to spend your time with.
Great schools
There are several large and distinguished institutions of higher learning in this community. Therefore, you can also base your investment on catering to the needs of these students. Student housing is an attractive niche in many markets. Even though it might be seasonal, you are always assured of a great turnover whenever school is in session. With different programs running all through the year now, many student housings are always occupied. Also, some students choose to pay for the housing even when they are on holiday to avoid having to look for a new house all over again when schools reopen. Additionally, the great and affordable schools make this community the perfect place for families with school-going children to invest or live.
Better security
There is a military Naval Air Station at Pensacola Beach which has been critical in boosting the security of the community. Criminals shun locations with a strong military base which explains the low crime rate in Pensacola Beach. Security is key in the smooth operations of any business. If clients have to worry about their security when coming to your place of business then the turnover will be low. Additionally, people are more relaxed and open to spending a lot of money when they know their security is assured. You'll also spend much less on security systems at Pensacola Beach compared to high-crime regions.
Strong Economy
Pensacola has been named the world's "strongest town" in a study done on cities all over the country. This is tied to the expanding economy and growing population that plays a key role in increasing the amount of taxes collected. These factors are crucial in the development of a strong and resilient economy in any region. In the past decade, the economic turnaround of this community has been impressive, and it continues to perform well up to date.
The unemployment rate in Pensacola Beach before the pandemic hit was quite low at 3.1%. With a lot of things going back to normal now, this figure has gone down thanks to the job market growth by 1.9%. The highest employers include tourism, real estate, health care industry, academe, and manufacturing. By choosing to invest in either of these industries you stand to benefit from the existing infrastructure to support their operations as well as a healthy client base.
Better standards of living
Pensacola beach community ranks highly in the happiest communities in the US. With an impressive job market, beautiful beaches, and affordable cost of living there is much to be happy about here. Also, the population growth rate is well-controlled to ensure the available facilities and infrastructure are enough for everyone. Additionally, there are many outdoor activities to participate in making it great for families. Also, you will enjoy exciting nightlife, weather, diversity, commute, and fitness activities at Pensacola Beach community. Not only will you be winning in business as an investor in this community but also in your social life.
Healthy competition
In a monopoly market, there is little to no growth. Therefore, you won't be pushed to grow to your highest potential in such a situation. There is healthy competition in all investment sectors in Pensacola Beach which is not only good for buyers but also for sellers. Additionally, you will always be on your toes building and bettering your venture. It is such competition that will push you to not only compete locally but also internationally. Offering world-class services puts you in an excellent position to export your services and get international clients. This means better profits and better market control. This should be the aim of every business-oriented investor.
Support services
You don't have to handle every task just because you are the business owner. You should focus on what you do best and seek the support of other professionals on the other tasks. For people investing in real estate, Pensacola Beach has highly qualified and skilled property managers who can coordinate maintenance, bookings, cleaning, landscaping, and repair of different amenities. Also, they'll take care of all the repetitive tasks in the day-to-day management of the property to reduce your burden. It is hard to fail when you have this kind of support. Nonetheless, hiring a property manager you can afford is crucial to avoid spending all the profit you get on bills.
Pensacola Beach community is a hot real estate market now and the sooner you invest here the sooner you can start reaping the benefits. However, exercise diligence and research adequately before putting your money in any venture to avoid costly mistakes.