Pro Tips: Make Your Rental Property Attractive and Boost Rental Income
Posted by Danny Margagliano on Saturday, September 30, 2023 at 3:36:18 PM
By Danny Margagliano / September 30, 2023
Comment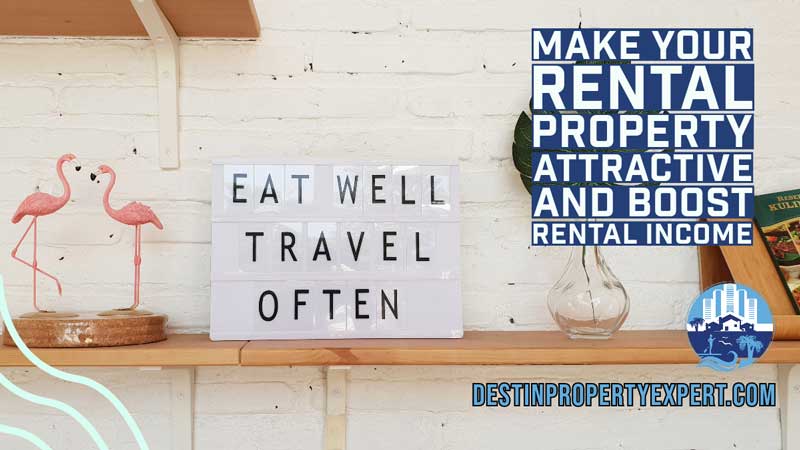 Do you own a short-term rental property and want to optimize your rental income and entice the most desirable tenants? Making your condo stand out is vital in the cutthroat market of today. Your property can become a magnet for prospective renters with a few well-placed investments and intelligent upgrades. In this post, we'll look at six expert suggestions to help you boost the appeal of your short-term rental unit and increase your income.
Curb Appeal: First Impressions Matter
First impressions are said to be lasting, and this is also true with short-term rentals. A prospective tenant makes an opinion the instant they set foot on the premises. Invest in improving your property's curb appeal to make sure that opinion is favorable. Start by keeping your yard well-groomed, trimming your bushes, and planting some vibrant flowers. The front door can benefit greatly from a fresh coat of paint, and don't forget to fix any obvious outside damage. Think about using outside lighting to draw attention to your condo's best characteristics and make it feel welcoming even after dark. These inexpensive yet useful improvements can help your home stand out.
Professional Photography: Showcase Your Home in the Best Light
The first interaction many prospective occupants have with your property in the digital age is through internet listings. Consider investing in expert photography to create the finest first impression. High-quality photos can give your property a more appealing appearance and increase inquiries. A skilled photographer will understand how to use lighting and the ideal angles to highlight the beauty of your place. By attracting more potential renters and enabling you to demand higher rents, your investment could pay off quickly. Stunning images can provide the impression of a well-kept and lovely residence, elevating it to the status of one of the greatest options in the eyes of potential tenants.
Provide Excellent Amenities: Setting Your Property Apart
Today's tenants frequently desire a lifestyle, not just a place to call home. By providing top-notch amenities, you may differentiate your rental flat from the competition and charge a higher rate. Think about including amenities like a gym, pool, common area, or even pet-friendly accommodations. To match the amenities to the interests of your target market, evaluate their wants and preferences. Remember that you don't need to spend a fortune on amenities; even little improvements like new appliances or trendy fixtures may make a big difference. By offering these extras, you can position your property as one of the top apartments for rent in your area.
Interior Upgrades: Enhance Comfort and Functionality
Your short-term rental's interior design should be both aesthetically pleasing and practical. The flooring should be updated first because it greatly affects how a room feels overall. Choose materials that can tolerate wear and tear and are long-lasting and simple to clean. A fresh coat of neutral paint may accentuate the brightness and spaciousness of a room. The kitchen and bathroom deserve special attention because they are used by renters. To modernize the room, think about replacing the appliances, countertops, and fixtures. Additionally, make sure that all crucial systems, including the HVAC and plumbing, are in excellent operating order. You may entice short-term tenants who are willing to pay more for quality by designing a cozy and practical interior.
Energy Efficiency: Lower Utility Bills, Increase Appeal
Energy efficiency is a key selling point for renters in today's environmentally conscious society. Making improvements to your property's energy efficiency can help you draw in eco-conscious tenants and increase its appeal by lowering electricity costs. Start with straightforward upgrades like caulking gaps around windows and doors, adding insulation, and setting up energy-efficient appliances and lighting. If you can, think about making an investment in sustainable energy sources like solar power. In order to attract a wider audience to the short-term rental you own, highlight these energy-saving features in your real estate listings.
Regular Maintenance: Keep Your Place in Top Shape
And last, keeping your flat in top shape requires continual effort. Maintaining the appeal of your rental to tenants requires regular inspections and prompt maintenance. Whether it's a leaky faucet, a broken window, or a broken HVAC system, take care of any problems right away. Long-term cost savings and occupant satisfaction through preventive maintenance will increase the likelihood that your tenants will renew their lease. To successfully handle demands and property maintenance, you should also think about providing a responsive and qualified property management service. A well-kept home not only draws in residents but also enables you to charge greater rents, guaranteeing that your investment keeps increasing.
A combination of exterior appeal, expert photography, first-rate amenities, interior changes, energy efficiency, and routine maintenance is needed to make your property appealing and increase short-term rental income. You may differentiate your home from the competition, draw in top-notch tenants, and charge higher rents by making these investments.