Tips to Make Your Guest Room Feel Like Home
Posted by Danny Margagliano on Sunday, October 29, 2023 at 12:11 PM
By Danny Margagliano / October 29, 2023
Comment
If you've ever stayed over in someone else's home, you know how important it is to make the space feel inviting and comfortable.
When you're hosting guests, you want them to feel welcome in your home. A great way to do this is by ensuring your guest room is as comfortable and inviting as possible.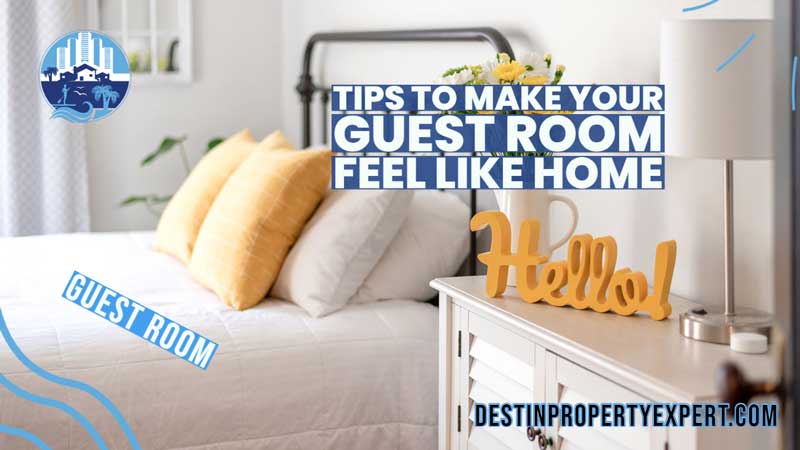 Creating a pleasant atmosphere doesn't have to be expensive or difficult. There are plenty of ways to make your guest room enjoyable to stay in. From creating a cozy atmosphere to stocking the room with the essentials, the tips mentioned in this article will help make your guest room an oasis for visitors.
Let's dive right in!
1. Clean and declutter
Making your guest room comfortable starts with a clean and decluttered space. Removing personal items and unnecessary clutter will help create an inviting and welcoming atmosphere.
Start by clearing surfaces of dust and dirt, wiping down the furniture, and vacuuming the floors. Then, put away any items that don't need to be in the guest room, such as extra clothes, papers, or toys. Clear the closets and drawers of anything guests won't need access to during their stay.
If you need more advice on how to make your room less cluttered, ask people on forums or social networks. Before contacting or even meeting in person, check if they are not scammers on Nuwber. Sometimes, when people want to get recommendations, they are deceived.
2. Put fresh sheets on the bed
Nothing beats snuggling up in clean, fresh sheets at the end of a long day. Putting fresh sheets on the bed is also important as it is an essential part of cleaning. Be sure to remove any old dust or dirt so your guests can sleep comfortably.
Putting on fresh sheets helps make the room look and feel inviting. A bed with crisp, white sheets will be far more pleasant to sleep on than a bed with old, worn-out ones.
This gesture will show your guests that you care about their well-being and want them to have the best stay possible.
3. Depersonalize
This means removing personal items, such as family photos, jewelry, and even knick-knacks.
The idea is to make the room look and feel like a neutral space that can suit any type of visitor. It also helps create a sense of privacy for the guest.
To achieve this, start by removing any items that are too personal or unnecessary for the room's purpose. You may want to store these things in a separate room or closet so you can easily retrieve them when the guests leave.
Once you have removed the personal items, clear out the clutter and replace it with essential items only. This will help create an atmosphere of tranquility and order, perfect for your guests.
4. Layer texture
Adding texture to the guest room can help create a cozy atmosphere. Layering multiple textures, such as soft fabrics like throw pillows and blankets, or adding some shag rugs on the floor, helps to make the room feel more comfortable and homey.
You can incorporate wood or rattan accents such as end tables or wall hangings. Try placing different fabrics like velvet, linen, or cotton. All these elements together can create a hospitable atmosphere that will make your guests feel comfortable in your house.
Don't be afraid to mix and match different textures to achieve the perfect look. Ensure you don't go overboard; too much texture can make the room feel cluttered and overwhelming.
5. Add some color
Bright colors, like yellow and orange, can bring a sunny and cheerful feeling to the room. Blue and purple can give off a relaxing vibe if you want something more calming.
Use art, pillows, rugs, or curtains to bring in some hues that complement the overall décor. You can even try accent walls to make a bold statement. Don't forget to add a pop of color with some live plants to bring life to the room.
6. Stock the room with snacks and drinks
Consider adding items such as bottles of water, a variety of tea and coffee, and some snacks such as granola bars or crackers. If you'd like to provide something special, add local treats such as specialty chocolates, jams, or other goodies.
Having snacks and drinks on hand will give your guests the freedom to help themselves and make them feel more at ease in their new surroundings.
7. Add a vase of fresh flowers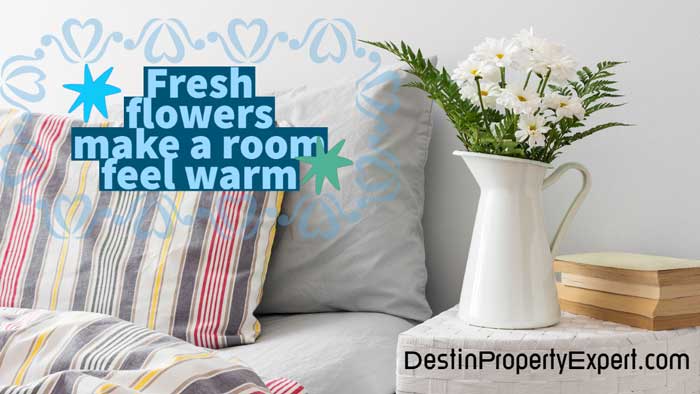 Adding a vase of fresh flowers to your guest room is an easy and inexpensive way to add a touch of home. Fresh flowers look beautiful and add a pleasant smell to the room.
Choose a few seasonal varieties in colors that match the décor or even keep it simple with one type of flower. For a more cost-effective approach, pick up a bouquet of wildflowers from your local farmer's market. Place the vase on the dresser, nightstand, or side table to create a warm atmosphere.
If you have guests staying with you for an extended period, you may want to consider changing the flowers weekly or bi-weekly.
8. Put out a basket of toiletries
This should include items such as soap, shampoo, conditioner, body wash, and lotion. Don't forget about putting toothbrushes, toothpaste, mouthwash, shaving creams, razors, and other items your guests might need during their stay.
Place the basket in an easy-to-find location so your visitors can grab what they need without asking. If you want to go the extra mile, include some luxurious extras such as bubble baths and face masks. No matter what you place, your guests will appreciate the thoughtful gesture.
9. Provide plenty of pillows and blankets
Put pillows and blankets in the guest room. Not only do they add comfort, but they also give the room a hospitable atmosphere.
Make sure you have enough pillows and blankets for each guest and a few extra for the cold nights. It's a great idea to add a variety of textures, like velvet or cable knit. To make it extra special, you can even monogram the pillowcases with your initials or a personal message for your guests.
10. Get the temperature just right
If it's too hot or too cold, your guests won't be comfortable, which will remove the homey feeling you're aiming for.
Check the thermostat settings and adjust accordingly. Additionally, add a small fan or space heater if people staying over are sensitive to temperatures. You can also add an extra layer of warmth with a cozy throw blanket.
Having various options for controlling the temperature will help make your guest room comfortable to be in.
Final thoughts
Making sure your guest room is comfortable and inviting is essential to ensuring that your visitors have a pleasant stay. You can create a warm and welcoming space for friends and family who stay at your place with a little effort.
By following the tips above, you can make your guest room feel like home and ensure your guests have a great experience during their visit.