Make Your Home Feel Warm And Welcoming
Posted by Danny Margagliano on Friday, July 29, 2022 at 11:12 AM
By Danny Margagliano / July 29, 2022
Comment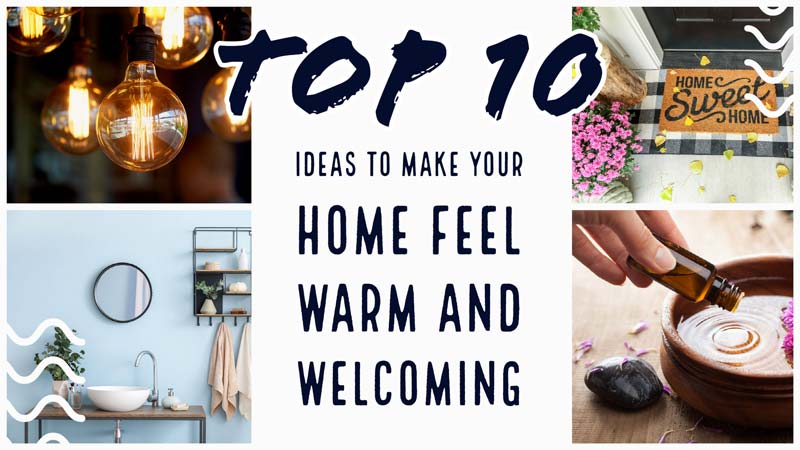 There is nothing better than a warm, cozy, and welcoming house, especially for those that lead stressful and busy work lives and need their home to be a Zen, peaceful place. While impressive interior décor is very pleasing, there is something to be said for homeowners that ensure their space is extremely warm and comfortable as opposed to very luxurious. Here is how you can make your house feel like a home and add those extra cozy touches.
1. Hang Out Outdoor Spots For Friends & Neighbors
Whenever friends or neighbors come over, you are likely to be short of private seating spaces as your kids may overtake the dining room or the living room, or even your bedroom. Creating a private niche in your back or front yard can provide you with the ideal entertaining space for people your age. You can include some gorgeous lawn furniture like comfy chairs, a lawn umbrella, or even a swaying hammock. Include a table or two for people to put their drinks and food on and having a BBQ grill or a fire pit there is a must-have for the winter season.
If you live in a house with kids, the backyard (which ideally should have a separate entrance) is more suitable than the front yard which is likely to be less private. Landscape your yard and add some sublime flowers to create an ambiance and using a more Japanese style of decorating you can even build a stone fish pond and plant bonsai trees. The idea is to have a space that is just for you to have a drink and socialize with your friends whenever they come over. It can also make for a perfect breakfast spot!
2. Use Fabrics Abundantly
Fabrics are a brilliant way to add some coziness and homeliness to a space. Whether it is a hanging tapestry or embroidered cushions, plush throw blankets, or little table mats, fabrics have tremendous power to instill warmth in any home. Use soft rugs in inviting colors in abundance throughout your home so that guests feel like the space is lived-in and cozy.
When it comes to upholstery, opt for warm colors to cover your couches and chairs because bright colors can sometimes be overstimulating and have the opposite effect. Taupe, beige, creamy white, brown, peach, rose pink, and so forth are great colors for the upholstery to give that real homely vibe. Layering fluffy blankets and pillows wherever you get a chance and creating small sitting areas like a window seat again help guests find a spot to be comfortable or snack. You can position items of immense sentimental value and warm feelings like a custom house painting above such furniture pieces.
3. Warm Lights
As far as possible try to change out the stark white bulbs in your home for warmer colored lighting. White bulbs can give a distressing almost clinical vibe and can subconsciously make you uncomfortable. Warmer lighting whether it is from candles, lanterns, fairy lights, spotlights, or even overhead fixtures can have a calming, relaxing effect that both you and guests will appreciate especially in the colder months. Investing in a dimmer switch can also change the game within your house for movie nights or for quiet family dinners with your loved ones.
4. A Spot To Cuddle Up With A Book
A lot of research over the years has shown that books are inherently relaxing to the mind in comparison with devices and the blue light they emit can inhibit neuron activity and prevent deep thinking. Create a cozy, comfortable reading spot in your home such as by the window, and fill it with items that make you happy, soft blankets, bookshelves, and even a footstool or Ottoman to put your feet up.
It might soon become your favorite spot in the house! A book nook can encourage children in the house to take up reading as well as sets an example for them. Your book nook can double as a day napping spot that you're likely to love especially if you work from home and find yourself needing a break often.
5. Old Is Gold
Many people regardless of their décor style of choice prefer to shop for and invest in materials that they know will age well. This can include types of wood, leather, wool, and jute. Using these natural materials as a décor staple can lessen the stress you or guests feel around the house because they improve with age and use. Leather and wood look better and better the older it is!
Even in home renovations use items that are mismatched or deliberately uneven such as irregular tiling since that is tremendously fashionable now in modern homes or historically renovated homes. Natural materials can be applied to other aspects of your life such as buying your best friend/dog a leather dog collar and leash set so they can look their best.
6. Perfecting The Porch
The entryway of your home is a type of opening statement to what visitors and guests can expect inside. Install a porch swing and fill it with soft cushions and a blanket and incorporate plenty of foliage and flower pots. Putting out a small rug or welcome mat can also be a nice touch, especially when coupled with a convenient, cute, vintage doorbell so people don't have to knock on the door incessantly. If you live in a warmer climate have an overhead or a portable fan available for use in case someone wants to sit outside.
The entrance of the home inside needs to be both utilitarian and warm which is a hard balance to strike. On the one hand, you need all your belongings organized such as where the keys and the coats and shoes go and on the other hand the space should be warm and inviting for anyone that comes over. Use a floor lamp, rugs, and plants to liven up the space, and use cute decorations on a high shelf so they are visible but still do not interfere with daily tasks.
7. An Aromatic Environment
Aromatherapy is famously relaxing and used by people all over the world to unwind and improve mood. Buy an oil burner or an essential oils diffuser and use oils that address health concerns you have. Lavender and peppermint oil are great for pain and migraines while frankincense is excellent for promoting relaxation. Some other essential oils like eucalyptus can be clarifying and will open up breathing passages for people with allergies. Most of all, an aromatic environment and lovely scents can be extremely pleasing for guests who will want to visit more often! Scented candles especially seasonal ones can also boost your mood and get you in the holiday spirit as you can use them as you prepare meals, clean the house or sit down to eat.
8. A Gallery Of Your Favorite Memories
A picture wall is not just terrifically stylish but it showcases your favorite memories with loved ones and that amazing work of art that means so much to you. Create a gallery wall or a few around your house and they will make the space glow with personality and warmth. You can choose to keep the pictures within a certain color spectrum like black and white or go all out with different colors, patterns, and styles.
Some people prefer to use very different picture frames for each photograph to add versatility to a gallery wall. Every time someone will pass by the wall they'll get the impression you have many who love you and your life is a happy and fulfilling one which is the best setting for a warm and welcoming home.
9. Take Care Of Less Frequently Used Spaces
Rooms like the basement, store room or attic are less frequented compared with your main living spaces and therefore they can fall into disrepair, become infested with pests, or accumulate mold and dampness, especially in the colder months. In order to have the cozy home of your dreams, you need to address these spaces, keep them clean and also have them professionally evaluated from time to time for pests and damage. If your roof is damaged or leaking, mold and water can easily settle into your attic walls and your basement eventually making their way into other rooms. Hire a commercial roofer to clean and check your roof for signs of accumulation of organic matter or damage due to weather conditions.
10. Make Your Bathroom Guest-Friendly
If you have a guest bathroom in your house or even a powder room, strive to make it as welcoming as possible with some well-placed homely touches. Clean the bathroom diligently, add some freshly laundered soft towels, scented candles, and a homemade basket filled with travel-sized goodies like soap, toothbrushes, toothpaste, shampoo, conditioner, and deodorant. Add a succulent or cacti or even a money plant for some green freshness and place them next to your window if there is one in the bathroom. A rug and some convenient touches like a stand for a blow drier can all make your guest's stay comfortable and memorable.