How to market your rental property to snowbirds?
Posted by Danny Margagliano on Saturday, April 10, 2021 at 2:06 PM
By Danny Margagliano / April 10, 2021
Comment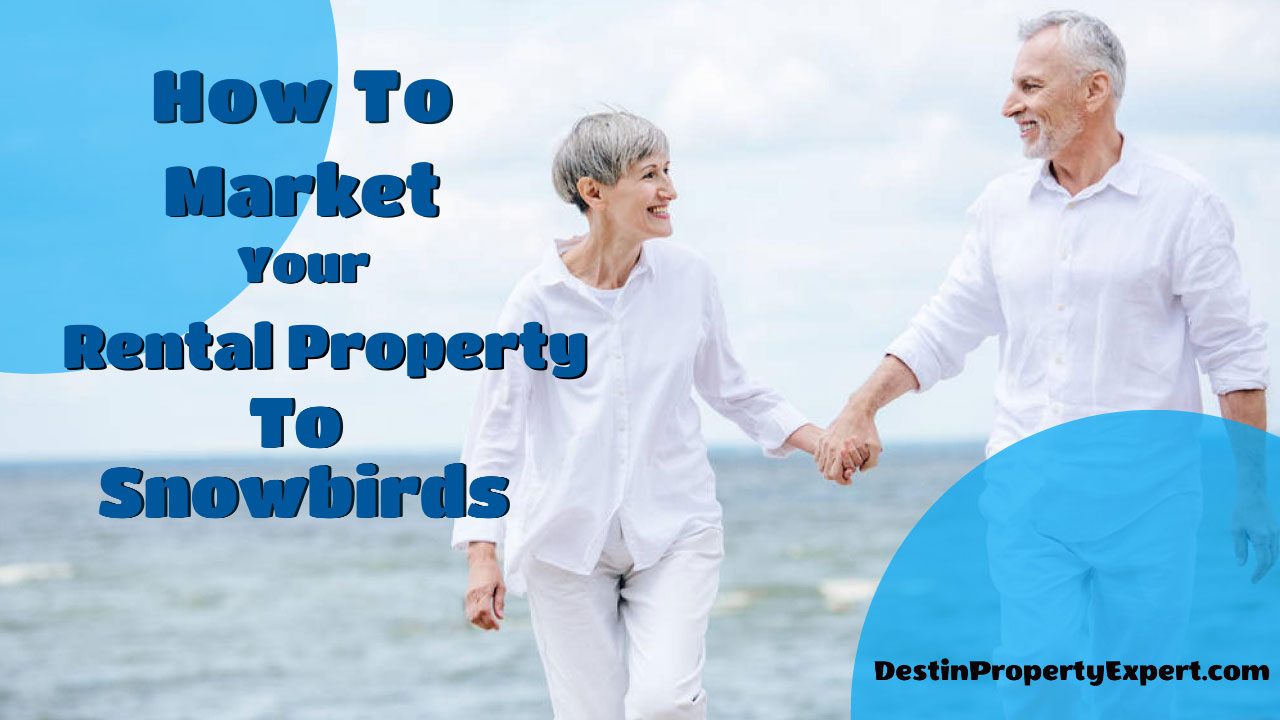 Destin, Florida, is a great snowbird destination. Snowbirds are simply people aged over 50 years who move to destinations with warm weather, especially during the winter. Most snowbirds are literate, wealthy, and are retirees from different companies and organizations. These people usually look for the best places to stay in Florida.
However, not all require permanent houses as some only need to spend their time there until the winter season is over and get back to their original homes. Snowbirds have really boosted the real estate market, especially in warmer places. If you have rental properties in Destin, Florida to rent out, it's essential to prepare them for the snowbird season. Below are some top things you should do.
Basic Preparation
- Furnish your property (snowbirds don't want to be moving furniture around)
- Inspect your property to ensure safety is enhanced
- Provide the necessary and adequate cleaning supplies
- Stock the kitchen (if a vacation rental)
- Create welcome packets that contain area information such as maps, emergency call numbers, amenities, directions, and the general rules that govern your rental premises.
Preparation of your rental property is the first step before you even think of how to market your property or attract snowbirds.
Marketing your rentals to snowbirds:
Snowbirds form ideal tenants for rental properties in the Destin area. The best part about renting to snowbirds is that the risk is usually low considering the fact that these are reliable people. Below are real estate marketing ideas to help promote your rentals to snowbirds:
Advertising at the source
This is probably the first thing you need to do in your rental property marketing campaign. Generally, in Destin, Florida, snowbirds aren't the local people, meaning that landlords require good market tactics to get these people. To ensure your rental property gets the most possible interest, it's essential to look for means of advertising your property in regions where these snowbirds come from. The folks from Goodjuju, who specialize in advertising for property managers, recommend online tactics like having a modern website and running google ads, among others. You could also reach out to other landlords where snowbirds are from to learn where they are searching for rentals. This process should start early enough since most snowbirds like planning early enough.
Use video tours
Most snowbirds will likely be concerned about the accessibility of a rental property. Therefore, it's essential to ensure that accessibility isn't a challenge. First, remember that snowbirds aren't locally available, meaning that it's difficult for them actually to inspect your rental property. Therefore, for snowbirds to have a clear picture of your rental property, you should consider offering video tours. These video tours can then be shared on different platforms where they can be found, including Facebook. The best part about these videos is that you'll give your potential renters a great experience that they'll yearn for and make a booking to your property.
Have a vacation rental blog
As much as you can use social media platforms for marketing your rental property to snowbirds, it's also essential to have a vacation rental blog. This blog will help you inform your audience about your rental premises by updating the latest news and even articles. Having a vacation rental blog has higher chances for converting leads compared to social media platforms. To get started, you only need to advertise your rental property on your blog to start attracting snowbirds looking for the best accommodation places during winter.
Create Facebook ads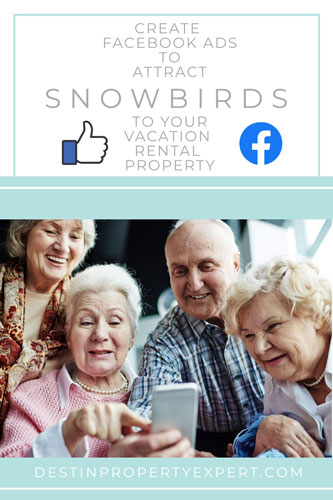 Studies show that most senior people prefer using the Facebook platform to reach out to their distant families. They also use this platform to look for products, services and also browse different stories to read. This, therefore, means that snowbirds usually spend a lot of their time on Facebook. This platform creates a unique opportunity for property owners to market their rental properties.
To get started, you need to create a Facebook page where you'll be sharing your posts regarding your rental property to snowbirds. To effectively reach out to the ideal audience, it's essential to alter demographics, behaviors, age, interests, and other aspects. Creating targeted Facebook ads will assist you in your rental property marketing campaigns.
Have short term rentals
As mentioned earlier, not all snowbirds want permanent homes. In fact, a relatively high number of them are usually associated with the short-term rental market segment. Typically, they stay for 2 to 3 months, although others may extend their stay if they find it entertaining.
Highlight perks
Snowbirds aren't just simple clients. It's therefore essential to have an appealing way for marketing your rental properties to them. This can be easily done by highlighting additional benefits that they can get when renting your property, including golf courses and beaches. Others include convenience getting into town, local restaurants, and eateries.
These are some top strategies for marketing your rentals to snowbirds.
Attracting snowbirds to your rentals with unique offers
Destin, Florida, attracts flocks a lot of retired people escaping the winter, especially from the northern parts. Therefore making a real estate investment a lucrative deal that can generate a lot of revenue, especially during the peak seasons. However, to generate this income from your rental property, it's essential to understand how to attract snowbirds. Below are some top tips on how to attract snowbirds to your rentals:
Consider snowbird membership packages
Most snowbirds usually don't live the normal lifestyles people live. They typically consider living dynamic social lifestyles just within our communities. Snowbirds form a considerable percentage of people who participate in various group events even if they don't know anyone. This makes it more adventurous for them and makes them lead a healthier life compared to other older adults.
You're likely to find snowbirds in golfing events, nightclubs, and even restaurants. Therefore, to attract snowbirds to your rentals, it's essential to create membership packages. When creating these packages, you should allow access to a number of things, including discounted food prices, leagues, and tour sessions. While pricing, ensure there's a balance between your profit and these discounts.
Organize tournaments
To attract snowbirds to your rentals, you can consider organizing senior tournaments. Regardless of the kind of event you organize, snowbirds will always flood their which gives you an excellent opportunity to advertise your rental properties. Remember, most snowbirds usually like social events. To even make them feel comfortable and gain trust in you, you can decide to cater to their lunch or give them some drinks.
Healthy and delicious meals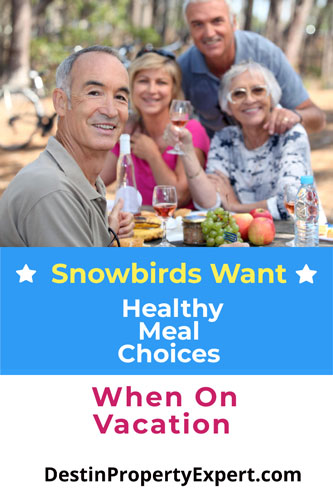 Most snowbirds consider healthy eating as part of maintaining their bodies as they age. In fact, studies show that snowbirds form the highest percentage of people who consider nutrition. This is because the metabolism in their bodies is relatively low, and they don't go eating anything they come across to avoid visiting the doctor every time.
Many snowbirds also have some health issues meaning that they'll try as much as possible not to eat certain kinds of foods. To attract more snowbirds, it's essential to ensure that healthy and delicious meals aren't a challenge around your property. You can choose to make the meals by yourself or look for an expert to make these foods.
Give regular weather assessments
It's a fact that snowbirds move to warm areas to escape the cold during winter, especially to avoid cold-related complications. Therefore, to attract more snowbirds to your facility, it's essential to provide regular information on how the weather conditions are. This not only creates confidence and trust from snowbirds but also gives you a competitive advantage over other people's rental properties. Satisfied snowbirds will also refer their friends to your facility, and they'll also keep on coming to your rentals every time during winter.
Local partnership
The majority of the snowbirds usually like living in areas where there's access to all amenities. Therefore, as a property owner, you should always be ready to make local partnerships with operators of different amenities such as golf clubs, restaurants, and nightclubs. This will assist you in marketing your rental premises and thus increasing your rental capacity.
Customized clothing
Most snowbirds are usually wealthy individuals meaning that they can easily afford anything they come across. Therefore, you can attract snowbirds by providing customized clothing for use during group meetings or even leagues. Doing this will not only bring snowbirds closer to your premises but will also give them a sense of class, meaning that they'll, in return, refer many other people to your facility where you'll always have full rental capacity. Even if you're not in a position to make the customized clothing on your own, you can look for a third party to help you in the process.
In conclusion, these are some top tips for attracting snowbirds to your rentals. What price you charge for your rental property will largely be influenced by location, proximity to amenities, and your property type. When you're rental property is marketed properly you will attract the best possible snowbirds.
Making sure that a snowbird rents your home or condo during the winter months can be extra cash to pay the HOA fees, help with mortgage costs, and help to bring your property into a cash flow positive situation. In other words, renting your property to a snowbird during the winter months can really help you financially. So if you're not marketing your beach property to snowbirds you may want to get started doing so this year.
Additional real estate resources
Find out from Bill Gassett many reasons why purchasing a vacation rental property is a good idea. He discusses everything from tax benefits to health benefits and everything in between.
Brian Davis explains many of the excellent tax benefits that you can take advantage when owning a vacation rental property or 2nd home. Not only do some people forget about some of these tax benefits but there are others that don't know about them at all. If you like keeping your money in your pocket then check out his article.
Joe Boylan talks about he good the bad and the ugly about owning a vacation home. But when it comes down to the nitty-gritty a vacation home can be very beneficial not only for the enjoyment purposes but also financial.