Maximizing Your Destin Home's Value with the Right Furniture Selection
Posted by Danny Margagliano on Saturday, February 11, 2023 at 3:10:17 PM
By Danny Margagliano / February 11, 2023
Comment
A coastal paradise, Destin, Florida, is known for clear, blue waters, majestic beaches, and, of course, endless sunshine. This destination boasts the title of "the world's luckiest fishing village." However, there's much more to do in Destin than just catching that mythical "big one." You can peruse a picturesque beach town dotted with boutiques. You can indulge in fresh seafood at one of the many restaurants. The options are endless...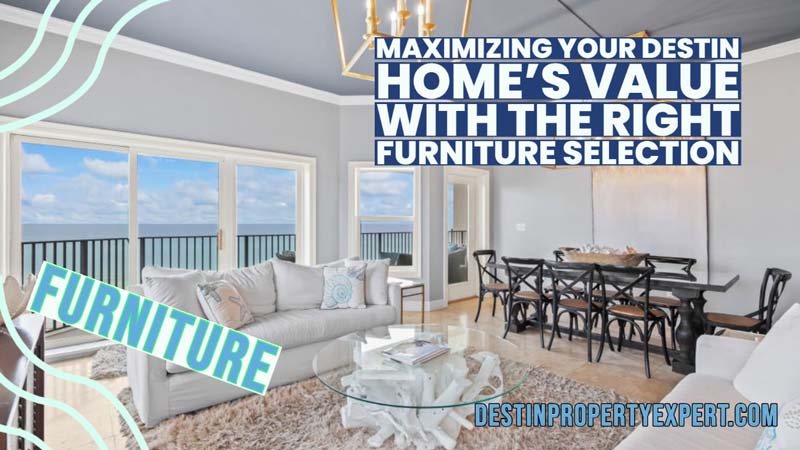 There are also countless outdoor events and activities, from surfing and swimming to nature walks. But, of course, we've not forgotten the angling aficionado in our tour of this Floridian gem. Home to the largest charter fishing fleet in Florida, Destin visitors can go deep-sea fishing on over 100 boats.
Homeowners in Destin, Florida, own a slice of paradise. With a beautiful beachfront just a hop, skip, and a jump away, Destin real estate is truly priceless. Choosing the right staging furniture can maximize your home value if you're looking to sell your Destin home. If Destin is your forever home, these furniture options will elevate your home decor. Let's get into home decorating tips for the world's luckiest fishing village.
Importance of Staging
Whether decorating a Destin condo or staging a family home, the right furniture can maximize your home's value. Home staging helps your home stand out from other listings. While staging is an investment, it can elevate your home. A well-staged home looks lived-in. A lived-in home is one potential buyer imagines owning. You can increase perceived home value by staging critical rooms in your home.
Even if you're not selling your home, staging high-traffic rooms can boost your mood and the value of your home. Living areas, workspaces, and hallways all benefit from decor boosts. Look for furniture with clean lines and neutral tones. Dark wood tones paired with leather add luxury to any space. An example would be the Herman Miller Eames Lounge which has a luxurious look while providing maximum comfort.
With staging, prioritize open space. Crowded, cluttered rooms look cheap. Conversely, minimalist spaces with decorations exude wealth and value. Carefully placing furniture in key spots draws the eye through a room. Avoid clashing colors and stick to a simple palette with a few accent colors. When in doubt, hire a professional stager. While this adds to overhead real estate costs, good staging can boost your house's value. Plus, expert stagers can give you tips that you can use in other areas.
Choosing Fantastic Furniture
Before you drive into furniture shopping, decide on your home's aesthetics. While your aesthetics can vary from room to room, stick to a theme. Too much variety from one room to another creates a disjointed, tacky feel. No matter how high-quality your furniture is, disjointed aesthetics will drop the value of your Destin home.
Thankfully, some general furniture rules apply to almost all styles. Try to stick to natural wood tones, matching said wood tones throughout the space. Next, create a color palette for each room. Most color palettes use three colors. These colors follow the 60-30-10 guidelines. The primary color of your room takes up 60% of surfaces. The secondary color is 30%, and the tertiary color is 10%. You don't need to break out the calculator for good decor but follow the general guideline. Keeping these percentages in mind can boost the value of any space and elevate your home.
When choosing new furniture, pick comfortable pieces with clean lines. Try and narrow down what you need in each room. Does the bathroom need extra seating? Can you cut down on chairs in the living room? Is the dining room table too big? While you may find added chairs here and there convenient, they add to clutter. A well-decorated home prioritizes one activity in each space.
You should choose quality over quantity. A gorgeous, well-made chair elevates an entire room. While you could get two cheaper chairs for the price of one, a quality chair boosts the whole room. Try to balance economic purchases with comfort investments for a truly stunning interior.
Beginner Room Decorating Tips
There are a few decor tips to follow to maximize your Destin home's value. While not every tip applies to every home style, these are a good starting point. Experiment with home decor to craft a welcoming space.
You aim to enhance Destin's natural charm, not hide it through your home decor. Embrace the natural aesthetics of Destin in your decor. Beachy colors and bright wood tones elevate any space. Adding ocean notes in your living space can brighten your mood. While a whole nautical theme is tacky, beachy bathroom vibes are popular. Taking natural inspiration is a great way to revitalize your home. After all, what's more valuable than the beauty of nature?
Clear Clutter
First, a cluttered space subtracts from your home value. While clutter is hard to avoid in your home, clean spaces indicate wealth and value. No one wants to view a house full of stuff.
If your space seems cluttered, take a picture of it. A picture removes personal attachments so you can see the mess. For real estate staging, move unnecessary items to storage. For home decor, try adding storage options in critical clutter spots. For example, if your desk gathers things, try adding storage options next to it. If mail collects on counters, leave dedicated boxes for items.
Adding "staged clutter" can breathe life into a space. For example, fake journals, writing utensils, and strategically placed blankets comfort a room. However, try to avoid overloading rooms with clutter. Your room decor and furniture should speak for themselves.
Lighting Is Key
With the sunny Destin weather, most homes have plenty of natural light to spare. For home decorating, natural lighting is king. However, you need more than windows to illuminate large spaces. For a warm, welcoming feel, choose yellow lighting. Diffused lighting works well for cozy rooms like a bedroom. For workspaces, go for clear, definitive lighting options. Too much white light creates a clinical aesthetic.
When decorating your home, think about where you need the most light. Tables, workspaces, and benches all require a lot of light. Bedrooms benefit from natural lighting during the day and smaller lights at night. Bathrooms should have clear, white light, especially around mirrors. View each room in your home throughout the day, and note what areas need more light. Not only can lighting revitalize a space, but it can also boost productivity and mood.
Plant Placement
Plants brighten any space. If you have a less-than-green thumb, try fake plants. Remember, fake plants need regular cleaning to avoid dust. Use fake plants sparingly and real plants liberally. If a space needs a pop of color, add a plant. If your room feels stale, a plant can organically refresh the air.
Naturally humid areas, like the bathroom, are perfect for plants. Not only do plants brighten the space, but they show personal investment in space. Plants can flourish with near-tropical temperatures in Destin and an abundance of sunlight. Take advantage of local varieties and use natural lighting to boost plant growth. Before a house showing, remove dead leaves, prop up leaning plants, and mist leaves for added shine.
Decoration Advice
Avoid over-decorating spaces. While you may want to show off your entire art collection, suppress that urge. A couple of wall decorations in key areas are all you need. Art should draw the eyes through a room. Too much artwork distracts from the space and can shrink the area.
Choose one or two key pieces for each space. If you have patterned walls, avoid hanging busy artwork. Instead, let the wall itself do the talking. Artwork should enhance an area, not dominate it. Try pairing several small pieces together to create a statement.
Finding one or two simple pieces for your walls can elevate a space even if you don't like artwork. Keep to the room color palettes and focus on textures and patterns. In some spaces, wall shelves replace artwork, drawing a line from one area to another. Make sure to balance shelf decorations and leave space. Crowded shelves shrink a room and add to the clutter.
Flooring and Rugs
You usually won't replace your flooring before selling your home. However, use neutral flooring in a busy room if renovating an area. In smaller rooms, you can use brighter tiles or conversation-piece flooring.
Make sure any area rugs follow the 60-30-10 palette rule. An area rug creates a point of interest. Try to place area rugs in seating areas. Avoid carpets in kitchens unless they're floor mats.
Ensure your floors are cleaned, shined, and well-maintained before a viewing. Use area rugs to hide worn spaces on the floor, and clean carpets regularly. While fully carpeted rooms do hold warmth, they limit room use. Try pairing hardwood floors with area rugs for a lived-in feel.
In Closing
Your Destin home is a slice of paradise. Make your home feel as valuable as it is with calculated furniture investments. A few simple decor changes can elevate a space. Small, fundamental changes can revolutionize your home.