How To Meet Locals When Moving to Santa Rosa Beach
Posted by Danny Margagliano on Thursday, February 16, 2023 at 5:24:55 PM
By Danny Margagliano / February 16, 2023
Comment
Fun fact: we make friends easily while we are kids. The older we become, the harder it is to meet new people and become closer to somebody. This is the ugly truth that complicates your adult life all the time. But it doesn't mean you can't make friends anytime and anywhere you like. The good news is the locals in Santa Rosa Beach are friendly and always seem to have room for one more in the group.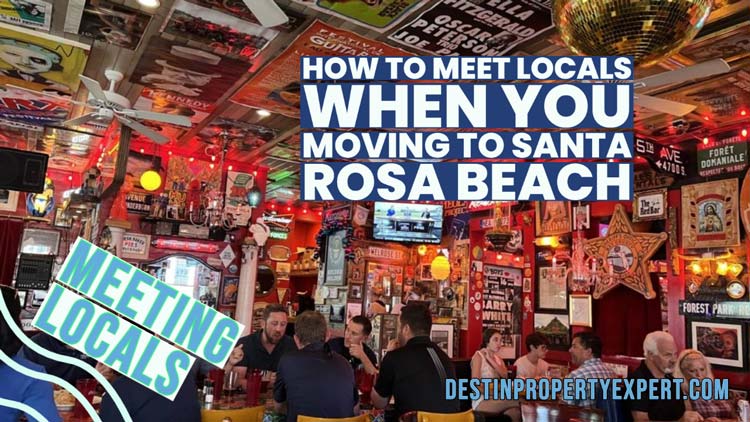 In particular, you may experience extra issues with making friends when you have to move somewhere. Besides new people, you'll be surrounded by new places you haven't ever been to. But here is a secret: these certain places are the key to getting acquainted with locals.
Top Places To Meet Locals at Santa Rosa Beach
Moving to another place is exciting and full of new expectations. People relocate for different reasons, but no matter what, they aspire to make friends and build healthy relationships. It's definitely not easy, especially if you move to another country or city. But there are no impossible missions for individuals with the exact goals.
Let's talk about moving to Santa Rosa Beach, Florida, USA. Do you worry about how to make friends when you move? Step number one is to meet locals and develop connections between you. Step by step, you'll find your people with the same interests, fears, purposes in life, values, etc., as you. So use the following places to meet new people and try to enjoy the process.
Beaches for active leisure
Beaches are always full of people, especially at Santa Rosa Beach. Usually, young people prefer such entertainment. They come to a beach to get tanned, enjoy swimming, have a walk along the coastline, and so on. When the weather is fine, you can go to the beach, meet many new people, and engage in different activities.
Besides, not only youth visit the beach. You may see people of any age having fun by lying in the sun or drinking fresh cocktails. In addition, families with kids don't miss a chance to breathe fresh air and play frisbee together on weekends.
So if you have children, then meeting locals will be incredibly easy. Kids are very communicative and let parents start conversations organically.
There are numerous public beach accesses alone 30a, but Ed Marlene Beach Park is the most popular. It's located at the intersection of 393 and 30a. It is one of the beaches in South Walton that has dedicated lifeguards. You also find showers, bathrooms, picnic tables, and barbecue grills. Right across the street is Gulf Place, where you can find shopping, restaurants, and more. Don't forget to visit Pizza by the Sea or Shunk Gulley Oyster Bar for some of the best eats at the beach.
Dating apps to find friends
Most apps are called dating, but initially, they are meant to help you make friends. Yes, most people use dating apps to find a partner. But this is an outstanding option to get acquainted with locals even if you aren't looking for romantic relationships. Remember that such apps are extended, consuming lots of your iPhone's physical and operating memory. It means you should clean up more memory on your device.
How to boost a phone? You should clean up the memory of your mobile device regularly. So get a clean up iPhone application and run it sometimes to eliminate duplicate photos, junk, and other unnecessary files. You'll see a noticeable difference because a good cleaner will boost your phone immediately.
Anyway, smart cleaning will be helpful even for those users who don't install many apps on their iPhones. So try it and estimate its influence on your gadget's performance when you are using such apps for friendship development. For instance, Patook, MeetUp, We3, and others. You should also consider visiting websites like the Absolute Dater to ensure that the dating apps you use are not filled with scammers.
Gyms to meet like-minded persons
Healthy lifestyle and effective exercises – what a great base for finding like-minded persons. If sport is calling your name and you don't spend a day without exercising, welcome to the club. Fitness belongs to a very popular category of leisure for many locals in Santa Rosa Beach. Someone does it for health, someone – for fun, etc. But you'll definitely be surrounded by people at a gym.
For instance, if you are into Zumba, you should go to the gym called 'Fit your way'. Its customers adore this combination of dance and exercise. It means that all people in the group have the same interest. Would you miss such a chance? Definitely, no.
Anyway, sport is a great interest to share between people. It brings us together and makes us feel like a part of a big community. That's why don't be shy to go to the gym if you don't have a perfect body. Just remember that people come there to get the body of their dreams and a few positive emotions.
Fitness centers in Santa Rosa Beach
Pet parks for positive emotions
If you have a pet, you may think you already have a friend. Well, we aren't talking about your dog or cat as your best friend (they definitely are!). This statement is about all pet owners connected with the same interests. You adore your little friends and can talk about them for hours.
That's why going to pet parks is a perfect idea. On the one hand, you'll gain so many positive emotions. It is so cool to play with your pet and see other people with their pets. On the other hand, you can easily start a conversation with any pet owner. Just an idea for a small talk will be perfect.
Where can you go in Santa Rosa Beach to play with your dog? Oh, there is an excellent choice of pet parks. For instance, located one street to the west of Highway 331 off-highway 98 is Padgett Park. It has three separate areas for small, medium, and large dogs.
About 15 to 20 minutes from Santa Rosa Beach is Nancy Weidenhamer Dog Park, the top-rated one with a separate area for playing with small dogs. Another great option is T.J. Brooks Park, with 7 acres of space and 1,600 feet of walking roads.
Nightclubs & bars for extrovert entertainment
Nightlife is a perfect leisure to meet new people. You can rest, dance, eat, and drink without limits at the popular places in Santa Rosa Beach. Alongside, it's so easy to get acquainted with other people in an informal atmosphere. If you love such a type of entertainment, of course.
All you need to do is to pick up an exciting place and be yourself. If you worry then relax and have a good time as an extrovert tonight. If you can't select a good nightclub, here are several top-rated options.
For instance, you may go to The Red Bar. It is located at 70 Hotz Ave. This nightclub has a high rate – 4,5 stars and customers share in their reviews that it never disappoints. Another cool place is Growler Garage located on W County Highway 30a Suite 101. Customers love this nightclub for its relaxing atmosphere and fantastic craft beer. For the best sunsets, wine, and nightlife, check out Bud & Alley's in Seaside.
Among other honorable mentions are Shore Thing Cigars in Watersound, Johnny McTighe's Irish Pub in Blue Mountain Beach, and Local Catch near Gulf Place.
Kids parks to unite your family
As it was mentioned before, your children are a perfect source of new acquaintances. It is easy to start a conversation with another mom or dad playing with kids at the park. So after moving to Santa Rosa Beach, you should definitely explore nearby parks.
Well, there are literally many places to go with kids. One of the great examples is Padgett Park. Yes, you heard it right, it's not just a dog park. It is very cozy and pleasant, and you can find a unique playground for kids. Another nice park is called Helen McCall Park. Parents go there to watch kids playing soccer and baseball. There is also a nice size playground and a cement skate park..
Anyway, you can feel free to enjoy nature at Santa Rosa Beach. Many parents like to take their children to the beach or the pet parks. It's nice to spend time with family and find new friends occasionally.
Local Facebook group for online support
All groups on social media are called to bring people together. You can chat, exchange files, and ask questions directly from locals. This is a fantastic opportunity to join a new group of people after moving from another city or country.
For instance, Facebook is a perfect place to find relevant local groups. Let's mention several of them:
– Buy nothing, Santa Rosa Beach (a group for promoting neighbors to each other);
– Santa Rosa Beach Moms (a group where women with kids can find like-minded persons);
– The Santa Rosa Beach Hangout (a group for people interested in dating);
– Santa Rosa Beach Area Events and News (a group to announce upcoming events).
– Santa Rosa Beach, Florida (For those who love the peace and tranquility of Santa Rosa Beach)
Also, think about using various social media platforms for multiple purposes. If you search posts with a location tag or post your content with it, you'll increase your chances of a successful acquaintance. So if you have your personal blog on Instagram or Facebook, you should start posting content with a location tag. This is way too simple: add a place to your photo or video before you post it in the feed.
Let's meet!
As you can see, there are so many opportunities for you to meet new people and develop relationships with them anywhere. No matter where you are from, you are moving to Santa Rosa Beach now. This is a great place for living and entertaining. So use obvious and not really obvious places to get acquainted with locals. It's not as scary as you think!
You have an opportunity to meet people in other countries and regions. That's a precious experience! So relax and enjoy new acquaintances to reveal the world you are moving to!