What do millennials want when buying a home
Posted by Danny Margagliano on Monday, June 15, 2020 at 10:18 AM
By Danny Margagliano / June 15, 2020
Comment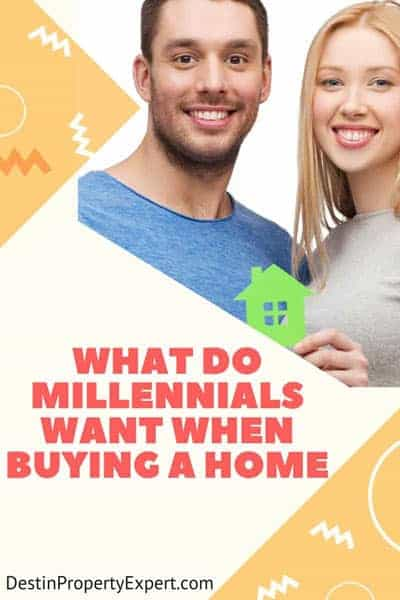 It seems like a day doesn't go by without another alarming headline about millennials. Depending on where you get your news, the generation's shifting priorities and values are causing the demise of everything from brick-and-mortar retailers to golf courses. Other commentators opine that the younger generation is so different from its older counterparts, it may as well be an alien species.
This can be especially concerning if you're trying to sell a home, because millennials represent the largest segment of the market, at nearly 32% of all homebuyers. But if you're one of those born between 1980 and 2000 who is looking to buy a house, you may be frustrated because you're not finding many listings that have the attributes you desire. The good news for both sides of this equation is that young people today aren't really from another planet. In most cases, they're looking for the same features their parents wanted — just in a different configuration.
Making your property more appealing to millennials doesn't necessarily require a significant overhaul or buying into alarmist ideas about their spending habits. In fact, just by making a few tweaks to your house and/or your listing, you can become more successful at grabbing their attention, making them comfortable throughout the buying process and getting them to close the deal. All it takes is a little insight into who millennials are, what they value most and how they feel about making such a major purchase.
Who Are They?
Shifting attitudes about marriage and career means these homebuyers are in a different place, socially and financially, than their parents and grandparents were when they began looking for their first homes. Millennials often wait longer to get married, and they also may be more reluctant to make a significant commitment when it comes to real estate. The majority of married and unmarried couples in this demographic are dual-income, which means they may not see the value in buying a house if they both spend most of their time at work. They also tend to be more interested in accumulating experiences rather than possessions. This can make owning a home a lesser priority to them than it was to older generations.
When asked to state their biggest concerns about buying a home, most millennials cite the costs involved. Many prefer to allocate their money to something other than a down payment or maintaining a house.
Millennial Home Buying Infographic
What Millennials Want created by Asset Based Lending.
What Do They Want?
Despite all the hand-wringing about how millennials are potentially disrupting nearly every industry in the world, they still want many of the same qualities in a house that everyone else does. They want quality construction in a good location with the potential for a long and happy life for their families in a home where they will put down roots. However, there are a few must-have features that make these buyers slightly different from other segments of the market.
One of the biggest and most obvious is sustainability. These young people are more eco-conscious than virtually any other generation and are more likely to be concerned with improving their environmental footprints. That means energy-efficient appliances, solar panels, and renewable building materials can make your listing more attractive to them.
They also want to have confidence in their kitchen and bath fixtures. A home with appliances that are less than a year old will reassure them that they won't have to replace or repair a big-ticket item soon after taking possession. And don't underestimate the importance of a strong Wi-Fi network and connectivity in attracting younger buyers. With so many of them working from home and streaming their entertainment over the Internet, it's crucial that every room has good wireless coverage and plenty of electrical outlets.
In terms of the home's layout, the traditional dining room/kitchen setup has fallen out of favor. Younger people prefer open-concept homes that blend living, dining, and kitchen spaces for a better flow and easier entertaining. Another crucial bit of information that could help you appeal to these buyers is that they're not nearly as enamored with acquiring maximum square footage as their parents were. Millennials see extra bedrooms and enormous yards as unnecessary and are more focused on maximizing the potential of a smaller space. The ideal millennial floor plan would be a little more than 1,000 square feet, with three bedrooms and two bathrooms. This means they're looking for properties that offer them flexibility. If a room can be used as both an office and a spare bedroom, that just makes it all the more appealing.
Although they don't want to break the bank on a lot of extra rooms they won't use, that doesn't mean millennial homebuyers are all about cutting corners. The proliferation of lifestyle influencers on social media means this generation is more in tune with high-end design elements than others. They will recognize and seek out finishes such as hardwood floors, quartz countertops, and natural stone details. Sleek and modern are the qualities they value the most, as they want a house they can show off on Instagram.
How to make your listing pop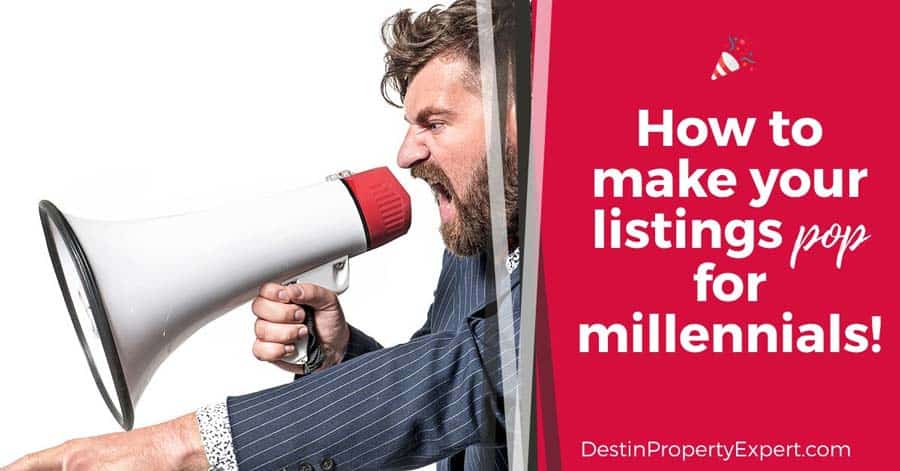 Perhaps not surprisingly, millennial homebuyers do most of their initial searching online. This means that if you're serious about capturing this market, you have to do more than type up a brief description and include a single curbside photo. If at all possible, hire professionals to stage the house and take photos. Most of these younger buyers won't even drive past a property for sale if they aren't impressed by its online listing, so sellers should take this part of the process very seriously.
You'll also need to think outside the box when it comes to creating a listing on the Internet. Static photos, even when professionally done, may not be enough for every buyer. If you can arrange for a video walk-through that showcases your home from a point-of-view perspective, that can be incredibly helpful. In many cases, sellers have even turned to virtual reality walk-throughs to create the most immersive and technologically impressive results. An increasing number of realtors and sellers also are using drone footage to show off the property's exterior as well as the yard and surrounding neighborhood.
Even if some of the features they want from a home are different from the preferences of previous generations, selling your house to millennials shouldn't be an insurmountable task. In fact, once you gain a bit more insight into how they think and what motivates them, it shouldn't be too difficult to adjust your approach. For a summary of these points and more information, take a look at the accompanying infographic.
Additional Real Estate Resources
Check out these great additional millennial mortgage tips and more from Eric Jeanette.
You are a millennial looking for a home to purchase do not pass up what Bill Gassett has put together for you in this informative article.
Glenn Shelhamer tells millennialsexactly what they need to know about buying a house in todays market.
Try to figure out millennials and home buyingwithPetra Norisin her recent informative article about America's largest home purchasing group.