6 Reasons You Should Move to South Walton Beach, Florida ASAP
Posted by Danny Margagliano on Saturday, July 17, 2021 at 9:52 AM
By Danny Margagliano / July 17, 2021
Comment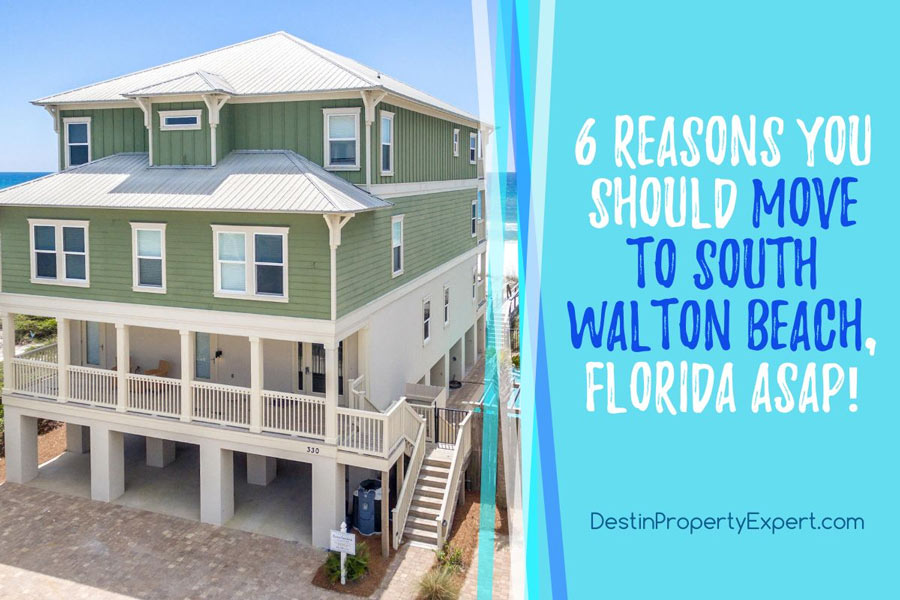 If you're considering a move to South Walton Beach, Florida, you probably already know about the gorgeous beaches there. You've also probably seen those ubiquitous 30A bumper stickers with the cheerful sunshine logo.
What you may not know is that those bumper stickers aren't just for tourists who've traveled the scenic 30A highway and vacationed on the sandy beaches it borders. Many who call the unique beachside towns home proudly display it, too.
Ask anyone who lives in Destin, Miramar Beach, Santa Rosa Beach, Seaside, Watercolor, Blue Mountain Beach, Rosemary Beach, or any of the other sister communities in the area will tell you their communities are idyllic for putting down roots. They'll also warmly invite you to do the same, no matter whether you're looking to rent an apartment there and test the waters, or buy your forever home and settle down.
So hang out with us for a while, and we'll show you why South Walton Beach (or SoWal to many locals) is a fantastic place to call home!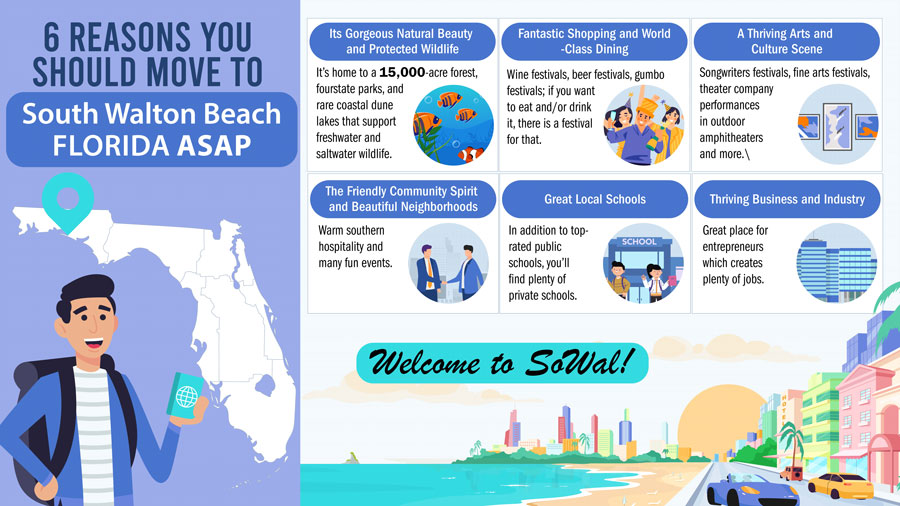 Graphic provided by the Florida Three Men and a Truck
Its Gorgeous Natural Beauty and Wildlife
As you may have heard, the beaches are amazing, and these natural destinations much sought by tourists as of lately now also attract people looking to escape the concrete jungle and settle in a place like this. If you've never seen the emerald waters of the Gulf of Mexico lapping gently against the sugar-white sands of Florida's panhandle coastline, you're missing out!
Protected State Forest and More
Also, forty percent of South Walton's land is protected by the state. Not only does this keep its natural beauty the most prominent feature of the area, but it also keeps developers at bay and building to a minimum.
It's home to a 15,000-acre forest, four state parks, and rare coastal dune lakes that support freshwater and saltwater wildlife. In addition to South Walton, you'll only find them in a handful of locations around the world. (Australia, New Zealand, and Madagascar, to name a few.)
If you love outdoor recreation, the beaches and lakes are perfect for paddleboarding, bodyboarding, snorkeling, fishing, and more. It also boasts plenty of campgrounds and pristine trails perfect for hiking and trail riding.
Hunting in South Walton Beach
One of the least unknown facts about nature and South Walton Beach to tourists and many locals is that the area offers very good hunting. That's right! You can hunt in the Point Washington State Forest for deer and turkey. There are not many places in the country where you can step off the beach and ride your bike hunting. Now that's unique.
Florida Black Bears
Furthermore, although they are not hunted, there are many black bears roaming the forest in South Walton Beach. That's another shock to most people. These bear typically mind their own business but have been known to help themselves to a few trash cans from time to time.
The Friendly Community Spirit and Beautiful Neighborhoods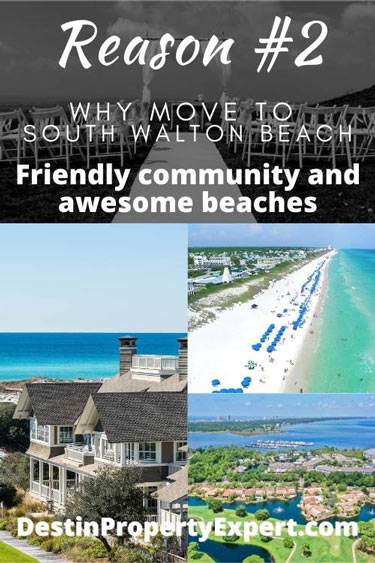 The charming towns in South Walton will impress you with their sense of community and warm southern hospitality. The trademark white solid concrete homes of Alys Beach on 30a are just as beautiful as the sandy beaches they mirror. The rental properties dotting the area are just as beautiful, with pristine landscaping and abundant amenities.
There are major festivals and parades for the usual holidays (like the 4th of July and St. Patrick's Day, and fun events for Halloween and Easter). Still, you'll find plenty of low-key neighborhood gatherings as well, where locals socialize and mingle with the area's guests during the summer.
In The Off-Season
In the off-season, when the weather is cooler and the crowds are fewer, you'll find plenty of family-friendly community events, too. Along the coast of the Northwest Florida Panhandle, winter temperatures have average highs ranging from the mid-60s to the low 70s. It is cool enough to feel like a perfect fall or spring day for months. This weather makes outdoor activities pleasant and enjoyable.
Family-Friendly Games
For example, Miramar Beach hosts lawn games every Thursday, Friday, and Saturday in the town's most prominent community park. There, locals gather to play ping pong, cornhole, chess, and more while enjoying food and drinks from the area's many restaurants and food trucks.
Farmers Market
If you missed the lawn games gathering, not to worry. Seaside and Miramar Beach host a Farmer's Market on the weekends, Santa Rosa Beach hosts a weekly Bocce tournament, and community fun runs pop regularly if you'd like to get out for some exercise and meet your new neighbors.
Festivals
We'd be remiss if we didn't mention the annual Mac & Cheese Festival in Destin, benefiting the Boys & Girls Clubs of the Emerald Coast. There, local chefs bring their best mac & cheese game and duke it out for the Judge's Choice Award, People's Choice Award, and Kid's Choice Award. You won't be disappointed.
Here are a few of the other festivals that happen in the South Walton Beach area each year:
Sandestin Gumbo Festival
30a Wine Festival
Tequila Taco Fest
Emerald Coast Blue Marlin Classic
International Coastal Cleanup Day
Baytowne Art and Food Fest
South Walton Celebrity Golf Classic
Fore Her Golf Outing
Eggs On The Beach
Harvest Wine Festival
Bloody Mary Festival
Rosemary Uncorked
Baytowne Wharf Beer Festival
Seeing Red Wine Festival
30a 10K Thanksgiving Day Race
Flutterby Children's Art Festival
South Walton Holiday Parade and Seaside Turn on the Town
Old Florida Holiday and Winter Market
Telluride MountainFilm on Tour
Christmas Reflections
Eden State Gardens Christmas Candlelight Tour
These are just a few examples of the fun events that SoWal hosts regularly. If you'd like to see more, visit https://sowal.com/events for a list of all the great gatherings offered in the area.
A Thriving Arts and Culture Scene
With the inspiring beauty of the area, it's not a stretch to assume that SoWal plays host to outstanding art and culture scenes, too. Songwriters festivals, fine arts festivals, theater company performances in outdoor amphitheaters, all just a few examples of what you can expect.
Suppose you'd like to dig a little deeper and get to know some of the local artists. In that case, duck into the Fusion Art Glass Gallery in Seaside or CHROMA/Kathleen Broaderick Studio & Gallery in Santa Rosa for painting classes and workshops.
If you'd like something a little different, check out Dance with Loki in Santa Rosa and learn how to tango, samba, swing dance, or find your inner hip-hop dancer. Workshops are open to the public, and they even host dance socials where you can show off your moves!
If you're sore from dancing the night away and you need a rest, get out for a night at the theater with the ECTC (Emerald Coast Theater Company). Go with a sweetheart, or take the kids to an ECTC Theater for Young Audiences production.
For more theater and plays you can head to Seaside where you'll find The Repertory Theatre (The Rep). They have been offering entertainment to the seaside, 30a, andSouth Walton Beach community since 2001. they are the area's first established professional theater company. They can be found at their indoor theater in Seaside, in the outdoor amphitheater at Seaside, and throughout the other beach communities in the area offering great entertainment year-round.
Fantastic Shopping and World-Class Dining
Wine festivals, beer festivals, gumbo festivals; if you want to eat and/or drink it, there's a festival for that. (We've already told you about the Mac & Cheese Festival.) But beyond the crowds, SoWal has an abundance of world-class dining and wine bars to accommodate even the most discerning foodie.
If you're in a fancy state of mind, try Roux 30a in Santa Rosa Beach. This chef's table restaurant features communal farm tables and an open concept kitchen. The head chef will greet you upon your arrival and check-in with you throughout your meal to chat about the dishes and the locally sourced ingredients that go in them.
If you'd like to learn from the best, Roux 30a also offers fantastic cooking classes where you'll learn to make sushi, Indian dishes, pasta from scratch, and much more.
For a more laid-back vibe with local seafood that'll knock your socks off, try Stinky's Fish Camp and wine bar, and prepare to knock back some of the best oysters ever. If it's from the local waters, this chef-driven restaurant has it, and they'll serve it up as you like it. Substitutions and all.
The boutique shopping scene in SoWal is so diverse, you may want to block out a solid three or four days to browse them all! You'll find surf shops with trendy beach duds, handcrafted jewelry, cruise wear, eveningwear, and much more. You'll also find plenty of local open-air malls with familiar branded stores. For the ultimate shopping experience head to Miramar Beach where you can spend a few days shopping all the stores located at the Silver Sands Outlet Mall. The outlet mall as well over 100 premium stores to choose from all fine huge sales and discounts.
Great Local Schools
The residents of the communities of the South Walton Beach area take their local educational institutions seriously. In addition to their top-rated public schools, you'll find plenty of private schools. Collegiate high schools in the area offer programs where students can earn credits toward their college degrees.
The public elementary and middle schools in South Walton Beach are "A" rated schools. If you want to explore nontraditional private schools there are numerous choices. Two of the more popular private and charter schools included the Ohana Institute and the Gateway Academy.
Higher education institutions like Northwest Florida State College and the Emerald Coast University of West Florida call SoWal home as well, and they offer plenty of pathways to University partnerships, non-degree education, and trade degrees.
Thriving Business and Industry
The primary source of industry in SoWal is tourism (no surprise there). As a result, there are plenty of opportunities to work for local businesses, both corporate and otherwise, that support the tourism trade.
Medical parks and assisted living facilities contribute to the area's job market, as do financial centers, a thriving real estate industry, service industry, and more.
Welcome to SoWal!
If you're thinking about moving to South Walton Beach, you can expect a warm welcome, plenty of fresh seafood, beautiful wildlife, and plenty of family-friendly activities. There are several things you should know before beginning a move. You should determine whether you want to do everything yourself or hire professional Destin movers. Finding a trustworthy mover is simple when you evaluate their costs, experience, and customer service. When moving to Destin, using a moving company is highly suggested as they will handle everything so you don't have to stress out.
SoWal has so much to offer, and the real estate market is thriving because more folks are settling there for good than ever before. So a word to the wise from the locals: if you're looking for your forever home, you might want to get a jump on finding a property soon!