The Only Moving Checklist You Need: Things to Remember When You Move
Posted by Danny Margagliano on Saturday, August 7, 2021 at 1:11 PM
By Danny Margagliano / August 7, 2021
1 Comment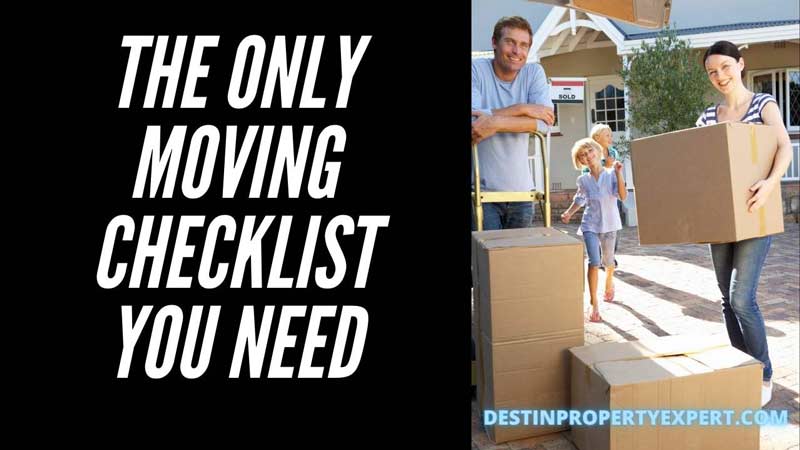 Every year, many people move out of their homes to a new place. Sometimes, they need to change jobs or have been promoted and have to move for work purposes. It can also be for other reasons such as wanting a better school district or living environment. Whatever the reason may be, though, moving house can be a tricky thing to do. After all, moving is a time-consuming and expensive process.
However, it doesn't always have to be unpleasant. If you are smart about how you go about your move, you can save yourself from many of the headaches that come with this significant life change. This checklist will help ensure that you don't forget anything when packing up and moving out for good!
Part 1: Planning The Move
Research Thoroughly
Because in most cases, you already know which town, city, or country you'll be moving to, the first thing you must do is research the area thoroughly. What are its pros and cons? What is it like to live there, work there? How does this new place compare to your hometown in terms of culture, safety, transportation, education system etc.?
If you want a happy life with lots of opportunities for success, then an important thing to do when planning your move is to find out what the location, you'll be moving to has in store for you.
Find a new school
If you plan to move with kids, here are some tips to make the process more manageable. But first, make sure to look at all the schools in the area you are relocating to. Every region and state has different regulations and policies when it comes to school. You'll want to find not only all of the public schools but also private schools in the area. Although moving can be exciting it can also be stressful for kids when they are changing schools. This research can be done together with your children if you wish.
Determine Your Budget
One of the most important things to do during this planning stage is to set a budget. You'll need money for all sorts of expenses, such as moving your furniture and belongings across, buying new furnishings at your new house (or getting them second-hand), etc. The last thing you want is a lack of funds while you're still in the process of moving to your new home.
Do not forget to set aside a portion of your budget in case of emergency. The last thing you want is to be strapped for cash with no way to get more in the middle of your move!
Find The Perfect Home In The Area
Many websites can help find listings for homes or apartments in your selected area. Some even allow residents themselves to post ads with the details of their homes for sale, so this can be an excellent way to find an affordable place while simultaneously meeting new people.
Remember that the "perfect home" is always subjective and is different for everyone. You'll know something is perfect if it fulfills your needs and doesn't come with any downsides that will cause you to regret the decision in a few months!
Here are some tips on How Buyers Can Get the Best Deal on a Home in a Seller's Market.
Look Into Hiring Professional Movers
Next, you will want to look into hiring professional movers. This can often be expensive, but it's well worth the investment if you are afraid of doing damage to your belongings or the new house while moving them yourself.
Moving trucks also cost money and take time to get delivered from one place to another - so by hiring professionals, not only do you save a whole lot of time, but you also don't risk damaging anything in the process. Remember, just because hiring professional movers is more expensive than self-moving doesn't mean it's not worth it!
Consider Renting Self Storage
If you have the money to spend and not enough space for your belongings, renting self-storage is a great idea. This way, if necessary, you'll be able to store everything in one place until it's time to move them into your new home or if you want to take your time with all the unpacking.
Self-storage is also helpful if you plan to send some of your belongings ahead before you move. That means you'll have them all at your new place before you move in.
If you're worried about the safety of your items in self-storage, you don't have to be! After all, the facilities for such are often equipped with security features that will keep your belongings safe and secure. Many also offer climate control in a few select units, which means your delicate items will also be safe from damage due to dust, dirt, moisture, fluctuating temperatures, and many more.
The cost of such storage spaces is also not something you should worry about, as they are almost always reasonably priced. That is because self-storage prices are computed based on factors that you can control, like the size of the unit, the features, and amenities available in the unit, and even the unit's location in the storage facility.
On top of this, though, self-storage is also priced based on its geographical location. This is because factors such as cost of living and demand for storage differ from one area to another. This means self-storage in Destin will cost differently than storage in Orlando or Fort Lauderdale. Similarly, in England, self storage in Brighton will cost differently than that in London or Bristol.
Arrange For Your Prospective Moving Company To Conduct A Pre-Move Survey
If you are hiring professional movers, then it's a good idea for you to arrange for your moving companies to conduct a pre-move survey. This will help them understand the scope and scale of this project so that they can come up with an accurate estimate of how much time and effort is needed from their end.
Finalize Your Moving Schedule
Finally, you will need to finalize your moving schedule before giving it to any potential movers. This is because even if they can come up with a quote for you in advance - and they should be able to do so! - their availability may be limited.
Part 2: Packing Up, Moving Out, and Preparing For The Transition
Purchase High-Quality Packing Materials
Purchase high-quality packing materials to protect your items during the move. This includes cardboard boxes, bubble wrap, masking tape, and more! It's a good idea to do this well in advance so that you have enough time to purchase everything before moving day arrives.
These items will be a bit more costly than regular packing materials, but they will be worth your money! If you are on a budget, though, you may also look into using free high-quality moving boxes instead.
Declutter Your Home
Before you start packing up your belongings, it is recommended that you declutter your home. Get rid of as much stuff as possible so that it's easier for you to pack and move things around without having to worry about too much clutter in the way.
If you are not sure about which items to get rid of, you may start with things that are no longer of use or value to you. Aside from such items, you will also want to dispose of duplicate items, obsolete appliances, and those that are damaged beyond repair.
To "dispose" of an item, you may choose to sell, donate, or throw them away.
Have a garage sale
Now that you have separated your clutter and items you do not use anymore, it's time for a yard sale. The best way to go about this has it over a weekend. Sell as many items as you can. If someone's interested in something, do not let them leave without it. That's because when you're all finished, whatever's leftover should be donated or thrown out on Sunday afternoon.
Pack Your Belongings
Once you have decluttered your home, it's time to pack your belongings. To do so properly, ensure that the heaviest items are placed at the bottom of a box and those with lesser weight on top.
It is also recommended that you wrap any breakable or fragile items in bubble wrap before packing them up. This will help protect them from breakage. Lastly, make sure that you label your boxes and items with a marker or tape, so it's easy to identify them later when unpacking!
Organize Any Renovations That Need to Be Done in the New Place
Next, if any renovations need to be done in the new place, it is best to organize these before moving. For instance, if your drainage system needs fixing or repairing, this should ideally be done first to avoid issues when you move in later.
Check out this Home Renovation Checklist to make the process much easier.
Legally Change Your Address
When you move house, it's crucial that you legally change your address. Aside from changing your address in legal documents and IDs, you will also want to make sure that your bank, telephone, credit card company, and Internet providers are notified of your address change.
You will also want to set up for your mail to be automatically forwarded to your new address, inform companies you have subscriptions with of the change, and cancel memberships that are no longer relevant in your new area.
Ensure Your Utilities Are Up and Running At The New Place
Once you move into your new place, it's always a good idea to ensure that all utilities - water, electricity, and gas - are up and running. This is because if they aren't, then this could cause major inconveniences for yourself and other members of your household!
Have Your Old Place Cleaned Out
Lastly, before you move out of your old place, it is vital that the property be cleaned. This includes getting rid of any excess garbage and cleaning up all surfaces so that they are clean when new residents eventually come in!
If you are leaving a rental home, you will also want to make sure that the items on your end-of-lease checklist have all been crossed out. That way, you can ensure that your security deposit is refunded in full and that you are given a clean slate for your next rental.
Part 3: Settling Into Your New Home
Assimilate Into Your New Neighborhood
Since you are now living in a new neighborhood, you must get to know your neighbors. This will help make the transition into your new home much more seamless!
It's also best to learn about the different amenities available around the area - this includes supermarkets, parks, schools for children or colleges/universities for adults, etc.
Likewise, you should also know what is in the vicinity of your home - this includes places like hospitals and fire stations so that if something goes wrong, then it will be easier for emergency responders to find you!
Decorate Your New Home
It's essential to decorate your new home! This can make the move much more joyous and pleasant since you will be settling in somewhere that feels like it is "home!" If you are moving into a rental property, one way of personalizing your living space is by adding furniture.
Unpack Your Belongings
While unpacking your belongings is important, you must remember that you do not have to rush through the process. Instead, you should take your time and unpack things to make sure that they are neatly placed at the end of it.
For the items you have yet to unpack, you may keep them in the previously mentioned storage unit for as long as necessary and unpack them when you are ready.
Relax
Lastly, once you have moved into your new home and unpacked your belongings, it is essential to relax! This includes spending time with family members or by yourself. This will ensure that you can recover from the process of moving and adjust to your new home.
Are You Ready For The Big Move?
With this moving checklist, you should be one step closer to a successful move! Just remember that while using this checklist is great, it's always important to listen to your own needs and desires. So, do not be afraid to explore and find moving techniques that are perfect for your moving needs.