Things to Consider if You're Moving from New York to The Florida Panhandle
Posted by Danny Margagliano on Tuesday, August 1, 2023 at 5:11:08 PM
By Danny Margagliano / August 1, 2023
Comment
If you're considering leaving the hustle and bustle of New York for the sandy shores of the Florida Panhandle, your life is about to change.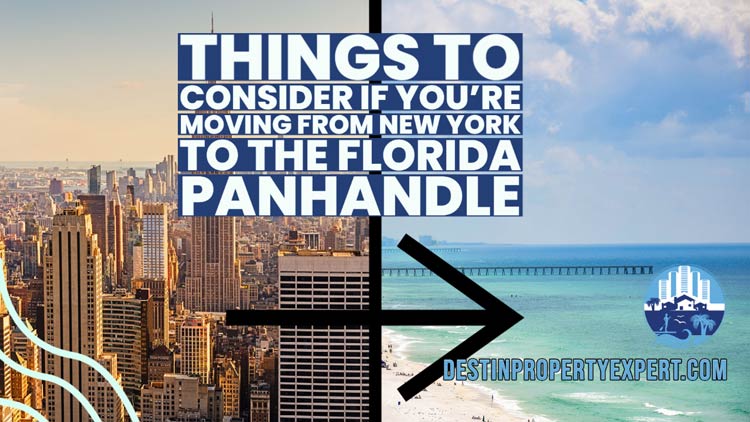 Leaving New York and relocating to the Florida Panhandle is a major decision, and there are many factors to consider before leaping.
From temperature and way of life to cost of living and job possibilities, this article discusses the most important things to consider if you're moving from New York to the Florida Panhandle.
Things to Consider if You're Moving from New York to The Florida Panhandle
Moving across state lines can be both exciting and challenging. You've boldly decided to leave chilly New York for warm Florida. You will have a lot of plates to juggle around. Consider several things if you are moving from NY to Florida Panhandle.
Here are some things to consider before moving day to make the change from cold to hot easier on you and your belongings.
❖ Make a Plan
Get a head start on your relocation by beginning the planning process early so you have plenty of time to gather information and pack, among other things. Make a schedule and checklist to help you keep track of all you need to do.
❖ Contact a Moving Company
Look for an established moving company that has previously handled relocation across state lines and hire them. Compare prices, check references, and double-check licensing and insurance before using a moving company. Verify their familiarity with long-distance relocation and that they can tailor their services to your requirements.
Contacting local Manhattan movers is the best approach to get an estimate of your move's final price. They provide low-priced interstate moving services out of New York City and are completely licensed, insured, and bonded.
❖ Declutter Your Closet
When you get to Florida, and it's already 90 degrees, the last thing you want to do is worry about finding the perfect outfit in a hurry. So don't rush; ensure you and your loved ones have the right gear for the warm weather. You may save money and feel better if you plan like this.
Clear out your drawers and winter-wear closets you won't use anymore before you move. If you pare down your closet before a move, you'll save money on storage and easily find storage solutions after settling in.
❖ List Your Belongings
Make a thorough list of everything you have. Then, before you pack up your whole house, stock everything you own. This will serve as a record in case of loss or damage during transport and as proof for insurance claims.
❖ Pack Strategically
Start collecting boxes and packing materials about a month before your move, and then begin packing up your seldom-used belongings. Before everything else, pack your off-season wardrobe, home furnishings, books, and other non-essentials. Then, as moving day approaches, you may fill the remaining items in your closet and start cleaning up your kitchen and bathrooms.
Packing carefully is the best way to protect your assets during a long-distance move. Use things like sturdy boxes, bubble wrap, sturdy packing paper, and so forth. Please label all boxes with their contents and the room they belong in to speed up the unpacking process. Pack your basics in another bag so that they are easy to find.
❖ Put Labels on Everything
Identify the contents of each box by labeling them before you begin packing. This will aid the movers in unloading the boxes and keep you on track while you unpack.
Careful packing is essential to preventing damage to your valuables during a cross-country relocation. Use full boxes, bubble wrap, packing paper, etc. Please mark each box with its contents and the corresponding room to facilitate unpacking. Keep your necessities organized and close at hand by packing them in a separate bag.
❖ Give Notice to Service Providers
Notify your service providers, financial institutions, healthcare providers, and relevant government authorities of your anticipated relocation. Update your address and contact details by informing them of your move.
Utility services such as electricity, gas, water, internet, and cable should be transferred to your new address or disconnected before you leave your existing one. Make sure to have your utilities turned on at your new Florida location before you move.
❖ Update Your New Address
Make sure that everyone who needs to know your new location does so, including the post office, your company, your banks, and your insurers. You should also let your loved ones know your new location.
❖ Explore the New Neighborhood
Get to know the area around the Panhandle of Florida. Find out about the area's restaurants, grocery stores, gas stations, hospitals, and other services. You may expect a smoother transition if you do this.
❖ Prepare For the New Weather
The Panhandle of Florida has a relatively higher temperature compared to New York. Sunscreen wasn't a priority when you were a New York City resident. Remember to include sunblock in your travel requirements when you finish packing.
New Yorkers can get by without central air conditioning. However, in Florida, a reliable air conditioner is essential. In addition, increased electricity costs and frequent maintenance are consequences of warmer temperatures.
❖ Attend to All Necessary Formalities
If you plan on moving to Florida, research the state's procedures for transferring your driver's license, car registration, and voter registration. Learn about the timeframes and paperwork needed to make a seamless move.
❖ Have Your Essential Ready
Put together a package of necessities you can use when you move in. Remember to pack your hygiene items, bedding, a change of clothing, essential paperwork, and electronics chargers. Document your valuables by taking pictures or making a film before the relocation. In the event of theft or damage during the relocation, this documentation may be used as proof for making insurance claims.
Cost of Moving
Moving from New York to Florida usually averages around $1,700 to $5,000. So, the rough estimation of moving to the Florida Panhandle will be similar. However, the final price tag for hiring movers to transport your belongings from New York City to Florida Panhandle will be influenced by various variables, such as:
● House Size
Long-distance moving costs are based on the amount and weight of your household's belongings. Therefore, costs associated with moving across state lines are proportional to the quantity and size of your household goods.
● Moving Company
Do you need packing materials and labor for your upcoming relocation? Or, maybe you simply need help getting all your stuff—including the boxes and furniture—onto a moving truck headed south. The relocation price will depend on how many labor hours your relocation requires.
● Distance
Florida Panhandle is situated in the northwestern part of Florida, US. The distance between the two points is 1,237 miles (2,038 kilometers). Your moving estimate will include the time between your current and new addresses.
● Season
Because of the great demand placed on moving firms throughout the summer months, rates tend to increase.
Conclusion
Moving from New York to the Florida Panhandle is a unique chance to change the scenery and way of life. Knowing the things to consider if you're moving from New York to the Florida Panhandle, you can decide if this change is right for you.
Keep everything in its place, keep lines of communication open with the moving crew, and give yourself plenty of time to settle in. Best wishes on your cross-country relocation!