4 Helpful Moving Tips to Save Money This Fall
Posted by Danny Margagliano on Monday, September 5, 2022 at 3:06 PM
By Danny Margagliano / September 5, 2022
2 Comments
Tips on saving money when moving
Moving is a time of many mixed emotions. The sadness of leaving friends is coupled with the excitement of exploring a new area. Plus, there's all the packing to consider…and the utilities…and moving equipment. Oh, and don't forget about forwarding your mail.
In short, moving is stressful. In fact, it's one of the most stressful life events that we experience. For many, moving cost is a sizeable contribution to that stress. Fortunately, relief is available. With a bit of research and planning, your next move will be easier on your wallet and your mind.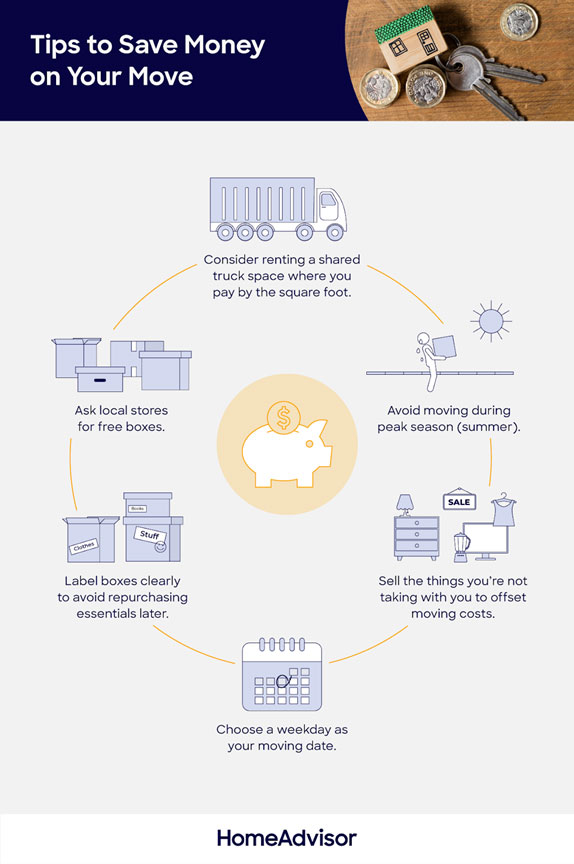 To help you out, here are four helpful moving tips to save money this fall.
Follow a Checklist to Avoid Costly Mistakes
Moving is a burdensome process that includes everything from the many small but important steps to the hours of planning and physical labor. There's also the anxiety of driving, leaving your home, and settling in a new area.
Put simply, moving is stressful. And stress opens the door for mistakes. To mitigate this problem, use a moving checklist to keep track of your work.
Organizing your move around a detailed checklist provides you with needed tasks and completed landmarks at a moment's notice. Be sure to start your checklist months in advance of moving. An easy move leaves plenty of time to adjust and adapt to changing circumstances.
For added clarity, consider dividing your checklist into different phases of the move. For example:
Phase 1: Planning and Research. Create a moving budget, price out moving companies, and narrow down your ideal moving dates.
Phase 2: Beginning Packing and Downsizing. Get rid of unneeded items, and start packing the non-essentials.
Phase 3: Advanced Packing and Pre-Move Necessities. Finish packing most of the house, leaving only essential items unpacked. Contact utility companies with shut-off/turn-on dates for your old and new home.
Phase 4: Time to Move. Keep a bag of your essential items out of the moving truck. Load rooms together to make unpacking easier.
Customize your checklist to the specifics of your move. Every detail is essential. Last-minute needs or forgetting services cost money and will throw off the schedule. Save money (and your mind) on your next move, and use a checklist. Remember, the more thorough your list, the easier the move.
Get Rid of What You Don't Need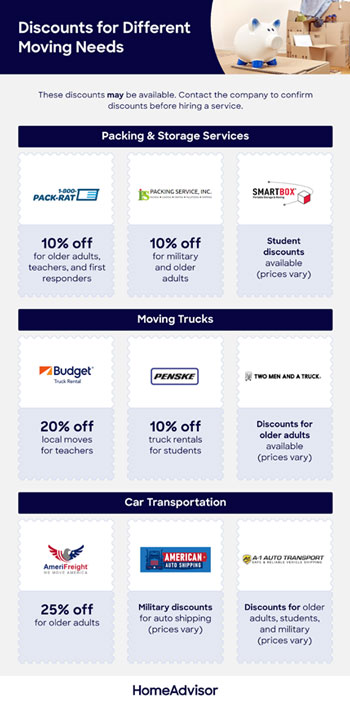 Another way to save money is to reduce what you move.
Chances are, you have at least a few boxes in storage of "non-essentials." If it isn't a seasonal item, or you haven't used it in the past year, then it's time to let it go.
Help yourself and cut down on your physical labor. Get rid of what doesn't need to move. Better yet, make some cash by selling your stuff before the move. There are several methods of selling used items, including:
Facebook Marketplace and other local online markets
Consignment shops and local thrift stores
Garage sales
The extra money you earn helps offset the many costs associated with a move. Also, with fewer things to pack and carry, your entire move becomes that much easier.
If money isn't a concern, then consider donating your items. There are many reasons to trim down and start fresh in your new home. Give back to your community one last time and donate gently used items needed by those around you.
Search for Discounts
Moving is not a cheap process. On average, in-state moves cost between $800 and $2,300. Out-of-state moves are usually double those prices. Between packing services, truck rentals, and the supplies themselves, almost every aspect of moving costs money.
Fortunately, there are several ways to save some cash here and there. Simply look for services with discounts on what you need. Discounts are available for many services, including:
Packing and storage services
Moving trucks and movers
Car transportation
Likewise, several other factors provide discounts for certain people. For instance, teachers and students moving this fall should take advantage of discounted truck rentals and reasonably priced college moving supply boxes. As well, veterans and older adults receive moving benefits from several sources.
For everyone else, there are still plenty of ways to save. Many major packing and moving services provide coupons and discounts, for instance.
Consider searching for second-hand boxes, which are commonly found at markets or other stores. Or, use a shared truck to cut down on moving fees drastically. There are lots of discounts out there; you just have to search for them.
Cheap Movers Don't Save Money
Hiring professional movers is a major expense during the moving process. When you're trying to save money, it might not make sense to spend money on movers. But consider what movers do:
They remove the burden of loading, driving, and unloading.
They use professional equipment to make the job easier, such as moving dollies, straps, and floor protectors.
They expertly pack the moving truck for optimum travel safety.
They're responsible for your items reaching your new home.
Budget enough money for quality movers to avoid lost, broken, or otherwise hindered belongings. While the upfront cost is higher, that extra money ensures your items stay in perfect condition.
Additionally, consider moving insurance if you have large or precious belongings. Most moving companies offer insurance of sorts, but these often have low valuations. This means your heavy or expensive items will likely be undervalued.
Don't wait for surprise expenses to understand the importance of expert movers.
Final Thoughts
There are lots of ways to save money on your next move. Avoid missed deadlines and forgotten items with detailed planning and a stellar checklist. Sell your unused stuff and offset your expenses with some extra cash.
Don't forget to look for discounts for any professional service you purchase. And when it's time to spend on the move, don't go with the lowest bidder. Extra money spent on competence is less money spent later replacing broken items.