7 Must Visit Beaches & Towns of the Florida Panhandle
Posted by Danny Margagliano on Thursday, April 6, 2023 at 4:07 PM
By Danny Margagliano / April 6, 2023
Comment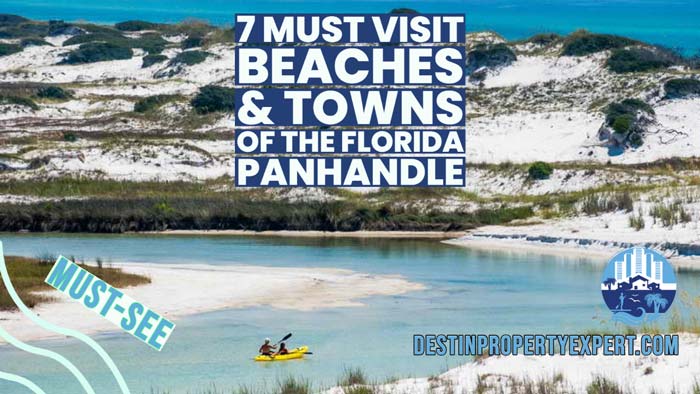 Are you dreaming of white sand beaches, turquoise waters, and endless sunshine?
Look no further than the Florida Panhandle, where some of the most beautiful beaches in the world await you.
Whether you're looking for family-friendly fun, water sports, or simply a place to relax and unwind, there's a beach in the Panhandle for everyone.
And since the Florida Panhandle experiences warm weather throughout the year, there is never a wrong time to plan a visit to these stunning beaches.
In this blog post, we'll take a closer look at the "7 Must visit beach towns of the Florida Panhandle" and what makes each one so unique. So grab your sunscreen, pack your bags, and get ready to discover your new favorite beach destination.
Okaloosa Island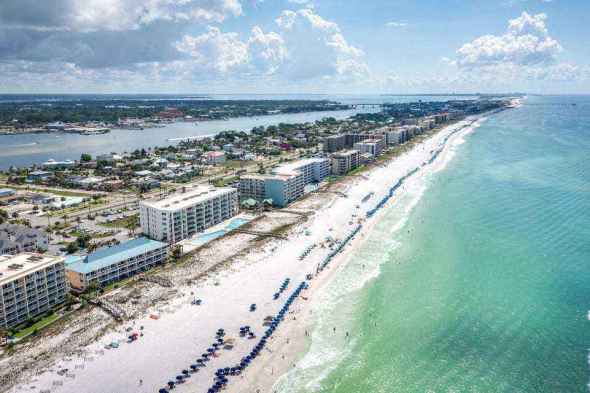 Okaloosa Island is no less than a paradise with pristine beaches, crystal-clear waters, and endless activities. It is one of the most beautiful beaches in the region.
It's a barrier island located on the Gulf of Mexico, situated between Fort Welton Beach and Destin. It's about 5 miles long and half a mile wide.
And if you are a fan of water-based activities, then Okaloosa Island has various options to choose from, such as swimming, fishing, boating, and kayaking.
It offers accommodation facilities as well, whether you are on a family vacation, a romantic getaway, or a solo trip, it has something to meet the need of everyone, from bayfront homes to luxurious condo resorts.
You can also unwind and enjoy some delectable seafood and refreshing beverages at the numerous restaurants and bars available.
And don't forget to visit the Gulfarium Marine Adventure Park. The park area also has an entrance fee of $25 per vehicle.
Also, it is connected with several bridges, which connect it to the mainland and the Destin Fort Walton Beach airport, just 25 miles away.
If you're lucky enough to own a property on Okaloosa Island, why not consider listing your property for rentals and syndicate it to major rent websites? With its stunning location and endless activities, it's sure to be a hit with visitors looking for a memorable vacation. From beachside cottages to beachfront condos, there's something to suit every taste and budget. So why not take advantage of this opportunity to earn some extra income while sharing the beauty of Okaloosa Island with others?
Navarre Beach
Navarre Beach is a secret spot located on Santa Rosa Island in the Florida Panhandle, situated between the popular beaches of Pensacola and Destin.
It is stretched for about 12 miles with its crystal-clear turquoise waters and powdery white sand, making it consistently ranked as one of the best beaches in the US.
It is renowned for its natural beauty and serenity, making it an ideal getaway from the hustle and bustle of crowds.
You can enjoy activities like fishing, kayaking, paddle boarding, and of course, swimming and sunbathing as well.
Once you are done with activities and find yourself experiencing hunger pangs, then don't stress Navarre Beach has several restaurants to explore that serve you fresh seafood and a fine dining experience. One of the most popular restaurants and local's favorite, Juana's Pagodas & Sailors' Grill, is a must for anyone vacationing looking for fun and food.
Also, there is Navarre Beach Marine Science Station which is a great place to visit to learn about the local marine life and conservation efforts.
Accessible by car and only 25 miles from the Pensacola International Airport, waiting for you to experience its natural beauty, serenity, and endless possibilities for adventure and relaxation.
Pensacola Beach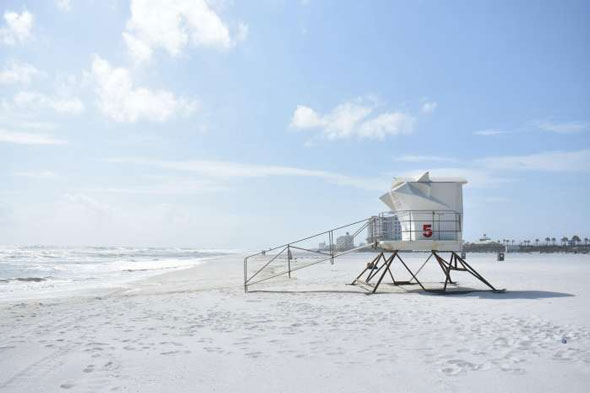 Pensacola Beach is located on Santa Rosa island, which is 8 miles stretch of beach in Escambia County, Florida.
It is the whitest sand beach in the world, almost giving it a sugar-like appearance with emerald green water.
Perfect beach for all those dog parents provide a separate shore designed just for dogs.
There are several attractions on this beach, including the Pensacola Beach Boardwalk, which features restaurants, shops, and entertainment venues; Pensacola Beach Pier, Gulf Islands National Seashore, and the Naval Live Oaks Nature Preserve.
Also, It still has mellow and undeveloped vibes. From swimming, sunbathing, boating, kayaking, and paddleboarding to fishing and surfing, there are a lot of options available to indulge in at the beach.
For accommodation, several hotels, motels, and vacation rentals are available and the weather is generally warm and sunny.
A toll bridge connects it to the mainland, which makes it easily accessible by car. Pensacola international airport is just 15 miles away from the beach.
Henderson Beach State Park
Henderson beach state park is located in Okaloosa County, Florida, in the city of Destin, and covers over 6,000 feet of pristine white sand beach.
The park offers a range of facilities for visitors, including restrooms, showers, picnic areas, pavilions, and 60 campsites. There are also several nature trails within the park, which allow visitors to explore the area's natural beauty.
Directly to the east of the park is the quaint beach community called Crystal Beach, which is located in Destin, FL. Crystal Beach has a lot of single-family homes that are within walking distance of the beach and a few beachfront condos that are all low-density.
It is well-known for swimming, sunbathing, and fishing, while it also offers hiking, wildlife viewing, and camping to its visitors.
For a fee of $6 per vehicle, visitors can access the park and witness the breathtaking natural beauty, pristine white sand, crystal-clear waters, and picturesque dunes.
Shell Island
Shell Island is approximately 7 miles long and less than a mile wide, located off the coast of Panama City Beach, Florida with miles of undeveloped beach and sand dunes.
The island is known for its pristine natural beauty, including its white sand beaches and crystal-clear waters. It's also a popular spot for swimming, snorkeling, wildlife viewing, fishing, and kayaking.
There are no facilities of restrooms, showers, or stores on the island, so If you decide to visit this beauty, make sure to bring your food, water, and supplies. Also, it is only accessible by boat, although some companies offer boat tours to and from the beach.
The hustle with these limited facilities will be worth it in the end as you not only enjoy the beach but also the wildlife. Shell Island is part of St. Andrews State Park, which is a protected natural area.
And visitors are encouraged to respect the island's natural beauty and leave no trace behind.
Blue Mountain Beach
If you are looking for a peaceful destination with a natural getaway and plenty of opportunities for outdoor adventure and local exploration, then Blue Mountain Beach is a must-visit.
Blue Mountain Beach is named after its signature brilliant blue lupine flowers that grow in the dunes. It is situated between Grayton Beach and Santa Rosa Beach. It has the highest elevation point along Florida's entire Gulf Coast.
Pristine white sand and turquoise waters draw visitors from all over the world and offer them a taste of unique Gulf Coast culture and a wide range of outdoor activities like swimming, sunbathing, fishing, kayaking, and paddleboarding with several scenic trails and parks nearby.
Grayton Beach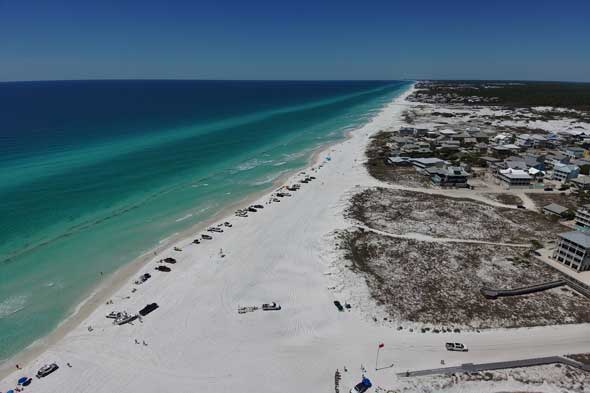 Grayton Beach is a hidden gem located in Walton County, Florida, along Scenic Highway 30A, which runs along the Gulf of Mexico.
Here is the proof: Every year Dr. Beach has released a list of the top 10 beaches using 50 criteria to determine the ranking of the nation's top beaches, including water temperature, sand softness, and park safety.
Grayton Beach was ranked the top choice for the year 2020 for the most beautiful and pristine beaches in the united states.
If you want to relax and crave some me-time, then consider Grayton Beach, it's a very low-density beach that also helps to preserve the natural beauty and give it a low-key vibe. Although it's somewhat crowded during high season, so arrive early.
It offers Fishing, paddling, sunbathing, surfing, and swimming with an entrance fee of $5. You may also spot wildlife that includes Deer, Grey Foxes, Squirrels, American Bald Eagles, Great Blue Herons, and much more, making your beach experience fully adventurous.
---