The Pros and Cons of Living in Emerald Coast Florida: A Guide for Buyers
Posted by Danny Margagliano on Wednesday, February 15, 2023 at 5:37:59 PM
By Danny Margagliano / February 15, 2023
Comment
Living in Emerald Coast, Florida, offers a unique combination of natural beauty and modern amenities. Its white sand beaches, crystal clear waters, vibrant culture, and excellent recreational activities make it an ideal place to call home. In this guide for buyers, we will explore the pros and cons of living in Emerald Coast Florida so you can make an informed decision about your new home.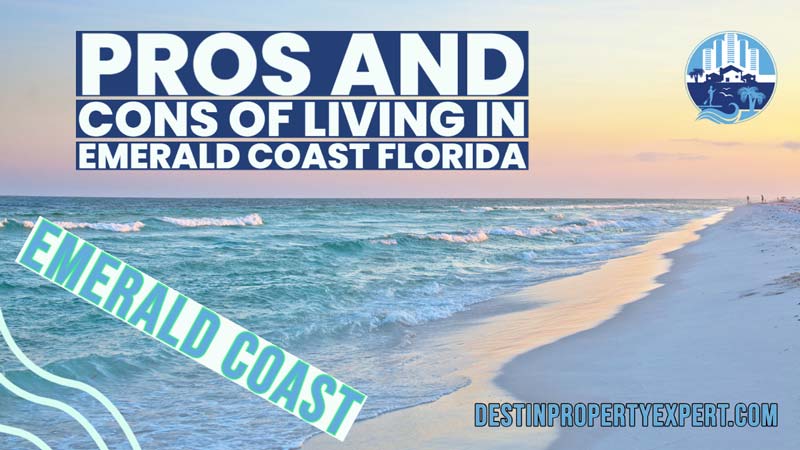 Emerald Coast Florida has many advantages, including its mild climate and ample sunshine. The area experiences an average of 234 days of sunshine annually, making it ideal for outdoor activities like swimming or golfing. In addition, the average temperature is 72 degrees throughout the year, with a lower humidity level than in other parts of Florida. The crime rate is also relatively low compared to other cities across the state, providing peace of mind for those looking for a safe place to move to. On the downside, living in Emerald Coast, Florida, can be expensive due to its high property taxes and cost of living relative to other places in the state.
Pros and Cons
Pro: Beachfront Homes
The Emerald Coast of Florida is one of the most desirable locations for buying a beachfront home. Not only does it offer beautiful beaches and stunning views, but its warmer climate makes it an ideal place to live all year round. In addition, living in this area can be convenient, with many excellent amenities, such as shopping malls, restaurants, and other nearby attractions.
Owning a beachfront property in this area has several advantages as well. As the saying goes, "location, location!" The potential appreciation on a waterfront property is much higher than that on an inland property. The preference is due to its proximity to the ocean and desirability among potential buyers. Additionally, these properties have excellent access to water activities like swimming or sailing, making them fantastic investments for leisurely pursuits at home or when entertaining guests.
Beachfront homes are also prime contenders for rental properties since they attract tourists from all over who want a tropical getaway by the sea. In addition, a successful rental business could quickly provide supplemental income if appropriately managed – perfect for anyone wanting additional earnings without committing too much time or effort to working their investment daily.
Con: Potential for Hurricanes
Emerald Coast, Florida, is located in the path of major hurricanes. These storms mean buyers should be aware of the potential risks of hurricane season every year. The area sees an average of one to two significant storms annually and has experienced some destructive ones in recent years. As a result, property damage insurance premiums tend to be higher than those found elsewhere. Homeowners must plan accordingly for mitigation measures such as reinforcing windows and roofs or investing in storm shutters. Additionally, buyers should also consider their evacuation plans well ahead of time to prepare if a severe storm strikes the region.
Pro: Abundant Wildlife and Nature
One of the most significant pro points to living in Emerald Coast Florida is the abundance of wildlife and nature that you can find there. The coastal region provides a variety of habitats for many species, from wading birds to marine mammals. With diverse ecosystems, such as salt marshes, mangroves, estuaries, and coral reefs, visitors will encounter many creatures throughout their stay.
In addition, Emerald Coast Florida is home to some of North America's most treasured national seashores – Grayton Beach State Park – which provides protected areas for nesting sea turtles and other endangered wildlife. For those looking to explore further into the waters around Emerald Coast Florida during their visit or stay, deep-sea fishing charters offer an opportunity to catch various types of fish while taking in the scenic views along the way.
Moreover, Emerald Coast Florida offers plenty of opportunities for outdoor recreation on land as well. From state parks with educational trails providing insight into local flora and fauna; beaches with crystal-clear turquoise waters perfect for swimming to Harbors lined with restaurants offering unparalleled waterfront dining experiences. There are plenty of outdoor activities including kayaking tours through coastal dune lakes, paddle boarding in the Gulf of Mexico, or taking a bike ride on one of the many paths in each community. There is something available here for everyone who loves being outdoors and appreciates nature's beauty!
Con: High Cost of Living
Living in Emerald Coast Florida can be expensive, especially if relocating from a less expensive area. Real estate prices are high due to the waterfront views and desirable climate. Taxes are also higher than in other parts of Florida since property values along the coast are more valuable than elsewhere. As a result, the cost of living is significantly higher than average for housing, healthcare, transportation, and groceries when combined with local taxes.
Renters will also find it challenging to find affordable apartment choices, given the limited availability and high demand within this famous coastal town. Those who do not plan on purchasing a home may consider looking into nearby cities or towns offering cheaper rental rates, such as Fort Walton Beach or Panama City Beach. These nearby cities and towns are just an hour away from Emerald Coast, Florida but have lower costs.
Another factor to consider when evaluating whether or not Emerald Coast is worth living in would be insurance premiums known to soar due to its location near hurricane-prone areas like the Mexico Gulf region and Caribbean Islands. As much as this seemingly idyllic beach community offers many perks, prospective buyers should weigh their budget carefully before committing themselves financially too heavily towards living here long term.
Pro: Year-Round Outdoor Activities
Living in Emerald Coast Florida opens the door to year-round outdoor activities. The area boasts an average temperature of around 70 degrees Fahrenheit, allowing for various activities regardless of the season. With over 300 miles of coastline lined with beaches and islands, there are plenty of opportunities to swim, surf, or even kayak. Fishing is also very popular, as well as camping along nature trails that run through forests and rivers. Along with water sports and fishing, golfing is a favorite pastime among locals and tourists due to the wide range of courses available in this region. Additionally, people who love hiking can explore the many state parks in Florida's panhandle, such as Blackwater River State Forest or St Joseph Peninsula State Park, where they can observe wildlife such as eagles or dolphins up close. There is no shortage when it comes to engaging in outdoor activities here, so whether you're looking for some leisurely fun or an adrenaline rush - Emerald Coast has something for everyone!
Con: Heat and Humidity
Living in Emerald Coast Florida can be challenging due to the extreme heat and humidity. Summer temperatures often reach 90-95 degrees Fahrenheit with high humidity levels, making outdoor activities uncomfortable. The combination of extreme heat and humidity means that air conditioning is essential during peak summer months, which adds additional costs to households. Also, higher moisture levels in the air can increase mold growth if not properly managed, creating health risks for those living there.
The region is also prone to hurricanes and other tropical storms, which can result in widespread power outages and flooding—especially around rivers or coastal areas. Sturdy construction is necessary when building homes here since strong winds from these storms are expected throughout hurricane season (June through November). Furthermore, severe storm surges brought on by extreme weather may cause further damage to buildings near the coastline that weren't built up sufficiently for protection.
Pro: Plenty of Shopping and Dining Options
Living in Emerald Coast Florida brings plenty of shopping and dining options to your doorstep. Due to the growing population, there are now various stores and restaurants to cater to any taste or need. From designer boutiques and specialty markets to locally-owned cafes and eclectic eateries, you can find something for everyone. And with the beach just minutes away, you can always stroll along the shore while window-shopping at all the trendy boutiques lining the street.
The area also boasts several large luxury malls, such as Destin Commons and Silver Sands Premium Outlets, offering brand-name clothes, shoes, jewelry, and more at great prices. For those looking for even more indulgent experiences, numerous spas offer pampering treatments that make it easy to relax after a long day's work or play.
Foodies will be pleased with the vast selection of high-end culinary destinations. From seafood joints directly on harbor views to quaint cafés serving freshly roasted coffee blends in downtown squares overlooking palm trees swaying in gulf breezes, there is something for every need or craving here! So whether you're looking for an intimate dinner with friends or delicious takeout from home, Emerald Coast Florida has it all!
Con: Traffic Congestion
Regarding the cons of living in Emerald Coast Florida, traffic congestion is a significant issue. The area's narrow roads and lack of public transportation make traveling by car lengthy. As a result, commuters can expect long delays during peak hours due to heavy traffic and congested intersections. This traffic can be incredibly frustrating for those who regularly commute to neighboring cities for work or leisure activities.
In conclusion, the Emerald Coast of Florida is ideal for home buyers. The area boasts beautiful beaches, a warm climate, a thriving economy, and a vibrant cultural scene, offering something for everyone. At the same time, potential downsides, such as the risk of hurricanes and the associated high cost of living, should also be considered. Ultimately, it's up to each buyer to decide if this is the right place for them, weighing both the pros and cons. On balance, however, the Emerald Coast provides an unbeatable combination of natural beauty and modern amenities that make it a great place to live.