8 pros and cons of buying custom furniture for your vacation rental property
Posted by Danny Margagliano on Wednesday, August 24, 2022 at 9:33 PM
By Danny Margagliano / August 24, 2022
Comment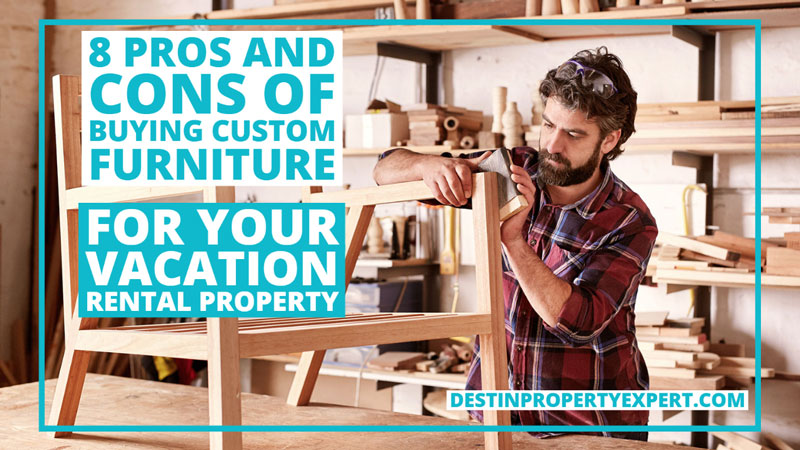 Before you can think about creating a vacation rental website or taking professional photographs of your property, there is one obstacle to cross: furnishing your vacation rental.
Many are skeptical about 'how' to choose the right furniture for their rental property. While an empty slate of a vacant property is the dream for some homeowners, it suffices others with anxiety to even think about the potentially enormous job of searching for perfect vacation home furniture.
As the short-term rental market expands and becomes increasingly competitive, guaranteeing your property stands out from the mass on online platforms all rage down to one key factor – its interior design.
How to pick short-term rental furniture
Although it's not as daunting as picking the actual vacation home, the method of furnishing your rental can still be demoralizing to start. Thankfully, having a roadmap of where to begin, go, and finish enables us to manage and streamline the process.
Selecting the right furniture is essential, but it's never permanent. Try your best to furnish wisely but also retain in mind that any wrong seating arrangements or table choices can be changed when it's time to remodel. Take a look below at some tips for choosing vacation rental property furniture:
Make a "furnishing a rental property" list
Know your target visitors
Find inspiration online
Illustrate your style
Invest in good quality, long-lasting furniture
Be generous with storage
Use lighting to make space
Cover up any flaws
Don't overdo it
Pair aged and new furnishings
Pros and cons of buying custom furniture for your vacation rental property
Pros of buying custom furniture
Custom-made furniture is solid

Dissimilar to ready-made furniture, custom-made furniture is designed by hand. The wood utilized is eco-friendly, pursuing the best decision for homes. Furthermore, custom furniture is likewise considerably more strong. Buying locally made, hand-created furniture helps to safeguard an art that was handed down through the ages.
As well as being sturdy, custom-made furniture offers a high level of imagination. Whether you're building a room or a parlor, custom-made furniture can address your requirements.
Environment Friendly
The next benefit of custom-made furniture is that it offers the potential chance to be environmentally friendly. Choose the right furniture by working with a nearby furniture maker, you'll have more command over the materials utilized in the making of your custom furniture. The cooperative interaction likewise assists you with observing waste and material utilization. This guarantees your new furniture meets environmental guidelines.
Authenticity
One of the main benefits of custom-made furniture is its credibility. This kind of furniture can only be made once, so you ought to know where it came from. You can without much stress find the maker on the web and request that they send it to your home if they can. Then, you can purchase it and enjoy the peace of mind that comes with custom-made furniture. If you're buying custom-made pieces, you won't have to worry about quality.
Represents An Excellent Functionality
The superb capability for how and why anyone should live in your vacation rental property can be accomplished with custom furniture. If your client's family is big, you should invest in a uniquely made lounge area table that can oblige everybody. On the other hand, assuming that someone who will rent your property has gatherings habitually, you should invest in a custom couch that is the best size for your lounge.
Match Existing Rental Property Decor
Custom furniture can be made to match your current rental property stylistic theme and is made to your accurate details. A custom dining table is subsequently a need for gatherings. It very well might be made in any size you require and can be set up to oblige quite a few visitors.
Furthermore, the custom dining tables that can be bought here can be made with components that work with entertainment, with leaf expansions to situate extra visitors or built-in storage for serving utensils.
Find The Right Color And Size
The clearest benefits are higher quality and distinctiveness. You can be sure that you are getting a one-of-a-kind, long-lasting household item for your home when you request custom-tailored furniture.
Custom furniture likewise offers the upside of permitting you to pick the style and design, as well as having it made to suit your preferences. You should rest assured that your home will highlight unique pieces that address your style assuming you pick customized furniture.
Greater Originality And Quality
You can get the exact thing you need by requesting custom furniture, which can be built to your definite requirements. Moreover, it tends to be customized to oblige awkward areas or blend in with existing furniture.
The overall magnificence of the space should be considered. Measure the region to ensure the furniture will fit easily. To wrap things up, don't be frightened to consolidate different varieties and completions to get an unmistakable style.
Custom-made is a Good Investment
It's more expensive than instant furniture, yet it's a wise venture on the off chance that you care about quality and style. Along these lines, you can make an association with the nearby craftsman and pick the materials that are ok for your home. Furthermore, choose the right furniture since custom-made pieces are made to accommodate your space, they're likewise more customizable. What's more, is that you don't need to stress over the expense of postage if you've picked a high-end brand.
Cons of buying custom furniture
Order Can't be canceled
The most vital thing to consider before custom ordering furnishings is that custom orders may not be able to be withdrawn once ordered. Just like a custom-made outfit, custom furniture is made as per your requirements, and as such, should have a distinct appeal to your style. Canceled custom orders may not have the same charm that other furnishings might have, and showrooms may not have space to resell the finished product that does not fit the showroom design.
Time Consuming
Like it or not, ready-made furniture is much less of a bother to purchase than a piece that is made from the base. When purchasing custom-made furniture, you should be ready for a somewhat lengthy procedure.
You ought to choose the right furniture and perfect fabric and find the type of sofa, chair, table, or dining set that fits your style. You may require to select the seat profundity, arm style, or even legs for your article.
Big decisions like how you desire your furniture to look may take a significant amount of time, so be ready to spend that time being sure that you are satisfied with your order before mailing it off to the furniture makers.
Custom Orders take longer
Delivery duration may or may not be essential to you, relying on how soon you require your furniture. Custom furniture has to be created to your specifications which will take more time than ready-made furniture, meaning a more extended turn-around time before the furniture is ready to dispatch to your retailer.
If you require furniture fast, custom order furniture is not the right option for your furniture requirements.
Custom Furniture is Expensive
If you treasure lower prices over customization, a custom article is most likely not the most suitable option for you. Nevertheless, if you purchase for quality and durability, most custom furniture costs are within the same price spectrum that a better or best quality article would be.
Custom furniture is made to suit your style necessities while also providing you long-lasting, high-quality furniture constructed to last.
Not always a hit
With custom-made furniture, a unique design is crafted for the first time. And there are times when it doesn't turn out just how the client imagined it, as there's no pre-existing composition to compare it to later.
Fortunately, in many cases, few adjustments can be done to assure the client still obtains a beautifully crafted article to call their own.
You will be stuck with the same look
When it comes to customization it comes with time consumption and huge financial investment which makes it hard to change the furniture with time as the trend changes and your guests may not like to take your vacation property on rent due to the same old trend furniture.
No Brand
Although there is no match between the ready-made furniture and custom-made furniture, when it comes to brand, people like to choose that place where they find things which match their mindset about the quality and texture. Some follow branded furnishing which comes in ready made furniture and avoid investing in a place that has no branded interiors.
Cost is not 'Transparent'
Unlike ready-made furniture where the prices are fixed and available upfront, the cost of custom-made furniture is not generally available until after you complete the order.
The number of customizable choices and available advancements impact the final price of custom furniture, which may not be clear at the start of the order procedure. Other modules come at a cost, and some fabrics are more costly than others. This is why custom furniture is generally priced as a range or starting price rather than a fixed price.
Final Words
Furnishing a vacation rental is the delightful part! You can engage with your imaginative side by discovering pieces that add worth to your guests' stay. It can be truly rewarding to see your hard work come together to construct and make your home captivating to all your visitors.