Pros and Cons of Living in Fort Walton Beach Florida
Posted by Danny Margagliano on Sunday, September 3, 2023 at 8:05:50 PM
By Danny Margagliano / September 3, 2023
Comment
Fort Walton Beach - We think it's a great place to live!
If you are a fan of beaches and marine life and you are looking to live somewhere with clean water and air, Fort Walton Beach is a small town in Florida that might be the right fit for your next residence.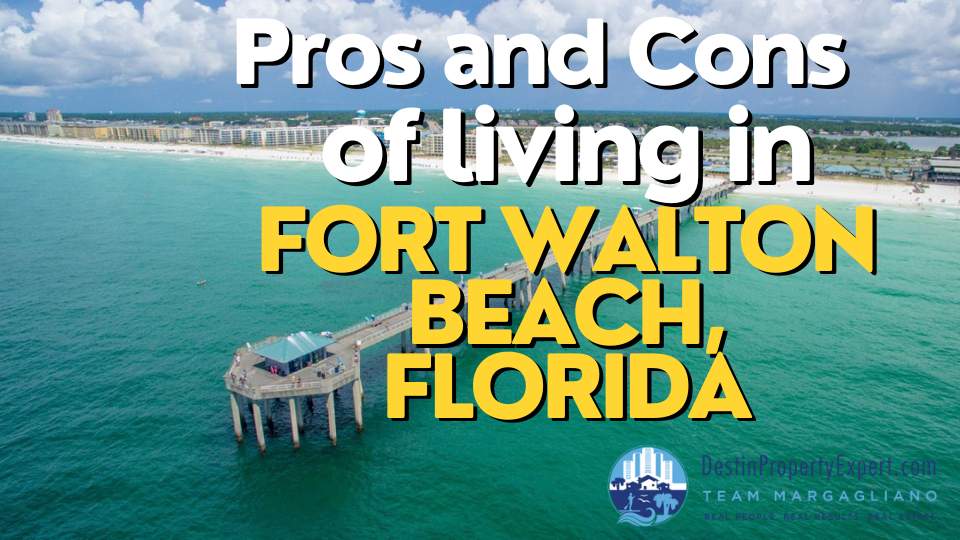 With a population of 22,144, the city has a dense suburban feel. The city has a lot of bars, restaurants and parks.
What makes it stand out from other cities are the famous white-sand beaches on the nearby Okaloosa Island. The island's Gulfarium Marine Adventure Park features dolphins, penguins, alligators, and other species of marine life.
The city is home to many young professionals and retirees. So it's a great place to start your professional life and enjoy the leisure years of your life.
To help you make a better decision about your new residence in Fort Walton Beach, let's discuss some pros and cons of living in Fort Walton Beach.
Pros
Here are some things to look forward to before you buy or rent your new home in Fort Walton Beach.
Weather
The overall weather of this beautiful coastal city is pleasant, with a high number of days with temperatures between 50-90 F.
Cost of Living
A major benefit of living in Fort Walton Beach is the cost of living. The cost of living in Fort Walton Beach is lower than the United States national and most cities in Florida.
Housing costs, grocery, utilities, health care, transport, miscellaneous goods and services are relatively cheaper on the state and federal levels.
No State Income Tax
One of the benefits of living in Fort Walton Beach is that you don't have to pay any State Income Tax. Not only will you enjoy its serene beaches you'll also save taxes you might have had to pay were you living elsewhere.
Diversity
Considering the diverse people you will meet there, Fort Walton Beach is a very colorful place to live. The city is diverse in race and religion.
It's a great place to start fresh and make new friends.
Water and Air
Air Quality is a big issue in urban areas because of traffic and other CO2-emitting technologies. Fort Walton is a good place to live because of its excellent air quality. It measures at 15 AQI on the air quality scale.
The water quality in Fort Walton Beach is 100 out of 100 according to the United States Environment Protection Agency.
Educational Performance
The educational performance in schools is high, especially in sciences like mathematics.
The University of West Florida Emerald Coast ranks among the top 10 universities in the South Region.
Low Crime Rate
Law and order are crucial factors when choosing a place to live. Fort Walton Beach has a low crime rate for violent and property-related crimes.
Fun Things to Do in Fort Walton Beach
There are a lot of fun things to do in and around Fort Walton Beach. If you're into outdoor stuff, you can head to Blackwater and do hiking and kayaking.
Destin, the neighboring city to Fort Walton Beach, is a popular place to shop for locals and tourists. You can head over there for a day out shopping.
If you're into beaches and sunsets, Fort Walton Beach is probably one of the most beautiful beaches in the world. Its emerald-colored water gives it a pristine vibe. This is one of the biggest pros of living here.
Cons
Traffic
The traffic is a little bit of a buzzkill. You can find traffic jams, especially at certain times of the day, and there aren't many alternate routes to avoid heavy traffic.
Hurricane and Tornado Risk
Florida has a relatively higher tendency of hurricanes and tornadoes than other states. If you plan to live in Fort Walton Beach, you should prepare for this. The pleasant weather of Fort Walton Beach and the Emerald Coast of Florida can come with a price.
Heat
The weather can be hot, especially in June and July. Of course, you don't have to worry about that if you're not working an outdoor job. You've got air conditioning in your car, homes, and offices, so you don't have to worry about that too much.
Job Opportunities
The job opportunities in Fort Walton Beach are not very diverse, but unemployment rates are very low compared to national averages. Most of the job sector consists of the military and retail. For those in the medical field, you shouldn't have a difficult time finding a job. The area has many nursing homes, private facilities, and hospitals.
There are year-round and seasonal positions in the food industry throughout Fort Walton Beach and the neighboring Destin area.
Not to say that there aren't any other jobs available, but the job market does not have as many job opportunities as other large cities in the state. However, there are a large number of people who live here who work remote jobs from home.
Wrap Up
The city of Fort Walton Beach is a fantastic place to live with natural beauty, low cost of living, no state income tax, and lots of fun things to do.
You'll have to go through some traffic and a few hot months, but as they say, nothing good ever comes without a price.
If you want to buy or rent property in Fort Walton Beach, call Danny Margagliano for the best advice about properties in the Florida Panhandle. You can reach out to Team Margagliano by phone or text at 850-613-0929 or email [email protected] to find the best home in Fort Walton Beach.