How to Decide if You're Ready to Buy a Condo
Posted by Danny Margagliano on Monday, December 12, 2022 at 8:50:08 AM
By Danny Margagliano / December 12, 2022
Comment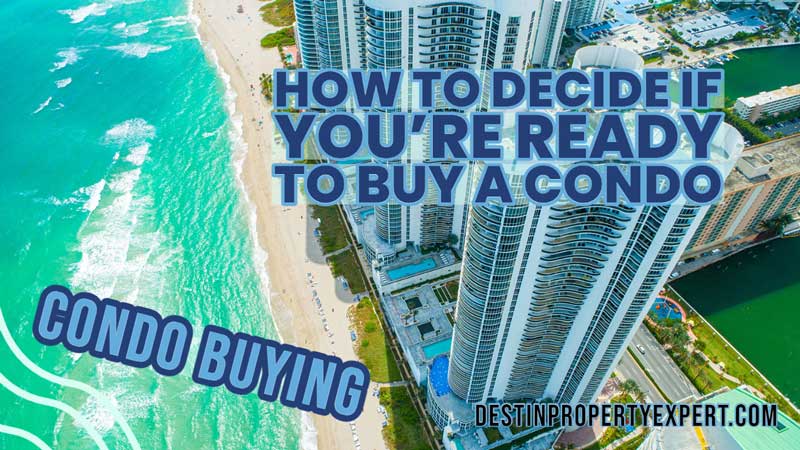 If you're thinking about purchasing a condo, here are some things to mull over before taking the plunge:
Can you tolerate living in close quarters with your neighbors?
Do you know what to expect in terms of HOA fees and regulations?
Do you have the money available for a down payment and monthly payments?
Deciding whether you should buy a condo or not is difficult, and even if you decide to buy one, you need to know the right way to buy a condo. But coming back to the main dilemma- how to know if you are ready to buy or not?
Weighing the Pros and Cons of Owning a Condo & a Home
There are several advantages to owning your house outright. To begin with, you'll have more privacy and be able to make decisions about renovations and design. You also won't need to deal with landlord-tenant issues, and you could even rent out part of your house to help pay the mortgage. One of the disadvantages of having a house is all the exterior maintenance that you have to do. Also for example, if you travel frequently, then maybe it's not the right time to buy a condo yet as you will have to worry about your property's maintenance.
There are a few disadvantages that come along with buying a condo, too. Some HOA's condos may have heavy fees. But as far as advantages, by owning a condo, you won't have to worry about exterior maintenance because that will be the HOA's duty. You will also have in most cases, things like a swimming pool, fitness center, tennis courts, and more.
The choice of whether or not to buy a condo is a personal one in the end. Consider the advantages and disadvantages carefully to determine if owning a home or condo is the right decision for you.
The Financial Aspect of Condo Ownership: Can You Afford a Mortgage?
Owning a home is an exhilarating experience, but it's essential to confirm that you're in a good financial position to take out a mortgage before beginning your house hunt. In addition to being able to make the monthly mortgage payment, you should also have money saved for a down payment, closing costs, and unanticipated repairs or renovations.
The first step is to calculate how much you can afford to spend on a condo each month. A good rule of thumb is that your monthly mortgage payment (including taxes and insurance) shouldn't be more than 28% of your gross income. Once you know how much you can afford, you can start looking for a lender and getting pre-approved for a loan.
When you're ready to apply for a mortgage, the lender will look at several factors to determine your eligibility, including your credit score, employment history, and debt-to-income ratio. They'll also require documentation of your assets and liabilities. If everything looks good, the lender will give you a pre-approval letter that indicates how much they're willing to lend you.
With a pre-approval letter in hand, you can start your new condo search with the peace of mind that comes with knowing how much you can afford. Once you find the perfect place, be sure to get a home inspection before making the purchase—this will help make sure there are no unpleasant surprises that could affect your ability to afford the property down the road.
The Emotional Aspect of Condo Ownership: Are You Ready for the Responsibility?
It's crucial that you take a step back and evaluate your readiness for the emotional challenges of owning a condo before you start shopping for one. A condo is a significant responsibility, both in terms of money and emotions.
As a condo owner, you're in charge of everything inside your unit, from the paint on the walls to the carpet on the floor. You're also responsible for footing your own mortgage, insurance, and property taxes. If something breaks, it's your responsibility to fix it. And if you have noisy or disruptive neighbors, it can be difficult to handle them by yourself. On the flipside, the is a sense of security being in a condo building with neighbors so close.
Condo ownership comes with a lot of responsibility, which can be daunting if you're not used to handling these things by yourself. However, condos can be great places to live or use as a vacation rental property if you're up for the challenges that come with owning a condo. Just be absolutely certain that you're prepared before making such a big decision.
The Maintenance Aspect of Condo Ownership: Are You Ready to Handle Repairs and Upkeep?
Everyone knows that owning a house is a lot of responsibility. Not only do you have to make repairs when something breaks, but you also have to keep up with regular maintenance. This can include mowing the lawn, raking leaves, shoveling snow, painting, keeping up with curb appeal, and more.
If you don't like or are bad at taking care of these types of responsibilities, then condo living might be a better option for you. With a condo, the exterior maintenance (including the roof) is typically the responsibility of the HOA (Home Owners Association). This means you'll have more free time and won't have to pay for any significant repairs.
Even if you live in a condo, there are still some upkeep tasks that you'll be in charge of. These could involve things like upkeep on your HVAC system, keeping your appliances in good working condition, and general light maintenance inside the condo. However, owning a condo generally requires less maintenance than owning a single-family home.
If you're not prepared to take on repairs and maintenance, then a condo might be the right choice for you.
The Location Aspect of Homeownership: Where Do You Want to Live?
As you mull over homeownership, one of the main questions you'll need to answer is where do you want to live? If you're considering purchasing a condo, this is especially important to contemplate, as condos are typically situated in areas where there are more people around. Whereas, a home can be located just about anywhere but typically they are and more of a rural setting. Therefore, before beginning your condo search, take some time to think about the location element of owning a either a home or condo.
There are a few things you should think about as you decide where to live. One is what kind of environment do you want? Would you rather be in a big city or a smaller town or suburb? Another thing to take into account is what kind of lifestyle do you want? Are you looking for a lively nightlife or a more relaxed atmosphere?
Consider these things and zero in on a particular search area. Once you start looking at condos, you can have the location in mind and try to find a condo that would be the best fit based on your needs.
The Size Aspect of Condo Ownership: How Much Space Do You Need?
After you've decided that you're ready for homeownership and have started to look at different types of condos and homes, the next step is to think about how much space you'll need. This can be difficult, especially if you're moving from a bigger home to a smaller one, or vice versa. If you're moving from a house to a condo you should expect to have less space. You may wonder how you'll fit all your belongings into a new place, or how you'll fill up extra space. Here are some factors to keep in mind as you choose the right size for your new home.
The Timing Aspect of Property Ownership: Is Now the Right Time for You to Buy?
Property ownership is a significant financial responsibility and should not be taken lightly. You need to ensure that you're in a good place financially before taking on a mortgage and all the other costs associated with owning a home or condo.
One of the key things to think about when trying to determine if you're prepared to buy a condo is timing. The real estate market is always in flux, so timing is crucial when making a purchase. You must be certain that you're buying at the right time; otherwise, you might end up paying too much or being stuck with a property that decreases in value.
The following are a few things to remember when thinking about the timing of homeownership:
The Real Estate Market
You need to be aware of the current state of the real estate market before making any decisions. Are prices rising or falling? Is it a buyer's market or a seller's market? Answering these questions will help you determine if now is a good time to buy or if you should wait for prices to drop before making your purchase.
Before you buy a condo, it's important to take a close look at your personal finances. Can you afford the mortgage payments? Do you have any other debts that need to be paid off first? Make sure you're in good financial shape before taking on the responsibility of homeownership.
Job security is another key element to think about. Do you have a dependable income? Are there any upcoming changes that could affect your capacity to pay your mortgage? You should feel confident in your employment situation before taking on such a hefty financial obligation.
Your goals
What are your long-term goals? Are you planning on starting a family soon? Do you anticipate needing to move for work in the near future? Buying a condo is a big decision, and you need to make sure it aligns with your long-term goals. Otherwise, you could find yourself stuck in a property that doesn't meet your needs down the road. Although, the good thing with a condo is there typically easy to rent.
The timing of your purchase is crucial if you're thinking about buying a condo. Make sure to do your homework and weigh all of the factors involved before making any decisions.
The Bottom Line: Making the Decision to Buy a Condo
In short, there is no definitive answer to whether or not you should buy a condo. Your finances, lifestyle, and long-term objectives will all play a role in your decision.
If you're okay with making a long-term financial investment and you're confident you can handle the duties that come with owning a condo, then buying a condo might be the right choice for you. On the other hand, if you're not quite ready to commit to owning a home, then renting may be the better option for you right now.