Top 7 Real Estate Questions and Answers from Professionals
Posted by Danny Margagliano on Thursday, November 24, 2022 at 2:07:12 PM
By Danny Margagliano / November 24, 2022
Comment
Real estate agents act as intermediaries between property buyers and sellers. They are the ones who make the process of buying a home easy. If you are one, you will be having a lot of questions coming your way from both sellers and buyers. After all, people buying homes don't want their real estate investment to go to waste. Buying property is one of the important goals to achieve in terms of financial stability in one's life.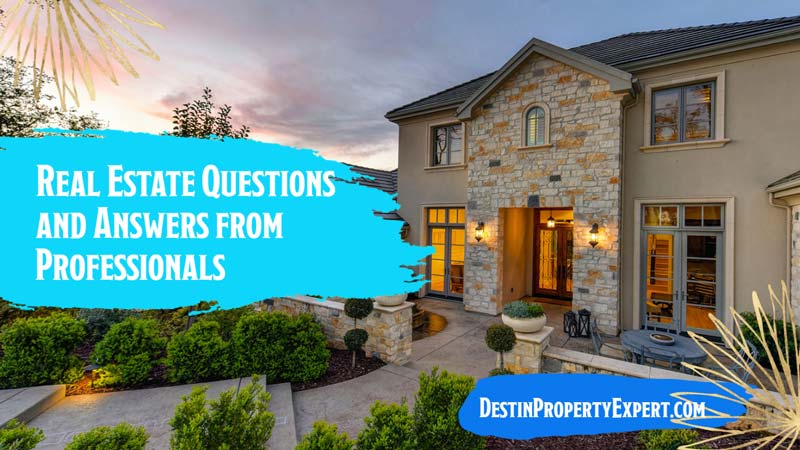 Individuals like to hire a real estate agent having an authentic profile and excellent past experience to fulfil their real estate needs. That is where it becomes all the more important to establish trust with your clients. You should answer each and every question your customer is going to ask you. Here we have come up with the top seven real estate questions and answers from professionals.
1. Explain the first step to buying a home
The first step to buying a home is to get pre-approval for a mortgage. It will help you go on the right path. First, find out how much you need to borrow. Now, you will be able to see only those options which are within your budget. It saves you from wasting your time.
The second step is when the lender will have a discussion with you to tell you about the money needed for the down payment and closing costs.
The final step ensures that getting yourself pre-approved for the mortgage shows that you are serious about buying a house to your agent as well as the individual who is selling his home.
2. How can I sell my home quickly?
Buying a home can take roughly about 10-12 weeksIn a normal market. In a sellers market homes can sell as fast as between a few hours and a week. In a buyers market homes will typically sell between 3 and 6 months but sometimes it can take up to a year.
Once you have made an offer, the buying process can be completed within 30-45 days. The major factor affecting the time period for selling a home depends on the market conditions. It takes a little longer than usual in the markets where a lot of sales are taking place. You can hire the real estate agent for selling your home quickly and efficiently.
3. Explain seller's market
The increased demand for homes in the sellers' market influences the prices.
Let's see the factors driving the prices of homes
Economic factors – Here, the local market sees a significant increase and brings new residents, pushing up the prices of the home before building more inventory.
Interest rates – Interest rates give a kick to the affordability of a home, which spikes buyer interest. It is especially true for first-time home buyers who find it easy to afford bigger homes.
Low inventory – Sometimes, there are few home units available in the locality. In such cases, the prices may increase.
4. Explain buyers' market
Buyers would love to buy when the prices are declining, and there is less demand. There are many factors that affect the short-term and long-term buyers' demand, like economic disruption, etc.
Interest rates – The borrowing amount is reduced due to the high cost of money. This decreases the number of potential buyers in the market. Home prices decline to match the needs of the buyers so that they can get the best deals.
High inventory – A new subdivision can affect the prices of older homes and put downward pressure on them, especially if there is a lack of desirable features in them.
Natural disasters – Recent occurrences of natural disasters can largely affect the property values in the areas where disruptions occurred.
5. What is the importance of credit score?
It is important to have a FICO score of 620 or more. Fair Isaac Corporation, shortly called the FICO score, is the tool that lenders use to determine whether a person qualifies for a credit card, mortgage, or other loans. The scores can range anywhere between 300-850. A higher credit score indicates less risk to the lender and a better interest rate.
It's important not to do anything to harm your credit score prior to buying a home. There are ways to increase your credit score that should be a priority between 6 and 12 months prior to making a purchase on a home. On the other hand, if you have a lower credit score, you need to bring more money to the table to reduce the risk of the lender.
6. How much money do I need to have to make a down payment?
11% is the national average for down payments, including first-time and repeat buyers. First-time buyers tend to put down 3-5% in a home because they usually don't have enough money saved to put down 20% for a conventional loan.
While it has been seen that conventional loans require a whopping 20% down payment. But some conventional loan programs have come up that allow a 3% down if you (the borrower) have private mortgage insurance. Usually, repeat buyers opt for these types of loans. They make their existing home a source of the down payment plus use equity from their current property.
7. Do I need to get the home inspection done?
The answer is a huge YES. If you want to take your home on FHA(Federal Housing Administration) or VA(Veteran Affairs) loan, you need to get the home inspection done. As far as other mortgage programs are concerned, you don't need it. However, here is the catch: it is advisable to get a home inspection. It helps let you know the defects in your home that you can detect easily. It brings you peace, and your investment won't go to waste.
8. Can real estate prices be negotiated?
It is a truth that almost everything in the world of real estate is negotiable. Usually, you will see a difference between the list price of the home and the amount it actually sells for.
The situation of the current market determines the chances of negotiation. If you are the buyer, buy the home for less price if there is less demand and more supply. On the other hand, if you are the seller, your home will sell for less in this situation.
9. Common bank required repairs
If your buyer is purchasing a home on a conventional loan, it is your responsibility to get major structural issues present in the home repaired like deteriorating roof or foundation cracks. This will help increase the home's value.
If the buyer decides to get Federal Housing Administration loan, he will need to make more repairs like improving non-working appliances, repairing the broken gutters, or concealing any exposed wiring.This list can be more due to the fact that FHA provides loans to low-income homebuyers who may not have the ability to pay for the repairs on their own.
It is always advisable to check the local regulations of your states and banks.
10. Can I back out of an agreement of buying a home?
Yes, you can, but it can make you lose your earnest money. Sometimes, you might have to face legal consequences if your reason for backing out is not mentioned in the agreement. But there are some circumstances where it is understandable to break the agreement.
How you can back out of a contract for buying a home and lose your EMD
You have lost your job, you are unable to sell your current home
The home inspection fails to meet your satisfaction
The home does not appraise for equal or greater than the sale price
You cannot get a approval for the mortgage
Some other issues include – unrepaired problems existing in the home, or failed inspection.
11. Do I need to sell my current home before buying a new one?
The answer to this question depends upon how long have you been in the process of home searching. If you sell your home before buying a new one, you may have to live with your friends or get a short-term rental for a time being. In any of such cases, you will have to move out of your house twice and pay the expenses.
But you can't deny the benefits of selling your home quickly as compared to other potential buyers.
If you witness the listing you want, make a strong offer with the cash. You need not worry about going overboard with your budget.
You can still wait for someone to make an offer that you love.
All in all, the answer to this question is wholly dependent on the availability of the funds in your account and your ability to find temporary housing options.
12. What is title insurance?
Title insurance tends to protect homeowners from false claims against their homes that took place before they bought the property. For instance – the failure of the owner to pay taxes.
If you have the title insurance in your name, you will be compensated for your legal fees or title disputes that may arise at the time of you being the homeowner.
There are two types of title insurance –
Lender title insurance – If you are a seller, you need to have lender title insurance. It protects you from any false claims made against the home.
Owner title insurance – It is an optional one but it is advisable that you opt for this. Paying one-time fees for owner title insurance will shield you from unexpected issues that can occur with the home's title as long as you own the home.
It is a good idea if you consider purchasing both types of title insurance. You will be surprised to know that the total combined cost of purchasing both of them is only 0.5% of the purchase price of the home
To make a long story short
Your colleagues, clients, and sometimes even relatives rely on you for your best advice and insights on home buying, market, and sales. The above-mentioned are some of the common questions that you should know to give someone your best advice as a real estate agent if someone approaches you.