11 Reasons to Buy a Panama City Beach Condo
Posted by Danny Margagliano on Sunday, January 23, 2022 at 12:36 PM
By Danny Margagliano / January 23, 2022
Comment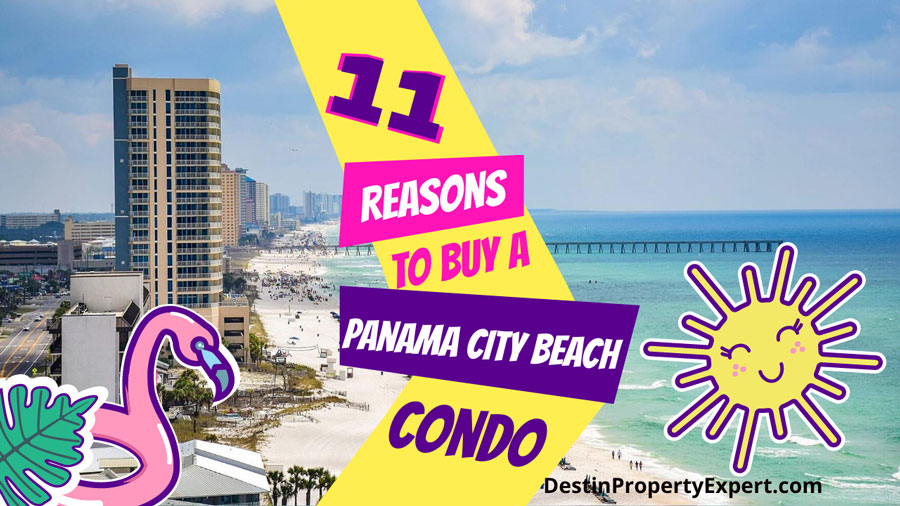 If you love warm weather and living next to the ocean then buying a condo in Panama City Beach will make your dream come true. Located along the Gulf of Mexico, Panama City Beach offers more than just a beach getaway. Residents, as well as visitors, enjoy a variety of lifestyles not to mention the option of living there primarily and being part of the community. Besides enjoying good weather all through the year, there are many reasons why you should buy a Panama City Beach condo. They include:
Variety
There are many beachfront condominium complexes all over Panama City Beach thanks to the 27 mile stretch of sugar-white magnificent beaches. A good number of them are not located in high-traffic areas which are perfect for anyone looking for tranquility and privacy. Additionally, some condos have private beach access for those who wish to have a secluded experience. There are two different roads along the beaches in PCB. Thomas Drive is the beachfront Road on the eastern portion and Front Beach Road is considered the West End of PCB. Being close to Pier Park in the West end of Panama City Beach you will find newer buildings and higher demand for purchasing and renting.
Rental income
You may be looking to purchase a condo as a vacation home but the majority of people buying condos in Panama City Beach use them as investment properties. Using the condo as a rental property can give you a way to build wealth without lifting a finger. You can hire a property management company to take care of all the daily operations for an additional fee of somewhere between 20% and 25% of the rental income. The Florida Panhandle is filled with homes and condos along the white sandy beaches but no community is as popular as Panama City Beach Florida. An important factor to remember when making your purchase is the amenities. Look for a condo that has a nice swimming pool, hot tub, tennis courts, and fitness center along with beautiful views and you will be off to a good start.
Diverse condo sizes
Panama City Beach condos come in different sizes to accommodate people with different preferences or needs. Whether you want an expansive space that can accommodate your whole family or a one-bedroom condo for solo retreats you will definitely find it all in Panama City Beach. Also, there are smaller condos down the coast as well as near the city center. Thus, everyone, no matter their preferences, will definitely find a suitable condo to call home in Panama City Beach.
Good weather
It is always sunny in Panama City Beach even when the rest of the country is experiencing extremely low temperatures. Well, maybe not always but it's not called the sunshine state for nothing. The excellent year-round weather at Panama City Beach is one of the reasons this community attracts a lot of visitors. Also, winter is much shorter in Panama City Beach which can't be said of many places around the country. Thus, if you enjoy warm weather then buying a condo in Panama City Beach is a great choice. Its proximity to the airport and 30A-South Walton area also allows you easy access to all parts of the country.
Lots to do for the entire family
on any given day no matter what your interests are you can find something you'll love to do in Panama City Beach. For shopping lovers, there is no better place than Pier Park. In fact, Pier Park has more than stores for shopping. There is a movie theater, a giant first wheel that offers views of the entire Emerald Coast, live music, plenty of restaurants, and much more. For those that are a little more adventurous, you may have the perfect time enjoying some of the many water sports offered in PCB. Nature lovers cannot get enough of the state parks along the Emerald Coast. Make sure to explore St. Andrews State Park. You can try your hand at standup paddleboarding, kayaking, jet-skiing, taking banana boat rides, and even surfing. No matter where you buy a condo in Panama City Beach you will be within minutes to excellent golf courses like the Shark's Tooth, Bay Pointe Golf Club, Edgewater Beach and Golf Resort, and Holiday Golf Club to name a few.
Retirement home
A Panama City Beach condo is one of the best places to spend your time after retirement. A lot of retirees head over to Florida to enjoy the warm weather. Thus, choosing to retire here means you won't be short of good company. Additionally, most seniors usually suffer from loneliness upon retirement because their children have moved out or their spouses have passed on. By living in a condo there is the support of the community as well as safety and security. Since a condo doesn't require a lot of upkeep compared to traditional homes, owning a condo as a retiree is better. You will not waste too much time with home maintenance but rather indulge in your passions and hobbies. Besides the excellent security and amenities you will be enjoying, you can always accommodate friends and relatives who want to vacation at Panama City Beach.
Great for snowbirds
Snowbirds love the entire state of Florida. The Emerald Coast and in particular Panama City Beach is no exception. Retired singles and couples flock to this area every winter. The typical snowbird season is from December to March. An enormous bonus of Northwest Florida Panhandle is that our high season for rental income is the summertime. This is unlike the rest of Florida. Why this is important to you? The benefit of buying a condo here rather than somewhere further south is that you will be using it during the "off-season" and still be able to rent your condo during the "high season". You can't do this anywhere else in Florida.
If you are getting ready to become a snowbird for the first time or you already are one you may be missing out on a great opportunity not owning a condo in Panama City Beach. Because you will want to use the property in the winter you can still profit during the busiest times of the year, the summer.
Proximity to the beach
Emerald green water, snow-white beaches, and good weather are some of the reasons why beach destinations on the Emerald Coast are popular. Thus, buying a Panama City Beach gives you access to all these every day of the year. Also, beachfront condos are the perfect getaway when the weather at your primary residence is unfavorable. Nearly all PCB condos have excellent Emerald Coast excellent Gulf views. Most people are coming here for the beautiful beaches so make sure the condo you buy has a great view. Not having a lot of expenses to worry about while on family vacation takes the stress off your shoulders allowing you to have a great time. That's what you will be signing up for if you buy a Panama City Beach Condo.
They can be vacation rentals
No matter how much you love your job, it is good to have an alternative source of income. It is not easy to build wealth with just one income source unless you are earning a six-figure salary. That's why you should diversify your income-generating activities, especially passive income. With a condo in Panama City Beach, you can become a real estate investor. Renting it out can bring you enough money to realize your financial dreams. The best part is that Panama City Beach is a popular destination which means you won't have to struggle to find guests. As long as the condo is properly furnished and well-maintained you can be sure that guests will pick it.
Better quality of life
Choosing to buy a condo in Panama city beach is also signing up for better standards of living. The community always has all-year-round family-friendly events, opulent shopping centers, restaurants, and award-winning tourist attractions. There is so much to learn about the city's history, culture, and also art. Also, the city council is always looking for ways to improve the experience of people living there and highlight the historic districts. The condos are built around the main attractions and amenities to ensure residents don't have to venture far to get essential services or supplies. There are 4 public libraries in Panama City Beach as well as universities, colleges, and public schools. There are workforce programs too to support the working class.
Tax benefits
Whether you decide to make the condo your primary residence or a vacation rental you can always take advantage of the tax benefits this investment offers. Taxes are a necessary evil but there are various legal programs to get tax reliefs, especially for real estate investors. Thus, purchasing a Panama City Beach condo will allow you to enjoy these benefits. Furthermore, the property taxes in Panama City Beach are very reasonable compared to other places in Florida and the United States. As of 2022, the millage rate is 4.99 which equals $499 per $100,000 of assessed value.
In conclusion
Buying a beachfront condo not only assures you of an amazing vacation accommodation but can also be the financial breakthrough you have been waiting for. Panama City Beach community is the best place to buy a condo if you are ready to own a property at a wonderful beach community. Not only is it a great investment location but also an amazing place to live with everything you need in close proximity. Also, the spirit of togetherness in the community is a bonus.
If you are getting ready to become a snowbird for the first time or you already are one you may be missing out on a great opportunity not owning a condo in Panama City Beach. Because you will want to use the property in the winter you can still profit during the busiest times of the year, the summer.