Reasons to do a 1031 exchange in Florida
Posted by Danny Margagliano on Monday, June 15, 2020 at 11:07 AM
By Danny Margagliano / June 15, 2020
Comment
What's All The Hype About A 1031 Exchange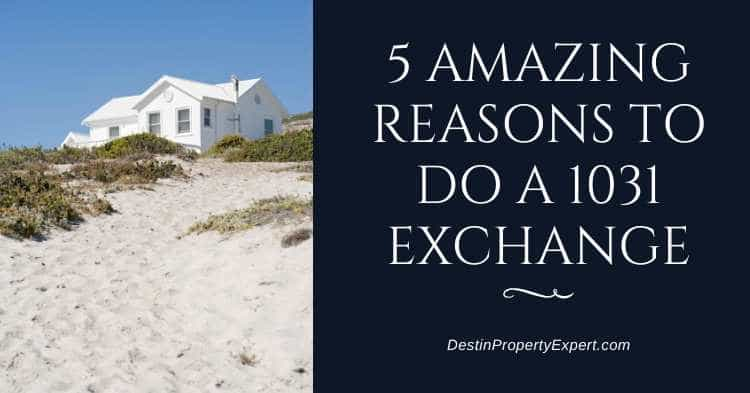 If you've been hearing about friends, neighbors, or coworkers doing a 1031 exchange in Florida, you may be wondering what the big deal is? Florida doesn't have any state income taxes, so who cares about a way to defer paying taxes on real estate? This is how we used to think until we started to learn about the incredible tax savings a 1031 exchange in Florida can provide. If you own ANY kind of investment property, residential or commercial, you NEED to know about the 1031 exchange.
The last excellent tax advantage available to real estate investors, it allows you to defer capital gains and depreciation recapture when you sell an investment property. Most of the tax advantages of owning real estate are from depreciation.
Recapture Tax
What surprises some real estate investors during their first deal, is that this depreciation is eventually "recaptured" by Uncle Sam. If you've owned a property for more than 10 years, you've likely taken a ton of depreciation. Crazy enough, even if you didn't – Uncle Sam treats the sale of a property as if you DID take depreciation.
With the 1031 exchange, investors can defer paying any capital gains or depreciation recapture taxes upon sale. This is assuming you follow the numerous steps to a successful 1031. Including meeting strict time frames and making the debt and equity amounts work. If you use a reputable 1031 exchange company in Florida, they can guide you through the entire process.
In this article, we've explained the top reasons to do a 1031 exchange in Florida. There are 2 reasons why this article may be perfect for you. First, if you have been thinking about selling an investment property or business property. The second reason is that you're not crazy about giving away your money to the government.
#1 – The 1031 Exchange in Florida Will Save You Money on Taxes
The number one goal of any 1031 exchange, whether in Florida or not, is to save you money on taxes. Even in a traditionally low-tax state such as Florida, the cost savings from doing a 1031 are tremendous. Since the depths of the great recession, nearly every part of Florida, from Santa Rosa Beach to Key West, has seen tremendous rates of appreciation. With a healthy job market in Florida, an influx of retirees from northern states, and a business-friendly climate, Florida has been a great state to invest in real estate. If you've owned any type of property in the state of Florida since 2008, you have likely done well and have a substantial capital gain waiting to be realized.
Factors That Result In High Taxes When Selling Property
Even if you aren't looking at a ton of appreciation and capital gains to pay on your property, you likely have other factors that will result in a high tax bill when you sell. Some of these can include things like:
Property Tax – Florida does not have state income taxes. They make up for this with higher property taxes than most other states. For this reason, a 1031 exchange in Florida is such an excellent way to save money. This will be achieved when selling one property and buying another investment property.
Affordable Care Act (Obamacare) 3.8% Tax – Instituted in the mid-2010s as part of the health care reform during Obama's presidency. This only affects high-income earners. If you earn W-2 or business income over a certain level, you're subject to an extra 3.8% tax on all capital gains, whether it's from stocks or real estate. By doing a 1031 exchange in Florida, you can defer this tax.
Depreciation Recapture Tax – As we mentioned above, when you sell a property, you're taxed as if you depreciated the property. This is levied even if you didn't take a single penny of depreciation. Crazy, right? With the 1031 exchange in Florida, you will defer this tax.
#2 – The 1031 Exchange In Florida Gives You More Flexibility On Property Types
Nearly everyone knows that the most beneficial reason to do a 1031 exchange in Florida is to defer federal taxes. Not as many folks explain the benefits related to property type flexibility. No need to be stuck with the type of property you own today (residential, office, healthcare, etc.). The 1031 exchange in Florida can help you diversify and expand your real estate portfolio into other types of properties.

There are many real estate agents not knowledgeable about the intricacies of the 1031 exchange. They assume that the term "like-kind" means you must exchange one property type for another similar one. That is, if you own a retail building, you must exchange it for another retail building. This is not the case. The IRS defines "like-kind" property as anything that "is used in a business or investment." Therefore, as long as it's not your house or vacation property, the 1031 exchange is good to go!
This is great for real estate investors who have a portfolio of residential real estate investments, and are looking to start on a commercial portfolio as well. Or, if you're like us, and hate dealing with the pitfalls of residential real estate (namely toilets, tenants, and trash). You can use a 1031 exchange to get into DST properties or NNN properties. These two types of real estate structures are much more passive than most residential or commercial properties out there. Another option is oil/gas royalties, which are entirely hands-off! Believe it or not, oil and gas royalty investments are considered like-kind to any other type of investment property.
Geographic Flexibility
Real estate investors in Florida use the 1031 exchange to gain more diversity when it comes to property type. You can also use it to gain more geographic flexibility. For example, you may own a property in an area that has experienced rapid gentrification and price appreciation. Yet you think the neighborhood is turning negative, the 1031 exchange in Florida can help. You can sell the existing property and diversify into an area that is on the "up and up". Then you can continue searching for yield by diversifying.
Additionally, many investors who are located in high property value areas (such as beachfront condos in Destin and large cities) have high incomes and a desire to invest in real estate. If you own a property that has appreciated a large amount in a high cost of living area, using the 1031 exchange in Florida can help you diversify into higher-yield areas.
#3 The 1031 Exchange "Trade-Up"
Another fantastic reason to do a 1031 exchange in Florida is to take advantage of your existing equity and "trade up" to more valuable property. Along with saving on federal and state taxes, the "trade up" is one of the best ways to create wealth over traditional methods of real estate investing.
To illustrate how powerful the "trade up" is, consider the following scenario. Let's say you own a $1M rental property and still have $600,000 to pay down on the mortgage. You have $400,000 in equity. With the 1031 exchange in Florida, you can sell this existing property. Then use the entire $400,000 as the down payment on a more valuable property. With this "trade up" method, you can buy into a $2M or higher valued property, completely tax-free.
Using a more traditional sale method, you'd have to pay capital gains tax and depreciation recapture tax, so that $400,000 of equity would be needed to pay off these taxes. With the Florida 1031 exchange, you can use the entire $400,000 as the down payment on your next venture! This is the point of the 1031 exchange. It is the single best tool that investors can use to build wealth in residential or commercial real estate. With the tax-deferral, you can continue to "trade up" until you have more valuable property. The main goal is having it paid off and throwing off cash.
#4 – Lots of Qualified Intermediaries in Florida
A huge advantage to doing the 1031 exchange in Florida is that there are plenty of 1031 exchange companies and qualified intermediaries ready to help out. In fact, Florida has some of the most qualified intermediaries per capita compared to nearly any other state. In order to do a 1031 exchange in Florida, it is a requirement that you use a qualified intermediary, just like any other state.
There are lots of states within the country that have only a few qualified intermediaries within its borders. Even some medium-sized states, such as Indiana, don't have a single qualified intermediary! Florida, on the other hand, has 16 qualified intermediaries operating in the state. Some are independent, and others are part of larger 1031 exchange companies. If you need help ASAP, and you're in Florida, this is an excellent advantage over other states.
#5 – The 1031 Exchange in Florida is a Fantastic Estate Planning Tool
Since Florida has many retirees, it's no surprise that estate planning is a top consideration of many real estate investors. That said, the 1031 exchange in Florida is a great way to start consolidating a sizeable real estate portfolio. Many investors who get started with one 1031 exchange plan on "swapping til you drop." This means they'll continue to do a 1031 exchange until they die. They will defer taxes entirely rather than just "kicking the can down the road." Then when they do die, their heirs will inherit the properties on a "step-up" basis.
You may be asking, however, what if you'd rather sell the properties you own today and pass along something more manageable for your heirs? Many investors are nervous about passing along a portfolio that needs regular attention and property management know-how. This is a great reason to use the 1031 exchange. Diversify your existing portfolio into an easier-to-manage one while still deferring taxes.
A strategy to consider is selling a single valuable property or many properties and rolling them into many Delaware Statutory Trusts (DSTs). These are essentially passive real estate investments that many folks from around the country invest in. The large advantage of the DST structure is that they are managed for you. When you pass them to an heir, there is no management required. This can also be advantageous if you have more than one heir to pass a large investment or portfolio of investments to.
For example, let's say you own an apartment building that has a basis of close to zero due to depreciation. Let's also say that you have three children, and you need to give each child an equal share of the property. You choose to pass the entire building and give each child an equal share. There could now be disagreements between the heirs about what to do with the property or when to sell it (or not sell it). Even worse, if you choose to sell the building beforehand, you'll get hit with a giant tax bill. By doing a 1031 exchange and buying into three or more shares of various DST properties, you avoid many of the inheritance issues others face. Each child will receive their share of the "mailbox money" and won't be responsible for nearly every aspect of property management.
Final Thoughts
One of the best things about a 1031 exchange is the ability to defer taxes on an investment property. It is also important to remember that there are many options for those wanting to utilize an exchange. As with anything involved with real estate find a good realtor experienced with what you are trying to accomplish, research and make an informed decision.
Additional Real Estate Resources
Karen Highland explains how a 1031 exchange can be used as a useful tool in real estate. Things that are included in this article are everything from deadlines to deferment.
Do you think it may be time to sell your investment property? Paul Sian takes his readers step-by-step through some of the reasons why now may be good timing for you to sell your investment.
Buying your first investment property can be a scary thing. Frederick Franks discusses important things to do before you take the plunge. He will help you understand things you should and shouldn't do.