Red Flags To Look Out For When Hiring A Home Contractor
Posted by Danny Margagliano on Tuesday, June 9, 2020 at 10:21 PM
By Danny Margagliano / June 9, 2020
Comment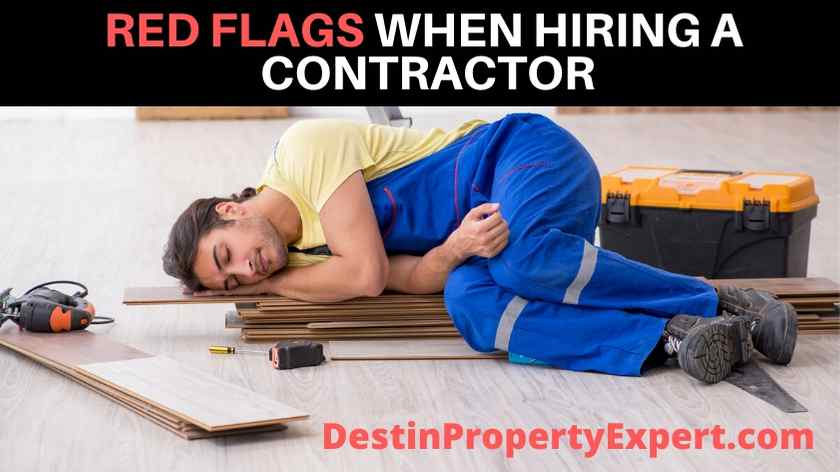 Finishing a home renovation should be a happy occasion. Nothing takes the joy out of the experience like hiring the wrong contractor. A qualified and reputable professional should be able to provide a smooth ride from start to finish.
On the other hand, a shady provider can create headaches and send your budget and schedule out of control. Before starting any home improvement project, it's crucial to have the right team for the job.
The bad news is, there are a lot of contractors out there looking to take you for a ride. The good news is, you can avoid this by knowing what to look for and doing your homework. If you're a homeowner hoping to remodel, here are some tips to help you find the right contractor.
Red Flag No. 1: Old or Missing References
One of the most important steps to take when researching contractors is to ask for references. Talking to previous clients can offer the best insight into what you can expect. They can tell you about the quality of the work and if there were any issues.
Of course, the builder would prefer to give you a list of satisfied customers, so bear that in mind. If, however, the company is reluctant to give you any names, this is a big warning sign. It can only mean that this particular provider doesn't have many happy clients if it has any.
Another indicator of potential trouble is if the references provided are all from more than a year ago. Anyone without a recent success to show off probably won't do a good job for you.
Red Flag No. 2: Bad Reviews Online
People are more likely to leave a review online if they have a negative experience. That means you're bound to see at least a few complaints on a builder's profile. However, if there are more than a few, that's not a good sign.
A handful of negative reviews could be difficult past customers or disgruntled clients looking to exact revenge. Though if you notice a pattern of one-star feedback all complaining about the same issues, find someone else. The last thing you want to do is add your name to a long list of unsatisfied customers.
Red Flag No. 3: Overpromising
If something seems too good to be true, it probably is. Before looking for a builder, do a little homework about your project. Find out a ballpark figure for how much it should cost and how long it might take.
It's also a good idea always to get multiple quotes from a number of contractors. If one of these comes in with a bid well below the others, that should make you suspicious. This probably means that this contractor will try to cut corners or suddenly hit you with unexpected charges. There's nothing wrong with wanting to take the lowest bid. Just be careful about bids that seem shockingly low.
Red Flag No. 4: Lack of Paperwork
Verify that anyone you hire to work on your property is licensed and insured. Without this documentation, you could fall victim to a scam artist or be held responsible for injuries or damages.
One of the first questions to ask a builder is to see a license and proof of insurance. If he or she refuses or provides nothing but excuses, move on to your next choice. There's no better indicator of a fly-by-night operation than a failure to have the most basic paperwork.
Red Flag No. 5: Cash-Only Payments
A contractor insisting on being paid in cash is likely up to no good. There are several reasons why he or she would want to keep your transaction off the books. None of them benefit you. A reputable business will be happy to process your payments in check form, via credit card, or through money orders.
Red Flag No. 6: Asking Upfront for Too Much Money
It's completely normal for a construction company to request a portion of the money in advance. This down payment typically goes toward securing materials or other normal costs.
However, if your contractor wants more than half of the cost before doing any work, don't do it. This could mean he or she is preparing to bail on you. It also could mean your money will be spent on someone else's project. Wanting to move forward without having a clear payment plan in writing is another bad sign.
Red Flag No. 7: Working Without a Contract
Even if you trust your contractor completely, get everything in writing. This should include a full description of the work being done, a start date and estimated completion date, and an itemized budget.
Also make sure to include some language about how any unforeseen changes to the project's scope or budget will be handled. If the builder balks at signing any such contract, don't work with him or her.
You need to have a good rapport with your contractor to have a successful renovation. A big part of this is whether or not he or she is responsive to your questions or concerns. If you have a hard time getting a straight answer — or any answer — consider finding someone else.
Builders who take more than two days to reply aren't worth your time. This usually means you'll have difficulty getting them to respond to you. Further, they probably won't give your project the attention it deserves.
Red Flag No. 8: A Bad Attitude
Every remodeling project will come with hiccups. When they happen, you want to work with someone who can roll with the punches. If you get the impression your contractor has a short temper or gets impatient with the crew, don't ignore it. How the builder reacts to the unexpected can have a big impact on results.
Your next remodel will bring your house one step closer to becoming your dream home. Don't let the remodeling company you choose stand in the way. Follow the advice outlined here, and you'll stand a much better chance of finding a great contractor.
Additional Real Estate Resources
Connor MacEvilly has written a great article discussing topics around the importance of hiring a licensed and insured contractor. He also breaks down exactly what it means to be licensed, bonded, and insured.
Brian Davis has written an extensive guide on negotiating with contractors. In Brian's article, you will learn tips that you never thought about and that could potentially save you hundreds or thousands of dollars.
Kevin Vitali has put together a unique article about getting the most out of your building contractor. He discusses simple but often overlooked topics like putting things on paper and treating people nicely. These tips can go a long way.
---
Author bio: Tim McKenna is an account manager at CraftJack, which connects contractors with homeowners who are looking for assistance with home projects. McKenna works with contractors to find the best lead generation solutions for their businesses and offers helpful advice when needed.