Remodeling or purchasing a new home – which is best?
Posted by Danny Margagliano on Tuesday, March 23, 2021 at 1:07 PM
By Danny Margagliano / March 23, 2021
Comment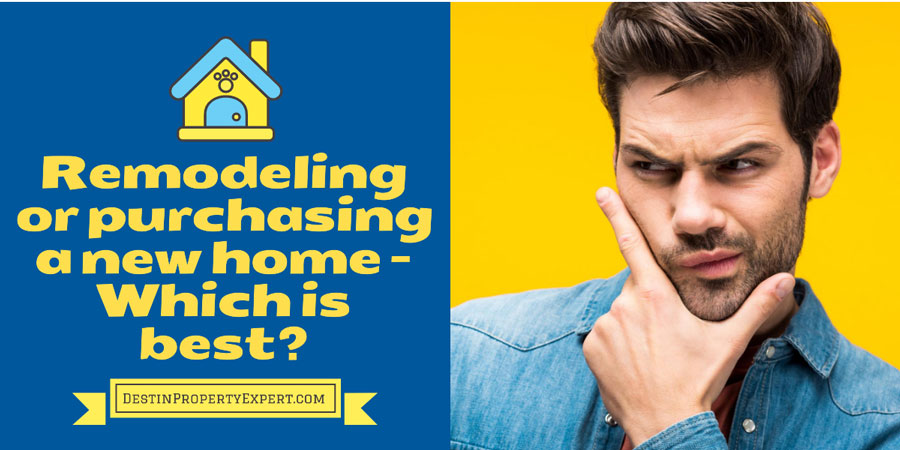 Becoming a first-time homeowner is certainly an achievement and a feeling you won't soon forget. However, there comes the point when you might consider relocating to a better, bigger, and more spacious home. However, going bigger doesn't always imply that you have to move out: therefore, the question of whether you should remodel or purchase a new home arises.
We know that everyone is different in terms of their needs and preferences, and there isn't a right or wrong answer. Some homeowners might be better off remodeling their current home, while others would be better off moving out. For some people, the financial implication of relocating might weigh more than other aspects, while for others, location is an essential factor. So to rephrase the question, which solution is best for you?
We are about to line up some of the pros and cons, the bumps and roadblocks that might come along the way during the remodeling and home purchase process. Hopefully, in the end, you have a better understanding of the process and let you decide which solution best suits you. Should you remodel or purchase a new home? Let's find out!
Things to consider before making a decision
Both remodeling and moving can be stressful, and they will take time, energy, and money to complete. What if you don't have the budget for a new home? Wouldn't it serve you better to remodel your existing home? How can you determine which solution suits you best? We are about to address some of the questions that might come to mind when you plan such a significant move, and hopefully, we can come up with an answer for them.
Is location relevant? More often than not, people love the neighborhood they are in. Relocating to another community raises the question of whether you will like it just as much as the previous neighborhood? In that case, you might be more inclined to renovate your home or buy one in the same community.
Is it cheaper to renovate or to move? One of the significant factors in the remodeling vs. home purchase dilemma is the cost. Remember that a home remodeling project requires out-of-pocket costs immediately, whereas moving might initially put some money in your pocket but bring about unexpected expenses down the line. It's important to factor in things like renting a moving truck, buying new furniture, and additional miscellaneous costs when having to move.
Is it a good time to buy and sell real estate? If you decide to sell your property and buy a new home, you have to consider the local real estate market as well as the one you are planning to move into. You want to get the most out of your investment, and even if it might be cheaper to move than to renovate, you have to consider that housing trends may shift quickly. You don't want to buy an overpriced home or have an appraiser undervalue your property because it's an unfavorable time to sell.
Is there an emotional attachment to the home? This is also a big one for many people who are thinking about relocating. Many memories were created in that home, and it's hard to detach yourself and let it go. Consider the emotional implication of relocating and the impact it's going to have on you and your family.
What are your long-term goals for the home? If your long-term goals don't revolve around the house, you would probably be better off not remodeling your home. For example, if you want to have a big family and live in a two-bedroom house, you might need to move sooner or later. Expanding your current home will drastically increase the costs if you are changing the floor plan, so you might be better off relocating.
The pros and cons of remodeling or buying a new home
Hopefully, you could address some of the questions above and figure out your stance on the whole situation. However, you have to be aware that both renovating or relocating have their pros and cons. We want to highlight some of them and let you decide which solution fits best for you.
Relocation pros
Relocating is not easy, but it does have its fair share of pros, and one of them has to do with the fact that you are purchasing a home and a new investment. Many people who relocate see it as an opportunity to expand their portfolio if they got equity on their side. Maybe your current assets are no longer affordable, and you are thinking about downsizing to alleviate financial strains or kick outstanding debts. This might be the shot you are looking for.
Relocating means a new beginning, and while many might argue that new beginnings are not necessarily a pro, how else are you going to know if the grass is greener on a new lawn? A change of perspective might be exactly what you need to expand your horizon and improve at a personal and social level.
You are no longer a first-time homebuyer, and since you've been there before, it is a lot easier now to go through the paperwork and the purchase process. Find a real estate agent who can assist you with taxes, insurance, and title, as well as finding a quality lender to buy the new house. It is a big step, but you've been there before on your first home purchase, and you won't be so stressed out about what will happen since you are already familiar with the process.
Relocation cons
Relocating has its fair share of downsides, and one of them has to be the moving part. Having to pack everything up and move all your belongings to the new home is not something anyone can say they enjoy doing. Even if you don't do it yourself, you still have to pay moving costs to have someone else do it for you.
Even though you are more comfortable with the process of home buying, moving is a stressful life event nonetheless. Six out of ten people find moving to be one of the most stressful things to do, beating out even other stressful situations such as break up or divorce. Take it into consideration before deciding to proceed on this route since things can get quite bumpy down the road, especially if you have a family.
You are no longer a first-time home buyer, but keep in mind that you might be a first-time home seller. Selling the home could take quite a while if you are located in a buyer's market, and the selling price might be lower than you think. Also, selling your home involves paying your real estate agent and some other fees. The selling process can be complicated and expensive, so you have to be willing to go through it to relocate unless you want to use the second home as a passive income strategy.
Remodeling pros
Remodeling allows for more financial flexibility because you are not forced to remodel everything in one go, and you can plan ahead based on your current budget. You can split the project into chunks and complete parts of it through the year. You don't need to remodel everything in your home, which means your budget can flow with what you need to do.
A personal touch is probably one of the most significant incentives to choose to remodel over relocating. With a renovation, you can change your home according to your desires and expectations. Buying a new home might provide you with only a few of the features you want, and then you would have to invest even further to turn it into your dream home. Moreover, there are ways you can save money on your renovations, so you achieve your desired home features without paying a fortune.
You can increase your home value with renovations, and if for some reason you decide to sell it further down the road, you are looking at a home with an increased market value. If your remodeling project targets bathrooms and the kitchen, you look at quite a significant value appreciation since those are the rooms that sell the home. If you have a lot of home equity, you can use your home as collateral to borrow against its value and pay for the renovation, so it's a win for everyone.
Renovation cons
During the remodeling process, the last thing you want is surprise expenses, and it happens more often than not. This is especially true for large-scale projects that might involve tearing down walls, moving plumbing, and so forth. Unfortunately, surprise expenses will cause a surge in your remodeling budget, which is not a pleasant thing to have.
Remodeling means that your home will be a construction site for a few days or weeks, depending on how big the project is. Some remodeling projects might still allow you to live in your house in a separate room until the renovation is complete, but others might require you to move out for a few days, which might come with some extra costs for accommodations. It will be stressful and loud until the project is finished, and you need to have patience.
Conclusion
As a homeowner, it comes a time when you have to undergo a remodeling project or consider relocating. However, for many people, the two overlap, and you have to decide whether you are willing to move into a new home or remodel the current one. If that is the case, then we have underlined some of the pros and cons, along with a series of questions that will hopefully help you decide on remodeling your home or relocating.
If you enjoy this content, make sure to share it on your social media platforms and let your friends know which is best - remodeling or purchasing a new home.
Real estate resources
Glenn Shelhamer put together an awesome before and after home renovation article. Check out some really cool photos of renovations that will blow your mind.
Brian Davis has written a great post showing what type of financing is available for renovations. Home renovations can become very costly and if you don't have cash saved up there are options for acquiring a loan.
Karen Highland discusses some of the worst mistakes with historical home renovations. If you live in a historical home make sure you do your homework and don't do any type of remodeling and home improvements that could actually ruin the value of your home.