Important Repairs to Request Before You Close on Your Home
Posted by Danny Margagliano on Thursday, June 18, 2020 at 9:37 PM
By Danny Margagliano / June 18, 2020
Comment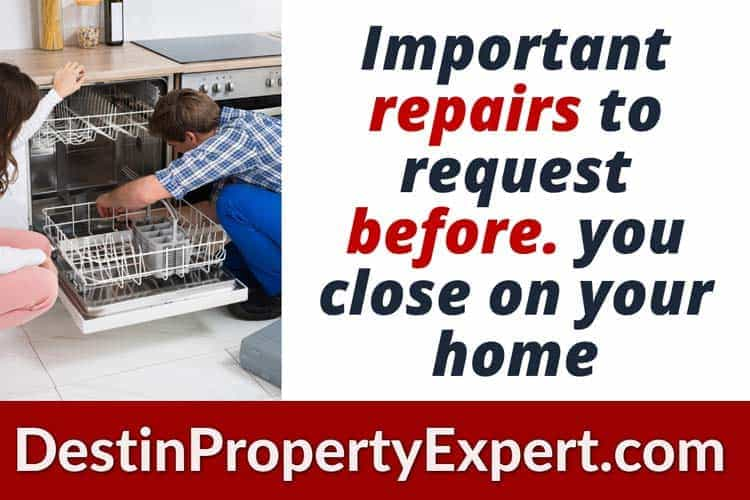 During the home-buying process, you'll want to make sure that you have covered all your bases pertaining to there being nothing wrong with your new home before you move in. But where is the line drawn in asking for home repairs that should be made before you close? To keep you on the right track, review this guide on important repairs that should be made before closing on a home.
Before You Do Anything, Get An Inspection
Before you take note of all the problems you want to be fixed before you close, get a professional home inspection. Keep in mind that most cosmetic changes will not be fixed before closing. Once an inspection is performed, that's when you can really dive into what could potentially make a home unlivable and require repairs before you close and move in.
While updating a home's curb appeal can make it more attractive to buyers, it isn't considered something to ask for regarding repairs to your home. The repairs that the seller is going to make are going to be on items that are not in working condition. The air-conditioning unit is old and I asked the last leg if the seller will not be obligated to fix it. If the AC is blowing cold air and not leaking Freon it will most likely pass inspection. Furthermore, The contract will state that the seller is responsible for a fixed amount or a percentage of the purchase price toward repairs.
Attend to Old Plumbing and Wiring
If you're purchasing an older home, you may encounter issues like underground wiring and two-prong outlets, as opposed to the common three-prong outlets that you see today. This could require the entire home to be rewired. Be sure to check the code requirements of your city because while there isn't necessarily anything wrong with underground wiring, you should probably not use those plugs for electronics like computers and televisions. This is something that can be negotiated before closing, but keep in mind that unless your city requires above-ground wiring, it isn't required by the seller to rewire the home.
Issues like galvanized water pipes can also prove to be a repair request before closing, especially if the pipes are leaking. Steel pipes can cause mineral buildup over time that could result in rust and leaking. If your home inspection reveals that your house has issues like low water pressure and leaking due to galvanized pipes, it's acceptable to request the seller at least fix the leaks, if not replace the pipe altogether. Keep in mind, though, that it's fairly uncommon for a seller to replace all the pipes.
Leaky faucets and showers
Your inspector will also check all the faucets in the house. This is a very common area to have a leak. Whether it be at the faucet or under the counter, it is important to get these issues taken care of before closing. Another problem area can be showerheads that are leaking. The worst of all would be having a leak behind the drywall. This could lead to major damage and even mold.
Windows and doors
All the doors in the home should be opening and closing smoothly. There should be weatherstripping intact on all exterior doorways. All doors should close and latch easily, and the door locks are expected to turn easily. One of the most overlooked and potentially expensive issues is windows. If any windows do not open and close easily, there may be a problem. Check for thermal barriers being broken. This is typically seen visually by noting fogging inside the window.
Get a Roof Certification
Most home inspectors will not inspect the roof, so you can ask your seller to provide a roof certification for you that is issued by a roofing company. A roofing company will inspect the roof; if it requires repairs, they will not provide certification until they are made. If the repairs are extensive, you can request the seller provide a cash credit at closing to replace the roof.
Check HVAC and Water Heaters
Requesting new heating and cooling systems is fairly common, but they can be expensive. As mentioned earlier, the seller is only responsible to purchase a new air-conditioning unit and heater if it's not working. Just because the HVAC is 20 years old doesn't mean the seller should buy you a new one. If the air conditioning unit is frozen or it's not blowing cool air then the seller will be responsible for replacing or repairing it. If they choose to repair it rather than replace it, they must choose a reputable company to ensure it returns to full working order.
A good rule of thumb is that a standard furnace will last about 20 years and your water heater should last at least 10 years. That said, don't feel the need to buy a new water heater just because it hit the 10-year mark. Instead, consider negotiating a home warranty to cover repairs that can happen with older HVAC and water heater systems.
Appliances
Any appliances or mechanical items being left at the homes should be checked. Simple things like having a burner not working properly on the stove or the oven not heating properly can cause a big headache after you purchase the home. You also want to ensure the dishwasher and garbage disposal are working properly. Another consideration is a garage door opener. If there is an automatic door opener, ensure it runs smoothly.
Other Avenues to Take Instead of a Repair
You don't need to jump straight into requesting a repair on issues that popped up in a home inspection. You also shouldn't dismiss a home if repairs arise and the seller is unwilling to make the repairs. Instead, use negotiations to your advantage. You may be better off asking for a cash credit instead of having the seller repair or replace the item themselves.
Keep in mind that the seller has no investment in the home once the purchase has been made. Therefore, when you request a repair, they may not be looking for the best in contractors or the best items to replace a system with. They will be opting for the cheapest and quickest repair available.
Other Considerations
Unless you are moving into a brand new home, don't feel the need to nitpick. Keep an eye out for major issues with the home that can prove to be costly down the line or things that will keep you and your family from moving in. Also, don't make repair requests that should have been pointed out when you made an offer. Things that were visible to you during the showing, such as cracked driveways and sidewalks, paint, or uneven flooring, should not be brought up after an inspection. You will likely get rejected for this type of repair request.
Consider asking for a home warranty for peace of mind during your first year in the buying process. This will cover any issues that may arise in your home that you were aware of during closing or that the seller didn't deem necessary to repair. If you notice major issues in the home that would require a large repair or problems with the home's foundation, you may want to reconsider purchasing the home altogether.