Santa Rosa Beach – Everything You Need to Know
Posted by Danny Margagliano on Friday, June 19, 2020 at 10:28 PM
By Danny Margagliano / June 19, 2020
Comment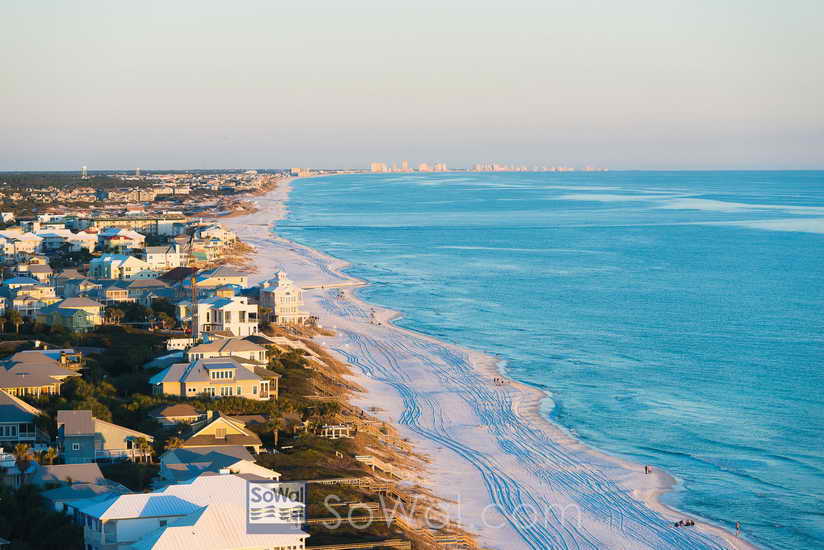 Whether you are looking for an escape into nature or wishing to spend some time relaxing in a condo, Santa Rosa Beach is perfect for both. Located amid 30a Florida, Santa Rosa Beach is a place for relaxing by the Gulf of Mexico and creating fun and lasting memories.
Santa Rosa Beaches white-sugary sand surrounded by pristine turquoise water will fill your heart with a sense of refreshment. It's like a perfect holiday retreat you will never want to leave – which is why many people demand beachfront condos when they visit. You will see why there are so many reasons to purchase a property in Santa Rosa Beach.
The best part about Santa Rosa Beach is – it is not as inhabited and hectic as other beaches in the US. You can always find plenty of space all to yourself to enjoy the pleasant gift of nature. Simply put, Santa Rosa Beach is a dream destination to live and spend time with family, friends or even alone. Let's now look into everything you need to know about Santa Rosa Beach Florida.
Things to do in Santa Rosa Beach
When you visit such a mesmerizing place, you cannot just sit back and let the day pass. You think of planning activities to soak up every bit of the magic. To make it easier for you we've listed a few things you can take pleasure of in Santa Rosa Beach.
Ride Your Way to the Timpoochee Trail
The Timpoochee Trail is an 18-mile paved route for a perfect day out with your loved ones. This trail also known as the 30a bike path becomes more fun when you enjoy it while riding your bike. When you begin the trail, you will notice the scenic beauty around you – particularly the trail's pathways over and around South Walton's coastal dune lakes.
Listen to Quality Live Music
When your day is about to end and you just wish to relax, make your way to one of the live music venues for some mesmerizing tunes. You can start your hunt by visiting Graffiti & The Funky Blues Shack. It is one of the happening places in Santa Rosa Beach and a perfect setting for all ages! Another one in the list is The Red Bar. You can listen to their Jazz band while enjoying the eclectic atmosphere. Up and down 30a and Santa Rosa Beach you can almost always find a café, restaurant or bar with live music playing.
Be a Part of a Local Event
From BBQ Competitions to Baytowne Beer Fest, Santa Rosa Beach is filled with joyous events. You can never find a dull moment when you are at this breath-taking destination. So, whenever you visit Santa Rosa Beach, make sure to interact with the locals to know about the up-and-coming events.
Try out Some Adventurous Activities
Be it paddle-boarding, scuba diving, or kayaking, make sure you enjoy all the adventurous activities in Santa Rosa Beach. From leisure to adventure, there are all sorts of activities for every generation. Most of all, the water at the beach remains warm all year long which makes it perfect for swimming at any time of the day.The best near beach snorkeling head Grayton Beach and swim out to the artificial reef to view lots of local sea life up close.
Places to Visit
Apart from things to do in Santa Rosa beach, there are also numbers of places you can visit. For instance:
Coastal Dune Lakes
Rarest of the rare, Coastal Dune Lakes are only found in a few places including the Santa Rosa Beach, Australia, New Zealand, and Madagascar. If you are visiting Santa Rosa beach and you do not visit some of the coastal dune lakes, your trip will be incomplete. Its natural and spectacular beauty will captivate your soul and will leave awestruck in wonderment.
Restaurants to Try
While on an exploring spree, you look for speciality food of the place. Mentioned below are some famous restaurants of Santa Rosa beach that will end your quest for amazing food.
Cafe Thirty A
A real treat for the stomach, Cafe Thirty-A is one of the most exquisite fine-dining eatery in Seagrove Beach next to Santa Rosa Beach. Carefully decked with contemporary artisanal creations, this restaurant is a complete package of little this and that. From delicious pizza options to mouth-watering seafood, you can find every portion of the food ah-mazing. However, if you are looking for the show stopper of this restaurant, try any of its main meat dishes in tandem with dishes like truffled 3-cheese macaroni, oyster mushrooms, etc.
Chanticleer Eatery
Chanticleer Eatery is the sound of a happy soul. Ask anyone who has tried this restaurant, and they will unanimously say "it's fabulous." Moderately priced and known for its great sandwiches, this eatery will blow your mind with its variety of food. Some of its most liked delicacies include Pork Chop, Shrimp and Grits, Bruschetta Chicken Sandwich, and Grilled Cheese with Bacon. Besides, the place has a number of options for vegetarians too.
The Perfect Pig
Famous for its variety of local cuisine, The Perfect Pig should be your choice if you are looking for some delicious food in a chic, classy atmosphere. Its freshly baked bread with olive oil and luscious crab cakeswill make you weak in your knees. Once you have savoured its delicacies, you will never be the same.
South of Philly
If you are looking for an appetizing meal at a decent price, look no further than South of Philly. This fairly priced restaurant will woo your mind and fill your stomach with delicious food. Incredible Sandwiches and Philly Cheese Steak are all made with fresh seasonings and are perfect for snacking on the sand.
Where to Shop?
A trip doesn't reach to its concluding phase unless you have shopped souvenirs for your loved ones. With that being said, here are some famous shops, you must visit in Santa Rosa.
Boca Boutique & Galeri
Located in WaterColor, FL, Boca Boutique is a one-stop shop for buying artistic gifts, spiritual art, and elegant coastal-inspired jewelery. Other than this, the shop is also famous for ladies apparel, fashion handbags, and chic footwear. So, instead of struggling to find the right place to shop, visit Boca Boutique & Galeri for picking up some fine stuff.
The Blue Giraffe
Nestled in WaterColor, FL, The Blue Giraffe is a perfect place to buy arts & gifts with heart. Over the years, the gallery has become one delightful shop where visitors find themselves blissfully lost in the sea of treasures and one-of-a-kind pieces. This hidden gem is a peaceful destination for heritage, art, culture and nature. In addition, the gallery also holds classes and programs for artists who yearn to learn.
Chroma/ Kathleen Broaderick Studio & Gallery
Those of you who want to capture the pictures of Santa Rosa beach after visiting it should head to the Chrome Store once. Situated on the West County Highway 30A, the paintings of this gallery will dazzle you to the paramount. Each and every painting of the gallery perfectly holds the essence of the subjects. What else could be a more perfect souvenir than an original painting of a Santa Rosa Beach or 30a iconic landmark?
Since now you know everything about Santa Rosa Beach, how about planning a trip to explore its beauty? make sure you plan your trip long enough to do all of the activities that are on your list. If you're coming to also look into buying a home or condo in Santa Rosa Beach it is best to make sure that you have at least Saturday and Sunday to look at properties. The weekend is typically when check-in and checkouts are and that is the perfect time to look around properties before new tenant to arrive.