How To Save On Home Insurance and Still Get the Most Out of It
Posted by Danny Margagliano on Sunday, January 9, 2022 at 9:33 AM
By Danny Margagliano / January 9, 2022
1 Comment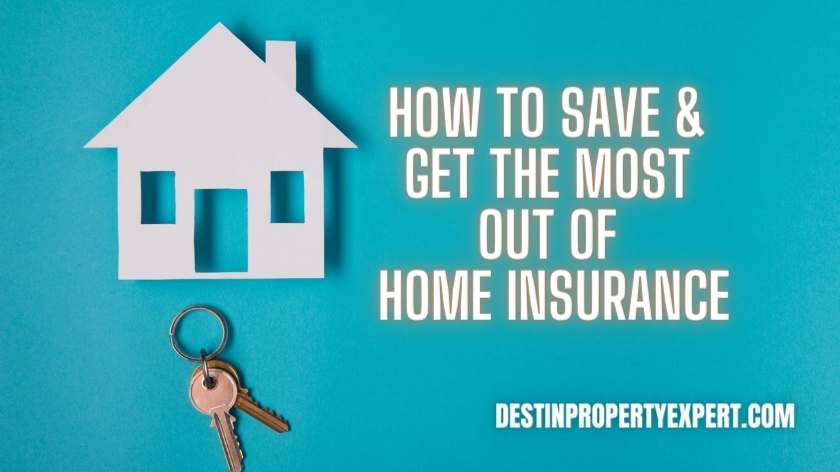 Having to cover the cost of homeowner's insurance can be frustrating. After all, you are buying something you hope you will never use. While this is true, you don't have to overpay for this coverage. Some tips to help you save on your homeowner's insurance costs while having the coverage you need can be found here.
Increase Your Deductible
One of the fastest and easiest ways to reduce your homeowner's insurance premium is to increase the deductible. This is the amount you must pay if you make a claim.
An example of this will be if you have a policy with a $500 deductible. If you increase this to $1,000, you may be able to save up to 20% on your premium (keep in mind this varies from one insurer to another).
Increasing your deductible helps leave more money in your pocket each month. Just make sure you have enough saved to cover the deductible if you must make a claim.
Only File Claims When Necessary
When an insurer sets your premium rates, they will review all the claims you have filed for the past seven years. If there are a lot of claims, they will assume you will likely make more claims in the future. This may cause your rates to increase.
Before filing a claim, make sure you carefully think about the cost. For example, if you file an insurance claim for $2,000 in repairs for your home, with a $1,500 deductible, insurance is only covering $500. You will also have a claim on your record. In this situation, paying out of pocket for the repairs may make more sense over filing a claim and may help keep your premiums low.
Shop Around for the Best Rate
While this may take some time, it may help you save a lot of money. Be sure to ask people you know and look online for insurers to get a quote from.
Remember, the rates you receive from different insurers can vary by hundreds of dollars. For this reason, it is best to shop around to find the best deal for your needs and situation.
Increase Your Home Security
Even basic security improvements will help you save money when it comes to your home. For example, having deadbolt locks, smart technology, a burglar alarm, and a smoke detector can help you save five percent or more on your premium. You can take security a step further by adding a quality sprinkler system and monitored burglar and fire alarm services. With these security upgrades, you may see 15% to 20% savings.
Address Possible Risks to Children
Certain features of your home may put children in danger. This includes things like trampolines, water features, treehouses, and swimming pools. Insurance companies call these things "attractive nuisances." That's because they pose a serious risk to any child on your property.
If a child is injured, you may be considered liable, even if the child was trespassing. Barricading the nuisance or removing it from your property can help you reduce your insurance premiums.
Ask About Less-Known Discounts
Unless you ask, you may not know what other savings you may be able to receive on your homeowner's insurance policy. Sometimes, you can receive additional discounts for things like:


No smokers in the house
Having a specific job or career
Paying your premium through an automatic bank draft
New homeowners
Make sure you ask your insurance company about any potential discounts they can apply to your account.
Bundle Your Insurance Policies
If you have car insurance, life insurance, and other policies, it may make sense to use the same company for all of them, including your homeowner's insurance.
In fact, purchasing multiple policies from the same company may help you qualify for a discount. This will also make it easier to keep track of everything and pay your bill each month.
Note All Home Improvements
Have you taken steps to improve your home? If so, you may be eligible for certain insurance discounts and not even realize it. Adding features like impact-resistant roofing and storm shutters, which make your home more difficult to damage, can help you receive insurance savings. You may also earn a discount if you upgrade your outdated electrical or plumbing systems.
After making these improvements, you can request the insurer's return for another inspection. This will help you secure potential discounts.
Modify Your Homeowner's Insurance Coverage
Today, your homeowner's insurance policy includes things like personal property insurance (for the contents in your home and living expenses if your home is uninhabitable), liability insurance, and structure insurance.
You can choose different dollar amounts and levels for every type of coverage offered. If you choose the coverage that pays more if you make a claim, you will likely have higher premiums. For example, personal property insurance that will only cover the current value of your possessions will be less than coverage to replace the items with brand new ones.
Take Steps to Improve Your Credit Score
Some people are surprised to learn that their credit score has a huge impact on the premium you pay for home insurance. One reason for this is that companies use a credit-based insurance score to determine your rate in some states. If an insurer believes that your credit score is too low, like having a FICO score that is 630 or less, you may be charged higher rates.
If you discover your credit score is too low, take time to look at your credit report to see if there are any mistakes or errors. It's possible to increase your credit score by paying your bills online and by paying down your credit card balances.
Determine the Amount of Insurance You Actually Need
While there are several ways you can reduce your insurance premiums, you should also consider the fact that you may be overpaying for coverage you don't really need. Knowing the right amount can be challenging since it is impossible to know when you will need homeowners' insurance coverage or what you will need it for.
Even though it is not a bad idea to plan for the worst-case scenario, there is no real benefit of paying for insurance you don't need or won't use. The first step is to know what is included in the typical homeowners' policy.
The House (Dwelling Coverage)
Dwelling coverage refers to your house. It's what's used to cover repairs to your home. You need enough to cover the cost of replacing your home. Remember, the mortgage amount and home's market value aren't equal when it comes to replacing your home after a disaster.
You also need to know standard homeowners' insurance policies won't cover damage caused by earthquakes or flooding. You may also need additional coverage for wind or hail damage.
Other Structures
Other structures coverage refers to any building or structure on your property that is not attached to your house. Examples of what would be covered include a gazebo, carport, detached garage, fence, or shed. When you review your coverage levels, be sure to consider what structures you would like covered by your insurance.
Your Personal Belongings
Personal possessions inside your home can be covered by your homeowner's insurance policy, too. This includes stereos, televisions, computers, jewelry, and anything else that is valuable. It's important to determine how much money is needed to replace these items and then ensure your coverage is enough.
Loss of Use
With the loss of use coverage, you have funds that can be used if you are displaced from your home for any reason. If a hurricane or flood occurs, it will let you remain in temporary housing or a hotel until you can get back into your home or have it repaired or rebuilt.
It's also sued for covering any other expenses caused by being displaced. For example, if you have to travel further due to damage to your home. The coverage you have for the loss of use can be used to pay the difference in your commute cost.
Personal Liability
This part of your coverage protects if someone is injured or hurt while they are on your property. If you happen to be sued for damages and you lose, the personal liability coverage you have purchased will cover the costs.
Saving On Your Homeowners Insurance
As you can see, there are more than a few things you can do to save money on your homeowner's insurance. It is important to use these tips to get a good rate while ensuring you still have the coverage you need to protect your home and yourself.
Remember, it is always smart to shop around for homeowners' insurance. This will help ensure that you get the required protection for your home and belongings. In the long run, this will give you peace of mind and help ensure you can rebuild if disaster strikes your home. Being informed is a must for your home and insurance coverage.