How To Sell Your House Quickly In A Seller's Market
Posted by Danny Margagliano on Wednesday, June 30, 2021 at 1:48 PM
By Danny Margagliano / June 30, 2021
4 Comments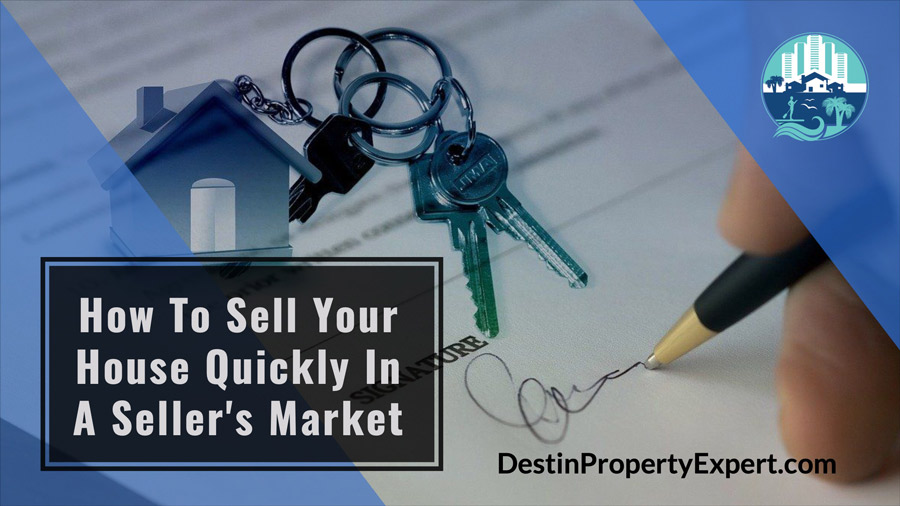 As the real estate market continuously shifts, it makes new opportunities to buy and sell properties. The supply and demand of the housing market can influence both a buyer's and seller's market. If there are more buyers than real estate available, a seller's market commences.
If you're looking into selling your home, the following information can help you compete in the seller's market.
Set A Fair Price
The seller's market is where properties can sell fast, mainly because buyers can be eager to spend as much as they can for the right house. But placing a higher price on your home for more than its actual worth can leave you without a buyer. Your property can remain sitting in the market for months without interested buyers.
The property price can depend on a few considerations, such as its age, condition, size of the yard, proximity to key locations, and a quiet or busy avenue.
You can decide to work with a real estate agent to gain a bit of traction due to their expertise. An agent can help you browse through the pricing ranges of the last few homes that sold in the previous few weeks. For example, similar homes to yours may have been sold between USD$200,000 and USD$290,000.
Using the mentioned considerations, you can determine the right asking price for your home.
Finally, if your house isn't selling in a seller's market, 70% of the time it's because of the price. So if you want to sell your home quickly consider lowering it. Also consider updating the photos of the listing, because even in a seller's market, a property will sell faster if it looks clean, bright, and uncluttered. Make sure your photos are taken on a bright and sunny day, and that you've cleaned and decluttered beforehand.
Prepare Your Property ASAP
Getting a head start can also be the key to selling your property fast. You must determine first if it's currently the seller or the buyer's market. Again, the assistance of a real estate agent can help you get the information you need. A seller's market doesn't last long, and you need to determine if your area is amid in one. It can change into a balanced market out of the blue and miss your chance.
Make the necessary changes in your home for staging. Change the roofing and flooring, as well as repaint the rooms. If you plan to include built-in appliances in the sale, you can make upgrades if you have an additional budget. The exterior is just as essential, which is why you may also want to add more plants to your yard. If you want to attract the best potential buyers, make sure that your home is in the best condition.
If you have built enough equity on your property, you can use it to make those improvements happen. You may have to disclose that in your document as well so that the buyers are aware. There are also many types of financing that you can secure if you want to fund the property's enhancements.
Contact A Homebuying Company 

Selling your property could mean that you need to spend more to raise the value of your home. Depending on the severity of damages, renovations or having the right preparations can cost you. But if you don't have the budget for it, you can still choose to sell your property to a home buying company.
Homebuying companies are both the first choice and can be the last resort, depending on the seller. If the property is in the market for so long or you require quick cash, you can search for them online or in publications in your area.
Homebuying companies, like Element Homebuyers, invest in properties at specific locations or communities. These companies can easily make an offer according to the condition of your home. If you have a mortgage, they'll take it off your hands as well. They'll also offer you a fair deal, and the closing only commences once you decide to accept the offer.
Create A Virtual Tour
In response to the new normal, virtual real estate tours are more popular than ever before. Real estate agents relied on open houses back then to show off available inventory to prospective buyers in the past. With the development of new technologies, advanced applications introduced virtual reality for showcasing both pre-designed and existing properties readily available.
In this case, sellers can get their hands on reliable software to create a virtual tour, which can be easy to use and add to your listings. Virtual tours allow a limited preview of the property for potential buyers so they'll get a glimpse of the floor plan. It'll also help out-of-town buyers decide if they want to schedule a visit to the home or skip it altogether if you don't have what they need.
Virtual tours save time and money for both you and your potential buyers. For one, buyers can view various listings and get an idea at the comfort of their homes. On the side of sellers, they can schedule a showing to serious buyers who are likely to make an offer after seeing a glimpse of the property online.
Have The Paperwork In Order
Sorting out disclosure documents and other legalities before putting up your property on the market can help speed up the selling process. If your documents aren't ready by the time a buyer agrees to your conditions, both of you will have to wait longer, which may result in the buyer losing interest in your property.
Homeowners will need to disclose various factors to potential buyers, such as a death in the home, potential hazards, water damages, and home owner's association information, among other things. When buyers know what to expect, they can assess the situation if your home is worth the risk.
You and your agent must also work with a title company to draw contacts and forms, which a real estate lawyer can assist you. Title companies can help you with title search to determine if the property is genuinely yours to sell and if it's clear of other legal issues. You don't want the buyer to back out at the last minute because they have conducted the title search and found unpleasant discoveries.
Be Willing To Negotiate 

If you already placed a fair price range on your property and not attracting bids, you'll need to compromise and set up new pricing. For the property to sell, the seller and the buyer must meet each other halfway, closing deals ending up in the middle.
It's also important to know what to expect in a real estate negotiation. There are guidelines that both buyers and sellers should follow when it comes to making deals. Other than the pricing, there are closing costs, warranties, leasebacks, financing, and appraisal contingencies to consider, among others.
The pricing may also include what the seller is willing to let go along with the house, such as appliances and furniture. If the seller also lacks in funds to make the necessary fixes, they must be willing to compromise with the buyer as they'll have to make the reparations out-of-pocket.
Be Ready For Multiple Bids
If your home is in the best condition and has a fair price, you can expect multiple buyers to make enticing offers. It can be overwhelming depending on the number of interested parties, but it's always important to be level-headed so that you don't miss any details.
The first thing to note is that the highest offer isn't always the best. Consider what that specific deal entails. Some may offer higher bids but may require closing costs and other extras. There will also be others who'll show a lower price, but they may be willing to shoulder any additional expenses.
You can ask your agent to go over such details. They can provide an insight on how to best deal with such offers and which is best to accept among bids.
Sell Now, Move Later
Whether you already have your eyes set on an ideal home to move into or still looking, it's best to wait until your property is sold. Taking advantage of the seller's market while it's still hot means that your focus must be on selling your property first. If you want to move as soon as you can, you can state in your listing that buyers must be able to complete the closing transaction as quickly as possible. Buyers who accept can hand over the money as expected.
You can also include in the deal that if you're still looking for a new property or if you have other unfinished matters to deal with, you can rent a part of your home and pay them monthly for it. In return, you can give them early notice if you're finally ready to move out of the house.
In Conclusion
A seller's market can help sell homes to eager buyers right away, but how fast it sells will depend on your preparations. Taking the right actions can quickly help you get ahead of the game by working with your real estate agent.
Acquire the correct information and make necessary fixes in your home to entice buyers. Get the paperwork done in advance and never be too greedy when pricing your home. Buyers would also want to compromise on a deal that renders a win-win situation for both of you.