Sell My House Fast: 12 Secrets For First Timers
Posted by Danny Margagliano on Friday, April 21, 2023 at 8:00 AM
By Danny Margagliano / April 21, 2023
Comment
Home selling is no easy task, especially if it's your first time. You might not know where to begin, as there are many things that you'll need to consider before you can sell. You'll have to be considerate with your pricing strategy and want to ensure that your property is valuable.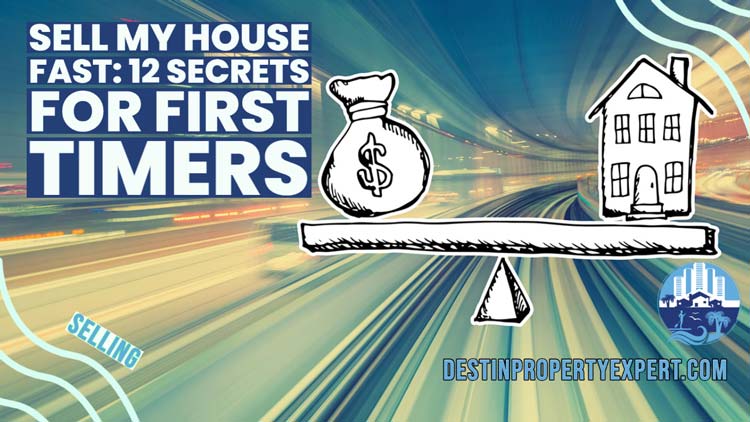 Besides, other challenges could hinder the progress of your home selling. For instance, you might find a real estate agent that doesn't represent your best interest. They might know buyers personally, so they're selling the property at a lower price. In addition, the market condition is also a huge consideration. There might not be enough demand for properties in the market, or too many houses are being sold in your neighborhood at once. This makes it even harder to find a buyer, causing your home to depreciate.
So, as a homeowner, you're probably wondering, 'How do I sell my house fast?' This is common for anyone who wants to find a sure buyer quickly without any hassle. Did you already know there are ways to speed up the process of house buyer hunting? Unveil the secrets of property selling by reading this complete twelve-step guide! Read on:
1. Understand Real Estate Market Conditions
Before promoting your house anywhere, being aware of the present conditions in the real estate market is essential. This is about knowing whether there's a demand for properties and how other homeowners are pricing theirs. This information is available by checking out the sales figures of similar houses in your area.
Likewise, consider following both the world and local economic conditions. These insights reveal whether home hunters are ready for the purchase. That way, you can figure out whether it's the best time to sell.
2. Set A Price
After gathering details about the present market conditions, use this information to set an appropriate listing price for your home. If there's an excess supply of houses on the market, you can set a lower price. Alternatively, if demand has dropped off, it may be wise to raise the price. This ensures that you're getting the best out of your investment.
However, make sure to avoid overpricing and underpricing. Here are the consequences of the two:
• Overpricing affects your house's appeal to buyers, especially if it's been on sale too long. Even if you reduce the price over time, it still loses its shine.
• Underpricing makes your house seem too good to be true. In other words, home buyers believe that you're concealing issues about your property to get more offers.
So, learn about getting a fair price on your home to boost its chances of making a quick sale.
3. Declutter All Areas
Any buyer would want to live where they can start anew. This means they'll want to buy a house that's free of clutter so they can arrange their belongings immediately. Decluttering your whole property is the best way to start selling your home fast.
The following are effective practices in home decluttering before selling:
• List down all belongings starting from the kitchen, living area, hallways, bathroom, garage, and bedrooms.
• Grab supplies like labels, markers, trash bags, and cardboard boxes for packing items.
• Categorize items based on usability, including 'keep,' 'repair,' 'donate,' and 'trash.'
• Depersonalize your house by removing all memorabilia and family photos. This is a crucial step, allowing prospective buyers to visualize their future in your house.
Through decluttering, you make your house look brand new and ready for a new homeowner to settle in.
4. Clean Everything
After decluttering all areas and getting rid of memorabilia, dust off everything because you won't want the buyers to clean themselves. You'll want them to see how easy it would be to move into this space and make it their own.
Here are tips when cleaning your home after decluttering it:
• Choose a schedule so that you can concentrate on cleaning. A good time is during the weekends, especially if you have work on weekdays.
• Gather cleaning supplies like furniture fabric, broom, dustpan, and vacuum cleaner.
• Clean all surfaces with a sponge or cloth, and don't forget hidden spots like ceiling corners and baseboards.
• Dust each room using a feather duster.
• Wipe down the mirrors and glass with glass cleaner or polish until they sparkle. Shiny mirrors make your house look more attractive and even look spacious.
• Disinfect counters using disinfectant wipes or spray disinfectant around doorknobs, toilets, and faucets.
• Sweep the floor to ensure that it's free from dust.
• Vacuum the furniture to remove pet hair, crumbs, and other dirt particles.
If you don't have the luxury of time to clean up your house, you can choose to outsource a professional cleaning agency. They'll do the tasks mentioned above so you can focus more on scouting prospective buyers.
5. Manage Quick Repairs
Home repairs are one of the most significant factors contributing to the time it takes to sell a house. They can add up and delay your sales, even if they are small. For instance, if you notice plumbing and electricity issues, this might cause safety concerns like electrocution and poor water quality.
So, call a contractor or handyman immediately if you notice any issues with your home's condition. You might need an inspector who specializes in such problems or irreparable problems like termites or mold damage.
Taking care of these prevents further delays while improving your home's value.
6. Improve Curb Appeal
Your property's curb appeal plays a vital role. It focuses on your house's attractiveness, affecting prospective buyers' perception. If you want to make your home look more inviting, consider these tips:
• Make sure that the lawn is mowed and trimmed
• If needed, paint the front door and windows to make your house look new again
• Organize your garage
• Ensure the exterior lights are functioning correctly.
When your house has a good curb appeal, you can sell it at a higher price because buyers see its value.
7. Consider Home Staging
Home staging is redecorating a property to make it more attractive to prospects. This makes it easier to bag a sale as most buyers are willing to pay more for a well-staged home. In short, you can secure higher offers for your house if it's been given a makeover by an expert in home staging.
Most importantly, there'll be lesser showings because buyers will be excited about the property. This makes them want to move in immediately, which means less effort in promoting your house.
8. Invest In High-Quality Photography
After successful home staging, you may now take pictures of your property. However, you should ensure that the quality of the images is as good as your home staging. Good photos will increase the number of people who want to inquire about your offer and consider visiting your house.
Thus, investing in high-quality photography is an essential marketing tool. If you don't have the equipment, consider outsourcing a professional photographer. They're not just equipped with the right camera and lenses, but they're also skilled in highlighting the best angles of your home.
You may also request a virtual tour and a 3-Dimensional (3D) walkthrough of your property. This gives the prospects a chance to choose where they want to navigate, giving them an in-depth view of its interior and exterior.
9. Put Your House In A Property Listing Website
You may start promoting it now that you have good photos and a 3D version of your house. This involves adding it to a property listing website to show your home to potential buyers.
Another way is through social media advertisement. Post your home for sale on Facebook and Instagram to attract prospects. You can also pay for the ads to sell the property faster.
10. Hire A Real Estate Agent
An excellent way to secure a quick home sale is through the expert assistance of a real estate agent. A reliable one has certifications and licensure to prove they know the ins and outs of selling properties.
What's good about them is that many experienced ones have connections, making it easier to find buyers. Just make sure to ask for their references before committing to hiring one to avoid fraud.
11. Get Ready For Showings
As you generate leads with your agent and ads, prepare your house for showings. This is where your prospect requests a private home tour to get a better view of your property. It lets you showcase the best parts of your house that buyers will most likely be interested in purchasing. Here are tips for a successful home showing:
• Relocate your pets since some buyers can be allergic to them. Also, don't forget to eliminate the smell from their litter boxes and beds to avoid unpleasant experiences for the buyers.
• Allocate enough space for the garage by moving your vehicles.
• Provide beverages and a few snacks.
• Hand over flyers as you walk them through.
If you're not available during the showing, contact your real estate agent so they can tour the prospects around. Just make sure that a family member is about to supervise everything to avoid any security issues.
12. Agree To All Inspections
When a prospect requests a home inspection, allow them. This shows you're confident with your property, primarily if you already handled all quick fixes. That way, the buyer believes the house is in good condition and worth their money.
Summing It Up
Finding a sure buyer immediately is the dream, regardless of why you're selling your home. You wouldn't want your property to remain on sale for an extended period as it affects its value. Instead, you want to secure a deal early to reduce the effort in preparing your home for multiple showings.
You can follow this in-depth guide to sell your property within a few weeks. This includes researching the market conditions, setting the right price, and decluttering your house. You can also consider home staging to make it more appealing. If you don't have the time to go through all this, outsource support from real estate agents, cleaning companies, photographers, and inspectors. This ensures home selling goes smoothly, reducing any complications that could cause delays.