Selling Your House In A Downward Market: 6 Tips That Can Help You
Posted by Danny Margagliano on Tuesday, August 17, 2021 at 12:18 PM
By Danny Margagliano / August 17, 2021
Comment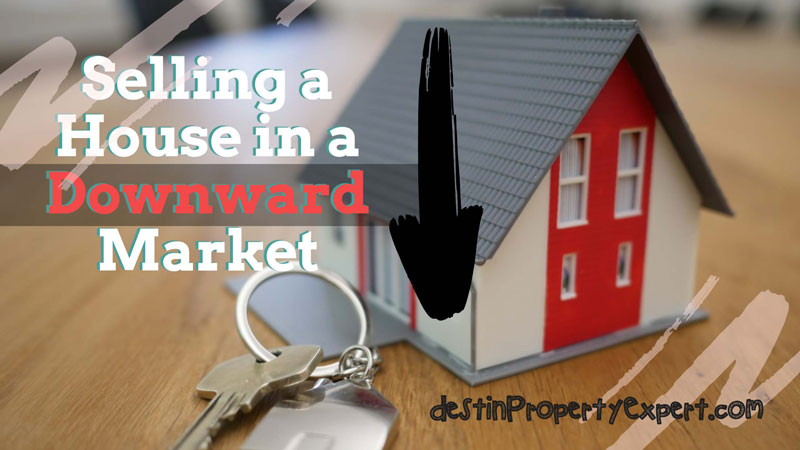 If you're ready to sell your home, it's said that you should also have to be ready for all the challenges and work that come along with it. You see, selling your home isn't always going to be an easy path to take, especially when you're selling at a season when the market conditions or economy isn't doing very well. How do you generate interest in your home during that season? How do you convince potential homebuyers that your property is the best choice for them?
A downward market is one of the most challenging seasons for sellers, both in the real estate and other business sectors. This is another term used to refer to a bear market (in the stock market) or a certain period when the market declines for quite a long time. Fortunately, this is just a temporary phase, and the economy is seen to bounce back soon after.
In this article, you'll have everything you need to know about selling your house in a downward market, so you can still ensure a sale, nevertheless:
1. Sell To A Cash Home Buyer
Indeed, now you've heard of all the benefits you can enjoy from selling your home to a cash buyer, Four 19 Properties, among many other local companies in your area. The benefits are great during a regular market. All the more, it is greater during a down market, when it may be a lot more challenging to sell your home to lender-financed buyers.
When you sell to a cash home buyer, as its name implies, you're taking a cash offer in exchange for your home as it is. Right there and then, the deal is closed. You won't have to undergo any renovations, and the paperwork is lesser as well. Once the deed of sale is signed, you're sure to have a done deal. While the purchase price when using cash is significantly lower, the exchange is still worth it, given the convenience and speed it comes along with.
Cash homebuyers are believed to be still significantly active during a downward season because their business doesn't stop. Those companies purchase properties for a lower price, as they're in the business of flipping homes for re-selling or putting them up for sale in the future.
There are many other advantages you get to enjoy from selling your home to a cash home buyer, and these include:
Real estate sales transactions close faster;
It's a lot less work; and
You can save up on a lot from doing traditional marketing and house showings.
2. Seek The Help Of A Real Estate Agent
If you'd rather go for the usual means of selling property it will be a good idea to find yourself a realtor with many sales under their belt. Yes, you can successfully list and sell your house all by yourself on a regular market. But, in a downward market, you're going to need more help and skills from the experts who know the ins and outs of selling homes during challenging times in your local market.
The good news for you is that there are so many qualified real estate agents you can always opt for in your local area. But, you ought to know too that not all of them are necessarily experts. During such challenging times, surely, you'll want to settle for no one else but the experts.
If you don't know how to start your search, here are some tips that'll come in handy to bring you to the right real estate agent:
Chemistry is key so do put a premium on real estate agents whom you know you'll be comfortable talking to and dealing with regularly;
Look for passion by looking at the real estate agent's work history – for instance, a high number of closed deals indicate the agent's chemistry and charisma to do a job well done; and
Check the qualifications, as you wouldn't want to be paying for an agent who isn't even registered or certified.
3. Price Your House Right
Pricing your house right the first time is very important for any sales process, but all the more, this is a must when you're selling during a market with falling prices. If you price your home too high, you lose potential sales. If you price it too low, you're also depriving yourself of a potentially good sale out of your property. It's important to remember that you are in a competitive market and attention to detail is vital to success. Whether it's a buyers market yet or on the way there, by pricing your property correctly the first time you won't have to play catch-up and chase prices as they drop. The goal is to. sell your home for the most amount of money, in the least amount of time, with the least amount of hassle.
You have to be realistic with your pricing during this challenging season in the real estate industry. The best way is to come up with your home's fair market value. You can have insights on what this amount should be through tips like the following:
Use online calculators as they're a free and accessible resource you can use to come up with a realistic amount; and
Know the market, which means comparing your home with other houses of roughly the same size, age, and similar features in your area. The homes that have just been sold give insight into what that current selling price should be in the current market.
4. Declutter Your Home
Whether you're going to perform significant renovations in your home or not, there's one thing you shouldn't neglect doing: decluttering your home. You can make your home a lot more attractive to potential buyers when you take the time to clear it from any visual clutter. Because you're selling it anyway, there's no need to hang on to certain items which aren't of any use to you anymore for the time being.
The fewer things you have, the more organized your home will look. It'll also make it easier for the potential buyers to imagine placing their belongings in their new home once they become the new owners.
With that said, here's a list of the top decluttering jobs you must do if you want your home to sell fast, even during a downward market:
Sort through seasonal clothing, items, and décor as you can pack those away now and send it to your new address, as you won't need it during this season, anyway;
Get rid of any excess furniture, which means bringing in more space and air in your room by removing all the furniture which are of no use at the moment;
Depersonalize as soon as possible as the home will no longer be yours, and you'll want to remove any personal or sentimental attachment you may have been holding on to if you want to sell it well and fast during this challenging market;
Tidy out messy drawers and cupboards and packing items you no longer need by sending it to your new home, a temporary storage facility, or donating and giving to charity and family members; and
Declutter kids' rooms as it can be extra challenging to keep a tidy home for viewings when you also have small children around with many toys making a big mess.
5. Improve Your Home's Curb Appeal
First impressions are said to be lasting, and before potential homebuyers are even going to walk inside your home, one of the very first aspects they first come across is your house's front curb. This refers both to your front lawn and your front door area or porch. If it's nothing close to appealing and welcoming, potential homebuyers may form less favorable opinions of your home.
Because you're selling your property during challenging times, it pays to take that extra effort to make your home more presentable, even from the outside. There are many ways you can go about improving your home's curb appeal, and these don't even have to mean significant changes. Some can be minor such as:
Power washing your driveway and your home's exterior;
Mowing the lawn;
Putting new exterior lights;
Repainting the front door; and
Installing new plants and flower boxes.
6. Do Some Minor Home Improvements
If you have the money and time for it, you may also want to consider making some minor home improvements. You don't need to make any big structural changes. Even a few improvements here and there can create a huge impact in increasing your home's marketability. There are many home improvements with varying budgets. These include:
Removing old carpets, if your home has natural hardwood floors which you can now show off;
Change your kitchen countertops if they're too old and outdated;
Do some roof repairs, if needed, without necessarily changing the entire roofing; and
Repaint your walls, as doing so can freshen up your home and make it look and feel brand new.
Putting. a fresh coat of paint on the interior of the home is something most people can do themselves. New paint will go a long way in a buyer's eyes and not break the bank.
Conclusion
Without a doubt, a downward market presents more challenges for those looking to sell their homes, as the deals aren't closing in fast. It takes a lot more effort and commitment to ensure that the home gets sold at the best price possible.
However, this isn't to say that you should put off selling your home during this type of market. You still can get the sales price you want, as long as you also know the best ways to go about it. If you're unsure, the tips above can guide you. It's up to you to select the tips or route which best applies to your preferences and personal circumstances.