Your Spring Maintenance Checklist to Get the House Ready for Peak Home-Selling Season
Posted by Danny Margagliano on Saturday, June 11, 2022 at 3:38 PM
By Danny Margagliano / June 11, 2022
1 Comment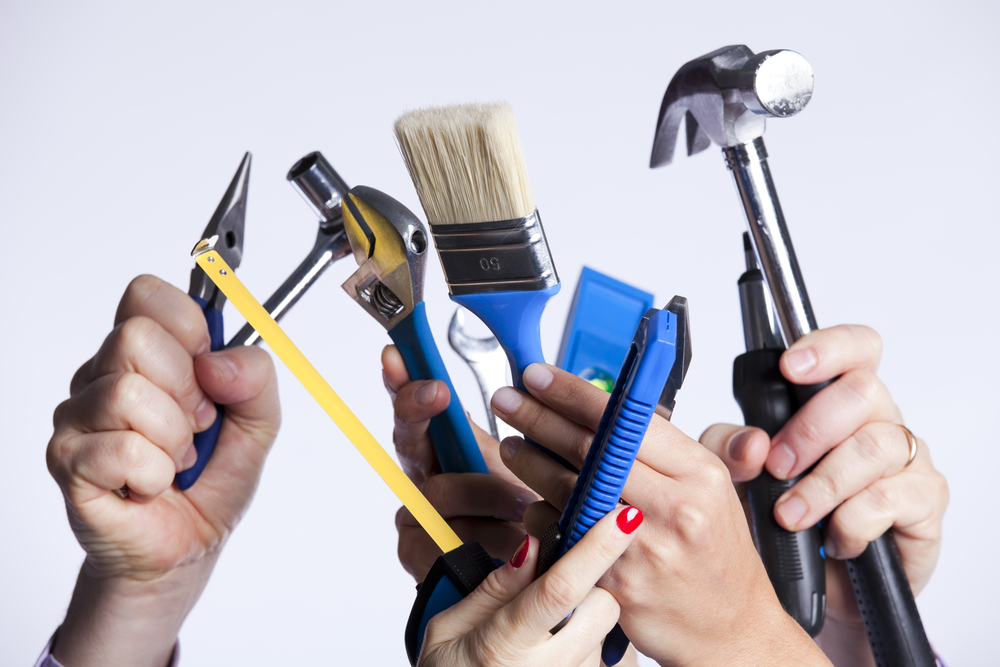 It can feel like an unsure investment when you know you want to list your home in the coming months - how much maintenance and work should you put into a home that you're leaving, particularly if you're convinced the market will help you sell the home quickly? The truth is that, for most homes, getting your house into great shape with standard maintenance costs (not extensive remodels, mind you, but basics) is going to have a really positive impact on the market interest. The key in sellers markets is that a multiple-offers situation on your home can escalate the price and also help you sell quickly.
If you're aiming for top dollar on your home this coming home-selling season, consider taking time for each of these items. The plus side is that they are all valuable ways to extend the working lives of the systems and features of your home: if you just do these things as a matter of routine, even without a plan to sell your home, it won't be steering you wrong!
Work Your Way Down: Evaluate Roof Maintenance and Consider a Roofer's Certification
Roofs vary wildly in their age and damage level, so the price of a home can jump a lot when a new roof is part of the bargain. If you aren't quite sure the age of your roof, it could be valuable to get a roofer up there to evaluate it. Small repairs, like adding in shingles to replace any that went missing in a recent storm, can be a great way to make a middle-aged roof appear better than average. If you have a young-ish roof, getting a roofer to evaluate that it has plenty of working life left in it can be a documentation step that helps inspire confidence from your potential buyers.
Evaluate Exterior Paint and Siding to Clean and Touch Up
The outside of your home experiences contraction and expansion, damage from storms and ice, and many forms of debris and dust all winter. Now is the time to see how the siding or paint has held up over the winter. If you have been maintaining the home's exterior all along, some quick touch ups or vinyl repairs may be enough to get your home in shape for the market. However, if you realistically haven't been keeping the exterior clean and fixed, now is the time to invest in that particular element of your home. First impressions matter a lot to buyers, and a pristine paint job or recently-pressure-washed siding look can both really carry a lot of weight compared to siding covered in moss or dirt or flaking, peeling paint.
Weed, Prune, and Keep Lawn Mowed
While you may be tempted to completely redo the lawn and landscaping, the best bang for your buck comes from the basic maintenance steps. Keep any bushes and other plants trimmed and pruned, and pull up visible weeds from your beds. Mowing within a day before showings or listing photos has a big impact on the look of even a very basic lawn. If you want to reduce your weeding, consider using weed killer after you've done some weeding so that they don't come back before the home is fully sold.
Clean Out Gutters and Evaluate Drainage
Gutters being clogged may seem unimportant since its not immediately visible, but trained eyes can see if the drainage situation has been bad for a while. Ideally, gutters should be cleaned twice a year, since this is how you keep water from pooling on your roof or by your foundation. Getting them cleaned out can also help you identify any leaks or issues that should be resolved before a buyer and their home inspector are evaluating the home.
Drainage matters a lot throughout the property as well. If you've never had anyone check it, make sure that all water flows away from the house and doesn't pool near the foundation of the house. Water that pools, freezing and thawing near a foundation, can create cracks or seep into the basement, creating standing water or promoting mold and mildew through moisture. Regrading the land or adding extensions to the gutters can be ways to ensure that no potential buyers are hung up on the drainage situation, holding them from offering a big price.
Have a Technician Evaluate Your HVAC System for Tune-Ups
Heating and cooling systems last their longest when they are regularly maintained; these maintenance sessions can help you catch important issues before they become major problems. Fortunately, heating and cooling inspection, maintenance, and installation services are easy to find in your local area - just make sure you're entrusting your home to experienced professionals. If you haven't had a technician evaluate the system in a while, this can be a good way to educate yourself on the state of the system, and if you've been maintaining regularly, evidence of these sessions can be another way to show you've conscientiously cared for this home.
If your HVAC system is quite new and in very good working order, you can also use that as a selling point in the purchase of the home, since older HVAC systems can be expensive to service or replace. This information will impact your potential buyers and help them decide on the right price to offer on your home.
Check Weatherstripping, Caulk, and Other Seals Throughout the House
On windows, tile, and places like the tub/shower, you want the caulk or weatherstripping or other seals to look great for your buyers. These are the little details that, if handled, can really inspire confidence and if not handled, can make buyers worry that the house isn't well-sealed. Bad weatherstripping on doors or windows, for instance, can cost you a pretty penny in energy bills in the height of winter or summer, and bad or old caulk can allow moisture as well as air to pass through. These small fixes show attention to detail and check off another box to help you attract just the right buyer for your home.
Make Good Use of a Power Washer for Sidewalks and Decks
On a nice day, take the time to go out and pressure wash sidewalks and decks, as well as the driveway if you have time. While it is often a subconscious thing, seeing well-cleaned surfaces can really make the perception of age and maintenance change for a potential buyer. In the case of decks or porches, you may also consider treatments like stain or sealant that can really help the wood retain its luster and can be mentioned in your marketing materials, showing the buyer what kind of porch or patio they're getting with the house. This is also a good time to hit all of the windows to reveal the major grime and dirt. Sidewalks and driveways may seem fine until you pressure wash all the debris and residue off them, and then you really see the difference is stark!
Wash and Clean Exterior Windows
Now that you have caulked your windows and power washed around the exterior of the home it's time for a little bit more detailed work. Going through and washing all the exterior of your windows will make a huge difference. You may not realize how dirty your windows are until you clean them. You can purchase a spray bottles that can hook to your hose that work OK. But for the best results use Windex or soapy water along with a rag or squeegee.
Plumbing Evaluation Can Find Leaks and Fix Them Before Listing
Most of us aren't expert plumbers, but it's wise not to leave slow drains and other potential plumbing issues until a home inspection comes back requesting a big fix. Instead, have a plumber evaluate the system for leaks and other problems ahead of time, so you have time to invest in fixes that show care and attention rather than finding hidden water damage and leaks down the road. If you can DIY your plumbing, that's great, but a trained professional isn't a bad investment for this one - if they sign off that they didn't find leaks, that's also good information to have as you begin the selling process.
Evaluate Handles and Hardware Around the Home
This may seem like a truly small thing, but over time, handles and hardware wear out and get weak or loose. Can you reinforce every towel bar, drawer pull, and handle in a weekend? Make it a goal! This simple maintenance item means that as a buyer explores, they get only good impressions from your many cabinets, drawers, and other features of your home. Extra points if you have doors that fail to close well or if you have any sticky doorknobs that struggle to fully close; work on those doors and doorknobs to give off a better impression when people come in for showings.
Interior Paint Often Can Pay For Itself
Obviously, if you had the house painted last year you'll see a different return than if you haven't painted in decades, but repainting in a warm neutral color that works well with the level of natural light you have available can really make a home look great. This is particularly true for homes that might have other features that feel a bit dated: getting rid of drab olive green paint and old-fashioned wood paneling in exchange for a light grey colored wall really turns attention away from older-style molding. Talk with your qualified real estate agent to make sure that you're focused on the areas that will draw the best attention from buyers; they may even say your current walls are great and just need a few little touch ups from any damage or holes from nails.