Staged to Sell: An Expert's Guide to Property Styling
Posted by Danny Margagliano on Friday, June 19, 2020 at 3:10 PM
By Danny Margagliano / June 19, 2020
Comment
How Expert's Stage Property To Sell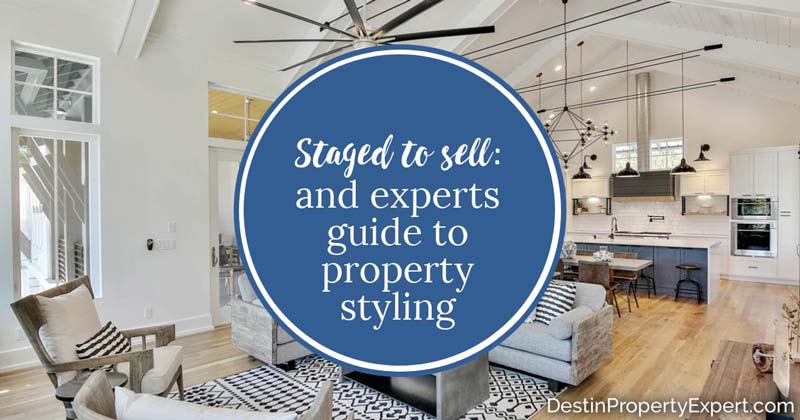 To style a property means to transform a house into a home, and thus attract prospective buyers who will gladly pay good money to outbid other contenders. Why? Because staging a property also means creating a unique, compelling image, a lifestyle the aspiring homeowner is looking for. This is the main difference between successful property flippers and those struggling to secure a positive ROI – the former will sell you a lifestyle, and the latter will try to sell you a piece of real estate.
And residential real estate is plentiful nowadays, which means that the prospective homebuyer, whether along 30a or in Destin, has plenty of options to choose from. You need to set your property apart from all the rest of the neighborhood homes for sale and make the decision as easy as possible for the affluent buyer. Here's how to not only stage a home but how to style a home to achieve just that.
First impressions matter most
The buying process begins with the curb appeal of the property, and it might very well end right there if you focus solely on sprucing up the interior. It's not enough to just patch up the potholes in the pavement or to hide the garbage bins out of sight, though, as improving the curb appeal entails meticulous landscaping and decorating of the entire property.
You can start from the furthest point from which the house is visible, and then slowly work your way in towards the front door. Be sure to fix the pavement and repair and repaint the fence surrounding the front lawn. Next, tend to thorough, preferably eco-friendly landscaping by planting native plants, shade trees, and high-rise greenery, and installing a drip irrigation system.
The next step would be to assess the state of the current paint job and woodwork on the house itself and make the necessary repairs. Remember, there's nothing that can breathe new life into a property like a fresh coat of paint. Top it all off with appealing accents such as front lawn seating, walkway lights, and lantern lighting over the door, and even a nice mailbox will add value to your property styling.
Provide plenty of floor space when staging a home
Once they decide to venture inside, it will be up to the floorplan to win them over. Concretely, modern homebuyers are looking for that distinct feeling of capaciousness and freedom, a feeling of unimpeded flexibility and functionality. Needless to say, the property doesn't have to be the Taj Mahal to present a spacious image, as there are plenty of ways you can make any interior feel roomier.
Start by organizing and decluttering the interior mercilessly, employing a semi-minimalist mind-set to complete the task. Get rid of every extraneous detail so that you can introduce vibrant accents with ease. Focus on creating an intimate feeling with modern round rugs in every room but allow the walls to breathe and natural light to travel throughout with the use of mirrors and neutral hues. Remember, spaciousness doesn't just come from the absence of decor, but from decorating smart.
Every room but allow the walls to breathe and natural light to travel throughout with the use of mirrors and neutral hues. Remember, spaciousness doesn't just come from the absence of decor, but it's smart use as well.
With that in mind, consider every piece of furniture carefully before you incorporate it into the interior. Make sure the colors on every piece complement the neutral foundation on the walls. For example, you can create an inviting seating area in the living room with an artisan rug underneath a wooden coffee table, complete with comfy sofas in an earthy or leathery hue. With such a foundation, you can easily add vibrant accents such as throws and other decors.
Emphasize key areas with focal points to maximize home styling
Every room in the household needs to enjoy a striking focal point that will inspire and bring people together. In a nutshell, these features need to inspire visitors to gravitate towards them naturally, and preferably help them imagine their future here. You can achieve this by styling a focal point in every room.
For the kitchen, this can be a grand island complete with a beautiful quartz marble countertop and a fully-stocked butcher's block. It can also be a colorful mosaic backsplash from which the rest of the decor can expand into the rest of the room.
In the master bedroom, the focal point will be an inviting king-size bed, complete with quality linens in a hue that contrasts the foundation on the walls – this will help create a sense of intimacy and privacy. In the bathroom, opt for a freestanding bathtub with a fluffy rug at the base and a wooden side table, as wood goes excellently with pure white.
Use the same mindset for the living room and every other area in the household in order to create an inviting feeling the buyer won't be able to resist. The final step will be to leave no sense untouched.
Address the senses
If you are to inspire a potential buyer to fall in love with the house, you will need to incentivize an emotional connection, something you can achieve best by appealing to the five basic senses: sight, sound, smell, touch, and taste. Sight is one of the most important senses that will immediately attract or deter a buyer, but it doesn't have so much to do with the decor as it has to do with the lighting – at least on initial contact.
With that in mind, you want the guest to be bathed in natural light as soon as they enter the house. Lighting is one of the key drivers of positivity, so make sure to plan the artificial lighting carefully as well. When thinking of sound, you want to introduce natural reverberations, coming from outside greenery, the wind, etc. This is difficult to recreate in the interior, so instead opt for subtle calming sounds coming from wind chimes, water features, and the likes.
You can appeal to their sense of smell in a very similar way by introducing flower arrangements in key places throughout, or lighting subtly scented candles in the foyer and connecting areas to let the aroma seep into the rooms. Incentivize touching as well to allow the visitor to connect with their new home, and use rich textures to enrich the experience. Finally, offer healthy beverages and homemade cookies to appeal to their sense of taste.
Styling a property the right way can mean the difference between a sale of a lifetime and having to lower the price below your minimal projected ROI. Don't let this happen to you, but instead follow these steps to a beautifully-staged property no affluent buyer will be able to resist.
Staged to Sell