What Are The Steps For Buying A Vacation Home In Santa Rosa Beach Florida?
Posted by Danny Margagliano on Wednesday, March 22, 2023 at 12:24 PM
By Danny Margagliano / March 22, 2023
Comment
Are you dreaming of owning a vacation home in Florida's beautiful Santa Rosa Beach? You're not alone. With its stunning beaches, outdoor activities, and growing real estate market, it's no wonder more and more people are considering buying property along South Walton and Scenic 30A.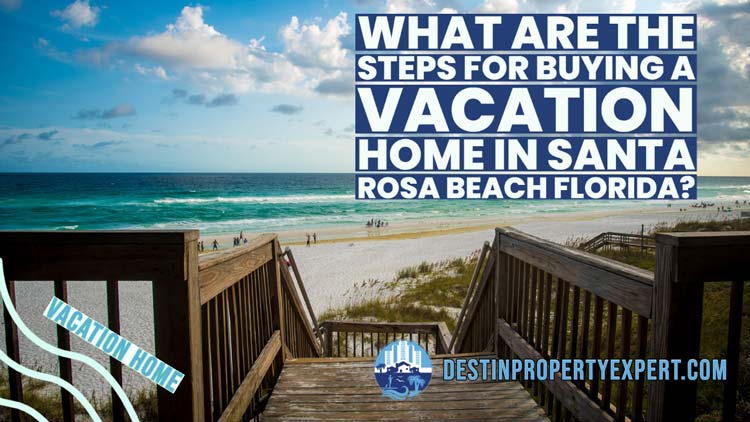 But where do you start? In this blog post, we'll guide you through the steps to prepare for buying your dream vacation home in Santa Rosa Beach. From assessing your finances to making an offer and understanding legal considerations, we've got you covered.
So let's get started!
Reasons To Consider Buying A Vacation Home In Santa Rosa Beach, Florida
Beautiful Beaches And Scenery
Santa Rosa Beach, Florida, is famous for its beautiful beaches and breathtaking scenery. The area's white sandy beaches, crystal-clear emerald waters, and protected natural surroundings attract many vacation home buyers to invest in beachfront properties. Owning a piece of paradise on this stretch of the Gulf Coast means waking up every day to gorgeous sunrises and feeling the gentle sea breeze.
Moreover, Santa Rosa Beach offers visitors and residents an excellent opportunity for outdoor activities such as fishing expeditions, swimming with manatees, hiking or jogging in the numerous parks nearby. With its laid-back beach atmosphere that exudes relaxation, Santa Rosa Beach also serves as a perfect sanctuary for anyone looking to escape from their hectic lifestyle- making it an ideal location to consider buying a vacation home.
Easy Access To Outdoor Activities
Santa Rosa Beach, Florida, is a paradise for those who love outdoor activities. With its pristine beaches, stunning lakes, and lush forests, the area offers endless possibilities for biking, hiking, kayaking, or paddleboarding. Whether you're looking to explore the natural wonders of Grayton Beach State Park or take a fishing trip in Choctawhatchee Bay, there's something for everyone here.
Owning a vacation home in Santa Rosa Beach ensures that you have easy access to these amazing outdoor opportunities whenever you want. You can wake up to beautiful sunrises over the Gulf of Mexico and spend your days exploring the Emerald Coast's many hidden treasures. Plus, with rental potential in mind, it can also be an attractive investment opportunity.
Growing Real Estate Market
The real estate market in Santa Rosa Beach, Florida, is experiencing a significant growth trend. The area has witnessed an increase in prices per square foot, which makes it an attractive location for buying a vacation home. This growth is attributed to the high demand for property in Santa Rosa Beach due to its beautiful beaches and outdoor activities.
If you are considering investing in a vacation home, keeping up with housing market conditions is essential. Currently, the Santa Rosa Beach housing market favors sellers since homes don't stay on the market very long, and there are fewer homes for sale than in other locations. Although, this can change at any time, so consult Team Margagliano at 850-613-0929 for the most updated market conditions. Ensure you have a good credit history, as this can help secure more favorable rates when financing your purchase through home equity loans or mortgages; The minimum credit score for a home equity loan is around 620, but a score of 700 or higher will provide better interest rate terms (source).
Preparing To Buy A Vacation Home In Santa Rosa Beach
Assess your finances and financing options, define your must-haves and nice-to-haves in a property, research neighborhoods, and properties, and consult with a local real estate agent.
Assessing Your Finances And Financing Options
Before you begin your search for a vacation home in Santa Rosa Beach, it's important to have a clear understanding of your finances and financing options. Assessing your financial situation will help determine how much money you can spend on a property. Traditional mortgages are one option, but other financing alternatives such as HELOCs, second mortgages, and private loans may be more suitable depending on your individual circumstances.
In addition to assessing your finances, it's crucial to define what type of property you're looking for and the specific features that are must-haves and nice-to-haves. This way, you won't waste time viewing properties outside of your budget or lacking the desired amenities. Researching neighborhoods and consulting with local real estate agents, Team Margagliano, can also provide valuable insight into market trends and pricing expectations in Santa Rosa Beach. By considering all these factors carefully before making an offer on a vacation home, you'll set yourself up for success as a new owner in this vibrant community.
Defining Your Must-haves And Nice-to-haves In A Property
Defining your must-haves and nice-to-haves in a vacation home property is important. Must-haves are non-negotiable features that will make your stay comfortable and enjoyable, while nice-to-haves are additional features that would be great but not deal-breakers. Consider factors such as location, size, amenities, nearby attractions, and potential rental income.
Knowing what you want ahead of time will save you from getting overwhelmed with options during the buying process. Additionally, it helps your real estate agent narrow down properties that suit your needs faster. Keep in mind that defining these requirements goes beyond merely having a checklist; it goes into finding the ideal lifestyle for you or your family near the beach town's activities.
Researching Neighborhoods And Properties
When preparing to buy a vacation home in Santa Rosa Beach, researching neighborhoods and properties is an important step. Start by defining your must-haves and nice-to-haves in a property, such as proximity to the beach or access to outdoor activities. Researching neighborhoods can also help you assess the potential for rental income and appreciation of your investment.
It's important to consult with a local real estate agent with Santa Rosa Beach market expertise. They can provide valuable information about neighborhoods, schools, zoning regulations, and price trends. You should also take advantage of online tools that allow you to compare homes across different neighborhoods based on factors like square footage, bedrooms/bathrooms, amenities offered etc.
Don't forget that buying a vacation home involves different considerations than purchasing your primary residence—it's essential to assess the area's appeal from both the homeowner's and the vacation renters' eyes if planning on renting. By doing thorough research upfront, you'll be able to identify opportunities and make informed decisions throughout the buying process for owning or renting out property at Santa Rosa Beach, Florida!
Making An Offer And Closing The Deal
After researching neighborhoods, it's time to make an offer on your dream vacation home in Santa Rosa Beach. Negotiating the terms of the deal, conducting a thorough home inspection, and understanding legal and tax considerations will ensure a smooth closing process. Keep reading to learn more about owning and maintaining a vacation home in this beautiful Florida destination!
Negotiating With The Seller
When it comes to buying a vacation home in Santa Rosa Beach, negotiating with the seller is an important step to seal the deal. Before starting negotiations, we will research comparable properties and their prices in the area. Knowing what other homes are selling for can give you leverage during negotiations.
During negotiations, be prepared to make multiple counter offers before reaching a final agreement. The seller may not accept your first offer or any of your subsequent offers. However, you can use this as an opportunity to negotiate on price and other terms such as move-in dates or contingencies. It's also essential to understand that sellers can reject offers for various reasons other than price alone, such as contingencies and financing.
Remember that negotiations are an intricate process involving give-and-take from both parties. By working collaboratively with sellers while staying firm on their must-haves, buyers can easily reach satisfactory agreements that work best for both sides of the transaction.
Conducting A Home Inspection
Once you've found the perfect vacation home and you are under contract, conducting a thorough home inspection is essential. A home inspection is designed to identify any potential issues with the property and can be negotiated with the seller before closing. It allows buyers to ensure they're making a sound investment.
During a home inspection, an inspector will assess the property's interior and exterior for any potential issues. This typically includes inspecting the roofing, walls, electrical systems, plumbing, etc. By obtaining an independent opinion on what could be large expenses down the line, the home inspection will point out any potentially broken, damage, or things not in good condition.
Understanding Legal And Tax Considerations
When making an offer and closing the deal on a vacation home in Santa Rosa Beach, it is crucial to consider some legal and tax considerations. Vacation rental income is taxable, but many rental property expenses can be written off. Various regulations and licensing requirements must also be taken into account when operating a short-term rental in Florida. Consulting with a real estate attorney who specializes in vacation rentals can help you navigate these issues.
Owning a vacation home exclusively for rental purposes allows many expenses to be deducted for tax purposes, including property taxes, insurance, and repairs. Still, capital gains taxes should also be considered when selling investment properties or vacation homes. Understanding these legal and tax considerations will help you make informed decisions as you prepare to buy your dream vacation home in Santa Rosa Beach Florida while avoiding any unforeseen financial surprises down the road.
Closing The Deal With A Real Estate Attorney
Closing the deal on a vacation home in Santa Rosa Beach, Florida involves several key steps, including, hiring a reputable real estate attorney to help guide you through the process. A closing attorney plays an essential role in ensuring that all legal requirements and regulations are met throughout the transaction. Their primary functions include conducting title examinations, preparing and reviewing documents, disbursing funds, recording the sale, and resolving any legal issues that may arise.
Working with a knowledgeable real estate attorney can significantly simplify your vacation home buying experience while giving you peace of mind knowing that all aspects of the transaction have been thoroughly analyzed and reviewed. Additionally, during closing deals for FSBOs (For Sale By Owners), having an experienced lawyer by your side can be especially beneficial as they can assist with creating legal agreements tailored to meet both parties' needs.
Owning And Maintaining A Vacation Home
Maintaining a vacation home in Santa Rosa Beach requires managing rental income, hiring a property manager, and keeping up with regular maintenance to ensure the property stays in top condition.
Understanding Rental Potential And Managing Rental Income
When investing in a vacation rental property in Santa Rosa Beach, it's critical to understand the rental potential and how to manage the income generated from renting. Factors like location, amenities, and competition can affect how much you can charge for rent. Conducting thorough research and working with a local property manager can help ensure that you price your rental appropriately.
Hiring a reputable property management company is crucial in managing your vacation home's rental income effectively. Property managers handle tasks such as advertising vacancies, screening tenants, collecting rent payments, and maintaining the properties. Working with an experienced property manager relieves some of the stress of owning a vacation rental while providing valuable insights on market trends that could help improve occupancy rates and returns on investment.
Hiring A Property Manager
Hiring a property manager for your vacation home in Santa Rosa Beach can be an excellent investment. A property manager can help you free up your time, and increase your returns. Helping you handle everything from marketing the property to managing rentals and dealing with maintenance issues. Plus, it's important to note that managing a vacation home yourself requires taking responsibility for things like linen, cleaning, and lodging taxes paid to local agencies - something that may not always be feasible.
When hiring a property manager in Florida, remember that they need a broker license, if they are handling rentals and leases for others while receiving a commission. But despite these requirements, working with an experienced professional can lead to a better overall management of your rental property. Property managers have extensive experience handling guest inquiries, preparing properties between stays, providing 24/7 service during renters' stay, and even arranging on-site staff such as cleaning crews or maintenance personnel. Should any issues arise, ultimately hiring the right company will provide superior management leading to maximum returns on your investment property.
Overall it's essential to remember that maintaining a second home far away from where you live is challenging enough, as there will always be repair tasks waiting for attention. Still, when left unchecked these small problems could evolve into more significant issues costing more time and money than initially anticipated- this is one key reason why choosing the right person or team is paramount!
Maintaining The Property
When maintaining a vacation home in Santa Rosa Beach, Florida it is vital to ensure it remains in good condition and retains its value. Owners should budget for ongoing maintenance costs, which can include cleaning services, landscaping, and repairs. It's recommended that owners set aside approximately 1% of the total purchase price per year for upkeep.
When it comes to maintaining the property, hiring a reputable property manager can be beneficial. A reliable property manager can oversee maintenance tasks and ensure everything runs smoothly when the owner is away. Additionally, they can assist with renting out the home to generate income while also providing peace of mind that the property is being taken care of properly.
Tips For First-Time Vacation Home Buyers In Santa Rosa Beach
For first-time vacation home buyers in Santa Rosa Beach, it's essential to consider the potential costs beyond the initial purchase price. These costs may include property taxes, homeowners' association fees, and maintenance expenses. It's important to create a budget that accounts for all of these costs and plans accordingly.
To ensure that your vacation home is well-maintained and ready for renters or personal use, hiring a property manager can be beneficial. A local property management company can handle everything from cleaning, repairs, and marketing your rental when you're not using it. Additionally, networking with other vacation homeowners in the area can provide valuable insights on maintaining and managing your property effectively.
Considering The Costs Beyond The Purchase Price
Before buying a vacation home in Santa Rosa Beach, Florida, it's important to consider the various costs beyond just the purchase price. Mortgage interest rates and homeowners insurance are just a couple of expenses that can add up quickly. According to Forbes, the typical price for a vacation home is $429,000. Although, the average vacation home along 30a Santa Rosa Beach is closer to $1 million.
Additionally, maintenance expenses should also be taken into account when buying a vacation home. Regular maintenance tasks such as landscaping, cleaning, and general upkeep can cost thousands of dollars annually. It's important to ask questions and consider the budget when buying a vacation home, including whether or not owning this second home fits within your overall financial plan.
Planning For Maintenance And Management
Planning for maintenance and management is a crucial step in the vacation home-buying process. When considering purchasing a vacation home, it's important to factor in the inevitable costs associated with maintaining and managing the property. This includes things like cleaning services, regular maintenance work such as landscaping or pool upkeep, and repairs that may need to be made over time.
One option for managing your vacation home is hiring a property manager or utilizing property management services like those offered by Harmony Beach. These professionals can help remotely manage your rental property and take care of tasks such as advertising, booking guests, handling payments, cleaning services and more. Proper planning for maintenance and management will ensure that you're able to keep your vacation home looking great. A vacation home can also make a profitable investment opportunity if you plan on renting it out when not using it yourself.
Understanding Rental Potential And Limitations
It's vital to understand the rental potential and limitations of a vacation home in Santa Rosa Beach before making a purchase. While renting out your property can provide additional income, it's not always guaranteed. Vacation rentals are subject to seasonal fluctuations, and there may be competition from other rentals in the area. To have an understanding of the rental potential, speak with local real estate agents or vacation homeowners to learn more about market trends and demand.
But it's also important to note that owning a vacation home comes with certain limitations on how frequently you can rent out the property. Local regulations restrict short-term rental periods, so plan accordingly when considering how often you'll want to rent out your property. Also, take into consideration any expenses associated with renting out your vacation home such as cleaning fees or management costs which affect profitability long term. With careful planning and research, however, investing in a Santa Rosa Beach vacation home could lead to significant returns over time while providing one of life's greatest luxuries: beach-time relaxation at your private resort-style residence!
Networking With Local Vacation Home Owners
Networking with local vacation homeowners can be an excellent way to understand the nuances of buying and maintaining a property in Santa Rosa Beach. Not only can you share tips on managing your vacation home, but you'll also gain insights into the rental market and meet people with similar interests. Many communities organize social events or online groups where vacation homeowners can connect and network.
Moreover, talking to other vacation homeowners may help you identify potential issues before they become problems. They'll likely have experienced many of the same challenges you will face as a homeowner. Reaching out to them when you need maintenance support or advice on finding reliable contractors or property managers. You might even discover new ways to maximize your property's income potential through short-term rentals, which are becoming increasingly popular in Florida's real estate market.
Conclusion
In conclusion, buying a vacation home in Santa Rosa Beach Florida, can be an exciting and rewarding experience. Whether you're looking to soak up the sun on the beautiful beaches or enjoy outdoor activities, this area has something for everyone.
When preparing to buy a vacation home, it's important to assess your finances and research neighborhoods and properties with the help of a local real estate agent. Making an offer and closing the deal requires negotiation skills and an understanding of legal and tax considerations.
Once you become a proud vacation homeowner, keeping up with maintenance is crucial. Maintenance can be tricky while renting out your property. Although, it's important not to take shortcuts that could cost you more in the long run, remember to plan by considering all costs beyond the purchase price and networking with other vacation homeowners in the area. Owning a vacation home in Santa Rosa Beach can open doors to limitless possibilities.