5 Steps for First-time Home Sellers
Posted by Danny Margagliano on Thursday, June 18, 2020 at 1:11 PM
By Danny Margagliano / June 18, 2020
Comment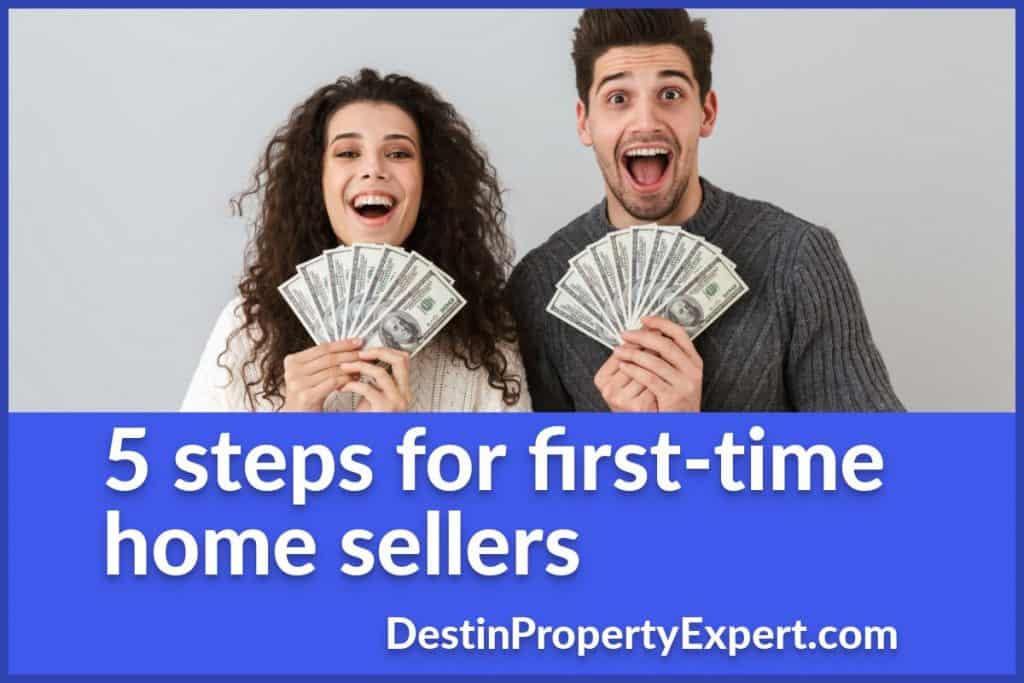 So you're definitely selling your home. You weighed up the pros and cons, you've reached the point at which you won't change your mind, and the whole family agrees that it's the right thing to do. The only thing that's left is actually managing to sell it for the amount you're hoping. Of course, you're hoping for the big bucks, but just sitting around waiting for the right buyer won't be enough.
A home selling plan is crucial if you'd like to avoid mistakes that may influence the overall value of your property. Consider making repairs to your home by contacting real estate agents and professionals who can help you estimate its worth as well as the market. Follow these five steps and make sure you've done everything in your power to make the most money with as little stress as possible.
Prepare your home
If you consider selling your house in the Santa Rosa Beach, 30a, Inlet Beach, or Destin area you can find a free property valuation tool to help you make that first step. It is true that your home's condition will greatly influence the price, but you mustn't forget about the influence of the market and buyer demand. A CMA from a local realtor is the quickest way to get your home's worth. An appraisal of your property is not a must but it can help in certain instances. What's more, it's something that serious buyers would appreciate seeing and you'll be more confident in the price you set.
Furthermore, a detailed inspection wouldn't hurt, in order for you to know exactly what needs to be done to increase the value. The inspection is something that is not required but can help you put your home at a higher level than your competition. If you feel there's anything that might put off potential buyers, deal with it as soon as possible. Get rid of things that are in disrepair and if you can't part with thousands of things stacked in your garage, rent a storage space so you can deal with it later. Tidy up both your indoor and outdoor space in such a way that prospective shoppers find it easy to envisage it as their own future abode.
Get a real estate agent
Being a first-time seller, forgoing a real estate agent might not be something you want to do. Although you would save a considerable amount of money in commissions your sale price may be much lower. Also, your house won't be exposed to the widest possible audience which may reflect the offers you get, and in the long run, it may not make any positive difference at all. Ask an agent to provide you with a detailed marketing plan that will familiarize you with every step of marketing your home. Ask for market analysis as well, in order to have a better perspective of home values in your area.
These professionals know what people expect to see in a neighborhood such as yours, and they can help you plan the upgrades that can make you money. Repainting the walls, shutters, doors and sprucing up the lawn are always welcome, but you should be careful not to invest in expensive upgrades that won't be of any interest to your buyers.
Take professional photographs
This is where you put down your iPhone and hire a pro. Once your home is up to par, your realtor will schedule and help you prepare for a photoshoot. A professional photographer's skill is what you need to make your rooms seem more spacious, brighter, and more appealing. A dark, gloomy interior will immediately overshadow whatever strong points your property has to offer, and leave an impression not favorable to your desired end result.
Get some aerial photos with the help of high-tech drones. If you want to buy your own and do this yourself, there are websites such as that of Dr Drone that have lots of information on the best drones for each type of use, so make use of these resources. The whole package deal costs an average of $400-$500, but if you think you can do without the drones, you might be able to halve that price. However, if you have a new roof you want to show off or some water views, don't skimp on the birds-eye-view photos.
Home staging
You can do home staging by yourself, hire a professional or ask your agent for guidance – the important thing is that you do it. You need to present your home in a way that will give people that 'wow, I wish I already lived here' kind of feeling. The living space should appear uncluttered, spacious and inviting. Try to make the color scheme bright and cheerful with artwork, pillows, and rugs that elicit a positive response. And don't forget that lighting plays a pretty important role here. You might have regrouped all the furniture and added dazzling colors, but a dimly lit room will cast a shadow over it and all that effort will have been in vain.
Setting the price
This is, of course, of vital importance for finding the right buyer in a reasonable time period. If you set your price too high for the market you may find your home selling for less money, taking longer to sell and a lot more frustration. Furthermore, overpricing a home typically leads to longer days on the market and actually selling for much less and you were hoping for.
Listen to your agent to get the price right the first time, which will undoubtedly save you a lot of time, money and frustration.
Summing things up
And there it is. Now you're all set to leave your current home in good hands and set off to bigger and better things. If you follow the above steps the first time home sellers you should have a much easier time selling your home I was meditating right here at what I ask you to get it upside down smelling good welcome yeah
Additional real estate resources
Lynn Pineda shows how to sell a home quickly in a step-by-step process.
Jamohl Dewalt tells us why it matters who you hire to sell your home. If you thought you could just pick the first realtor you find you may want to read this article.
Karen Highland expands on one of our topics of staging. In this article, she shows us staging tips that are easy to accomplish for all home sellers.