5 Ways Technology Is Influencing the World of Interior Design
Posted by Danny Margagliano on Thursday, June 9, 2022 at 1:40 PM
By Danny Margagliano / June 9, 2022
Comment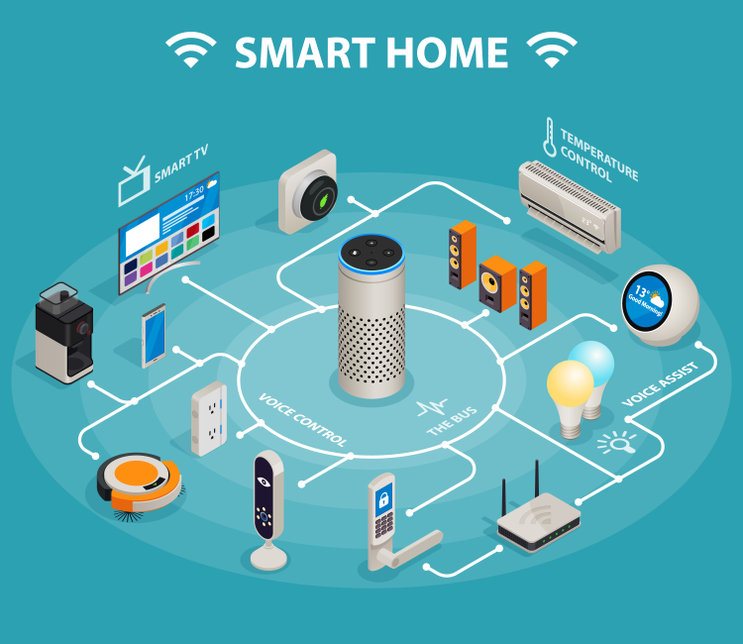 The landscape of interior design is an ever-changing one. Numerous trends can suddenly rise in popularity only to be forgotten about a few months later. Technological advancements further accelerate this process, creating a never-ending cycle of adding more modern-day inventions into the home's decor.
One of the most significant changes technology has brought to interior design is the addition of
smart home solutions
. Smart locks, garage door openers, and similar inventions have undeniably impacted today's design trends. Nevertheless, technology has also influenced design in other ways.
For instance, 3D home planners help interior designers to streamline the process of design development, while virtual reality allows homeowners to visualize the space and determine the viability of their ideas. As a result, both computer-aided design (CID) and Building Information Modeling (BIM) play a crucial role in the interior design of the modern era.
Besides, the internet has become a noteworthy source of marketing and exposure for interior designers. It creates the perfect space for more personal, immediate contact between them and their clients, resulting in a never-seen-before level of exposure.
The Proliferation of Smart Home Devices
Smart home technology has been around for a few years now, but its popularity has increased exponentially in the past year or two. Google, Amazon, and other companies have developed numerous devices that homeowners can control with voice commands.
For instance, you can now ask your Google Home Mini to play music, turn off the lights, or set the temperature in your house. It is all possible due to the proliferation of smart home devices.
And while you can install a smart thermostat in your garage or boost its energy efficiency using one of the best DIY
insulation kits
, there is also a growing interest in garage door openers - another smart device that will make your garage space more functional. Garage door openers allow homeowners to open and close their garage doors with one press of a button. It is a convenient solution that makes life much easier.
Smart home devices have had a significant impact on interior design. Interior design is all about creating ergonomic, functional but still aesthetically pleasing spaces for people to feel comfortable and productive in. As such, designers now have to take into account the placement of smart home devices and how they can be integrated into the home's overall design, but their influence goes beyond that.
Here are some of the smart interior design trends that contribute to creating a superior design in a living space and add
extra value to a home
:
Human-centric lighting. Lighting has a significant impact on our mood and overall atmosphere at home, so it has always been an increasingly important part of interior design. With the rise of smart technology, interior designers now can build smart, human-centric illumination that uses pre-set schedules and homeowners' habits to create the right atmosphere at home at any given time.
Intelligent curtains. Natural light is no less important than properly installed lighting fixtures, and turning to smart curtains with set sunrise and sunset schedules enables you to let light enter a space at the right time, improving the usability of the rooms. Apart from helping establish a comfortable sleeping environment, smart curtains also contribute to better home security thanks to a presence simulation mode that opens and closes the curtains while nobody is home, creating an illusion of homeowners' constant presence.
Invisible or custom-made solutions for multi-room audio. Integrating audio systems in interior design can be challenging, but utilizing easy-to-control smart home solutions allows homeowners to listen to the music throughout the entire home, as well as outside, or, conversely, play music only in some rooms and not in others. Smart audio systems also enable playing the same audio seamlessly across the rooms or choosing different tracks for different rooms at the same time. It's a great tool for creating customized routines and setting the right atmosphere for every occasion celebrated at home.
Smart appliances. These devices are here to make our lives not only easier and more comfortable but also generally better. From smart refrigerators to robot vacuum cleaners and even smart self-sealing and self-cleaning trash cans, the choices are nearly limitless. Furthermore, incorporating smart plugs in an interior design that features lots of non-smart appliances, such as lamps and fans, can quickly transform them into smart ones. This way, smart plugs connected to wi-fi provide homeowners with an opportunity to remotely control their regular appliances via an app.
The Use of Computer-Aided Design (CAD) and Building Information Modeling (BIM)
The use of computer-aided design (CAD) and building information modeling (BIM) has increased dramatically in the interior design industry. These tools allow designers to create detailed 3D models of rooms and homes.
CAD is used for developing floor plans and creating mockups of any physical space in either a 2D or 3D model, while BIM is a more advanced form of this technology. It allows designers to develop a virtual model of the building and all its elements, including physical components and functional characteristics.
For example, one of the most popular interior design programs is AutoCAD LT, used by architects, decorators, construction specialists, and many other professionals involved in creating design projects. This piece of design software allows the designer to create, draft, view, edit, and annotate their projects, but most importantly - it allows them to work with a client on the key features of their space, such as the room's layout or furniture placement.
Some other popular programs that enable quick and convenient editing and collaboration with a client include SketchUp Pro, Autodesk Revit, and Easyhome Homestyler. Implementing these technologies into interior design has made the design process much more efficient and accurate. It has also allowed designers to create more realistic renderings of their designs.
The Rise of Virtual Reality (VR)
Virtual reality (VR) is another technology that is having a major impact on interior design. It is widely used in aesthetics, art, fashion, music, and gaming. But, interior designers have also found a way to use VR to improve their work.
VR technology allows designers to create virtual simulations of rooms and homes. This, in turn, offers homeowners the opportunity to "walk through" their future home and get a feel for the space before it is built.
VR is also being used by furniture stores and manufacturers, allowing customers to see how furniture will look in their home before they buy it.
The use of VR in interior design became possible with the development of new technologies that allow for a more immersive experience. Through VR, people can better visualize the interior space and get a real feeling of it.
The Growth of Social Media
Social media has become a powerful marketing tool for interior designers. Any interior designer worth their salt knows that without a strong social media presence, they won't be able to attract new clients. What's more, social media platforms have become the go-to marketing tool for interior designers looking to separate themselves from the competition.
Designers can use social media to showcase their work, connect with potential clients, and build their brand. Social media has also made it easier for people to find and hire interior designers. Homeowners can now easily search for designers in their area and view their portfolios online.
The Use of 3D Printing
3D printing is fast becoming a staple in many industries, including interior design. This technology allows for the creation of unique designs and personalized features that otherwise would have been impossible to produce. It allows homeowners to have one-of-a-kind pieces in their homes that are not available anywhere else.
The concept of customized furniture has virtually reached its full potential thanks to 3D printing. The same applies to lighting fixtures, kitchen and bathroom tiles, and other elements that can be customized by a designer.
3D printers are also helpful in terms of creating better prototypes before production starts. They can also play a role in the rapid manufacturing process, which is definitely a positive change in today's world where climate change is on everyone's lips.
As 3D printers become more mainstream, the variety of home furnishings and interior design accessories available to consumers will continue to expand.
Conclusion
Interior design has evolved beyond recognition in the past few years, with technology playing a significant part in its transformation. Nowadays, interior designers frequently use numerous innovations to streamline their processes and create a more personalized experience for their clients.
The trends of interior design are also fast evolving. The only way to adapt to such changes is to invest in the newest technology available. Interior designers who want to stay on top of their game should look for ways to integrate advancements into their work.
The next decade could very well bring even more changes for interior designers due to advances in technology and the internet's growth. So, it is worth keeping an eye on the newest advancements to reap the benefits they offer as soon as possible.