The Advantages Of Getting A VA Loan To Build A House
Posted by Danny Margagliano on Friday, May 6, 2022 at 12:10 AM
By Danny Margagliano / May 6, 2022
Comment
VA loans stand as one of the most dominant mortgage choices for active military, surviving spouses, and Veterans. This dominance is due to several financial benefits that aren't present in other mortgage options.
These numerous benefits have increased the loan volume of VA loans over the years. Since service members, military families, and Veterans also dream of being homeowners, VA loans have assisted many in achieving this dream. Moreover, since the government backs these loans, they arguably stand as the prime mortgage option in our recent market.
That said, the outline below highlights some of the benefits of VA loans in assisting the house building process:
Absence Of Down Payments
Qualified Veterans having the opportunity to purchase or build a home with no deposits is a significant benefit of VA loans. This advantage allows service members and Veterans to buy or build homes without spending years of saving for this hefty payment.
Money-saving and credit-building can be pretty difficult for Veterans and service members who move constantly. However, VA loans make it possible for qualified borrowers to finance the entire property value without straining themselves financially. Therefore, getting a VA loan to build a house is a great advantage for Veterans.
Absence Of Private Mortgage Insurance (PMI)
A PMI refers to a type of insurance that covers a lender in case the borrower defaults. If clients can't commit to the 20 percent minimum, most conventional lenders want them to pay mortgage insurance every month; an aspect quite challenging to most Veterans. However, VA loans have no monthly mortgage insurance, meaning that Veterans can save quite a lot in mortgage costs for insurance by securing a VA loan.
Competitive Interests
VA loans typically have the lowest fixed rates. Research shows that VA loans have the lowest fixed 30-year interest rates ranging between 0.5 and 1 percent compared to conventional rates, allowing Veterans to save each month throughout the loan years.
Moderate Credit Requirements
The Department of Veterans Affairs doesn't enforce or set any credit scores but only organizes the loan program. However, many VA lenders check the borrower's credit score to assess the risk of them defaulting.
The cutoffs of credit scores might vary; however, the minimums remain lower than the amount borrowers require to get conventional mortgages. Therefore, Veterans don't necessarily need a perfect credit score to get home financing with competing interests with VA loans. In cases when the VA applicant has very low credit, it would make sense to research how to increase your credit score before applying. VA loans can also be lenient in case of a bounce back after foreclosure, short sale, or bankruptcy.
Limits On Closing Costs
All mortgages feature closing costs and other fees. However, VA loans limit the amount Veterans might be charged for these expenses. In fact, some of these fees have to be financed by the other parties present in this transaction, making homeownership an affordable aspect for qualified Veterans.
VA borrowers may request a seller to pay all their loan-related closing costs, covering prepaid insurance and taxes or paying off judgments and collections. There isn't a guarantee that the seller would agree to this appeal, but Veterans have the opportunity to ask when negotiating.
Lifetime Benefits
Most people have the misconception of seeing the VA loan program as having a one-time advantage. However, qualified Veterans for VA loans can use this initiative extensively and with no expiry of benefits. They also don't have to clear their VA loan to use these benefits again. It's also possible for one to have multiple VA loans simultaneously.
Absence Of Prepayment Penalties
Some loan types have prepayment penalties due to paying off the loan before its maturity. This is because the lender would miss out on the additional opportunity of collecting interest payments. Therefore, these financial institutions impose a prepayment penalty to serve as a way for them to get some of this money.
VA loans allow borrowers to clear their loans at any time without worrying about prepayment penalties. Therefore, borrowers have the freedom to consider refinancing options and future home-construction finances with no induction of prepayment penalties.
Foreclosure Avoidance
For Veterans, VA loans have been one of the safest loan options for many years; a remarkable statistic since close to 8 out of 10 homeowners don't put down any cash. VA loans advocate for Veterans at risk and work to make sure they secure a home. Moreover, VA loans focus on helping these Veterans keep their homes.
VA Appraisal
VA appraisal is an essential and compulsory step when buying a house as it assesses the property's condition and value. It serves to establish an evaluated home value and ensure that the home has the minimum requirements of the property.
Establishing the appraised home value verifies that the house is valued at fair prices in the market, which means that the cost of the property is similar to that of others having the same age, size, and location. It guarantees the peace of mind of the borrowers as it assures them of owning the properties at reasonable prices.
Acceptable Incomes
Verifying income is an essential aspect of the VA loaning process. Lenders have to ensure that prospective borrowers can afford the monthly mortgage payments. Most VA lenders typically accept multiple income forms.
While wages and salaries serve as the most prevalent income forms, lenders may consider retirement income, disability pay, or basic housing allowance. Other military wages like hazard pay, clothing allowances, overseas pay, and inevitable danger pay can also be considered.
Different Loan Types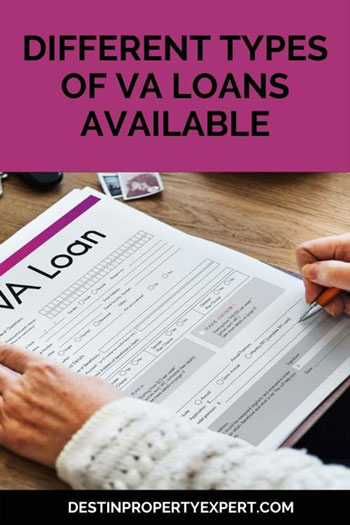 Most Veterans may not know the various financing options of VA loan benefits. Besides VA loans helping Veterans purchase or build a home with benefits, it also allows them to upgrade to energy-efficient fixtures and refinance to lower interest rates.
These loans are one of the most common financing options for Veterans when purchasing or building primary residences.
They are also known as VA Interest Rate Reduction Refinance Loan (IRRRL). This loan type is ideal for Veterans wanting to secure lower interest rates or refinancing from VA loans with adjustable rates. IRRRL is a VA loan specifically for Veterans having other active VA mortgages.
VA cash-out refinance is an ideal option for Veterans wanting to withdraw equity from their property in exchange for cash. It allows VA mortgage holders to use this cash for emergencies or make home upgrades, or pay debts. In short, Veterans can use this loan type to fund non-VA loans.
VA Energy Efficient Mortgage (EEM)
EEM is an alternative loan type that offers Veteran homebuyers the chance to reduce their utility costs when building or sustainably remodeling a home. Energy-efficient improvements assist in lowering the heating, cooling, lighting, and other power-related expenses. Therefore, homeowners can finance energy-efficient improvements into their VA loans.
Absence Of Loan Limits
Previously, enforcing VA loans was done for all Veteran homeowners. In recent times, however, Veterans with full VA entitlement are allowed to borrow only the amounts they can manage to pay without necessarily giving a deposit.
Formerly, these limits were for determining how much the Veterans could purchase. However, VA mortgage limits are still present for Veterans with little entitlement. Therefore, if a Veteran with limited entitlement wants to buy higher than their entitlement, they must commit to a quarter of the variance between the home value and that figure.
Exemptions In Funding Fee
A VA Funding Fee refers to a compulsory governmental fee incorporated in each VA loan. This money goes to the mortgage directly and helps cover losses and keep the VA guarantee running. Most VA loan borrowers pay around 2.3 to 3.6 percent, but some are entirely free from paying this fee, such as:
Veterans receiving compensation for any service-related disabilities
Veterans receiving disability compensation with no retirement payment
Veterans eligible for compensation on a pre-discharge review or exam basis
Eligible Veterans who aren't receiving compensation since they're on active duty
Surviving spouses that are eligible for VA loans.
VA Loan Assumption
This is an aspect most homebuyers don't consider when looking at the benefits. VA loan assumption is a transaction in which the buyer assumes control over the existing mortgage. The advantages of VA mortgage assumption are:
Buyers can assume the interest rates of the seller, a significant selling point when the present market conditions are higher.
Non-Veterans can assume the mortgage but don't reprieve the VA mortgage entitlement of the Veteran on the home.
Non-inclusion of nearly all closing costs when assuming the loan.
Veterans can reclaim their VA mortgage entitlement in cases where the individual assuming the mortgage is an eligible Veteran and has signed a Substitution of Entitlement.
Conclusion
Since its creation during World War II, VA loan benefits have helped many Veterans, military families, and service members achieve their dream of owning a home. The increase in the volume of VA loans is due to the ease in strict lending requirements, with it having lower rates. It, therefore, guarantees maximum benefits to Veterans who want to be homeowners and can't qualify for other conventional loans