The hidden costs of buying a vacation rental property
Posted by Danny Margagliano on Saturday, July 18, 2020 at 3:31 PM
By Danny Margagliano / July 18, 2020
Comment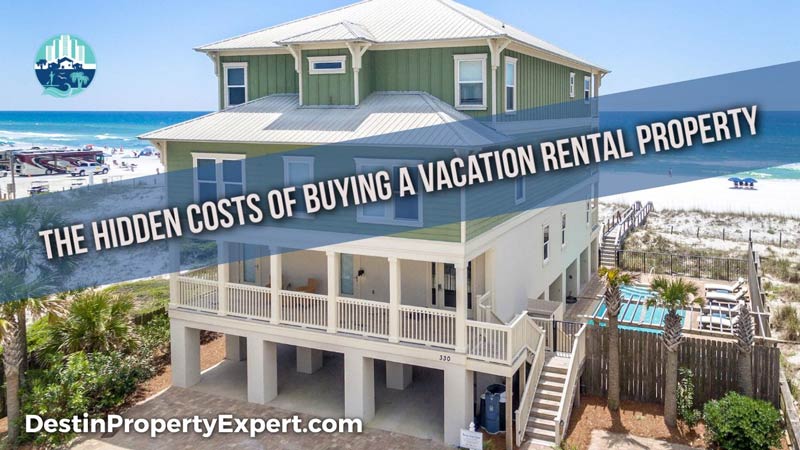 Owning vacation rental property can be a win-win. You have your own great place to stay when you go on vacation and can rent it out when you're not using it to help cover the mortgage and other ongoing expenses. Popular short-term rental sites like Airbnb and VRBO make it easier than ever to market your property and find vacationers that pay your mortgage.
While many people successfully own profitable — or at least break-even — vacation rental property all over the world, it's important to be aware of the unexpected costs you'll incur when you first purchase one. We'll review those here and give some tips for marketing your property once it's yours.
Hidden costs
Down payment
Regardless of the value of the home, most lenders won't lend out the full value of the home.
Just like your primary residence, the bank will expect 20% or more in a down payment — unless you're willing to pay for monthly private mortgage insurance (PMI). PMI will usually run you between 0.5% to 1% of the entire loan amount on an annual basis — or $1,000 to $2,000 a year on a $200,000 loan. Once you've reached 20% equity, you may be able to apply to stop paying this insurance fee.
Work with your lender on their exact rules — some will bump the interest rate an additional 1% for non-owner occupied properties (or those which are not your primary residence). If you are looking at putting your vacation home in an LLC, you may also need to secure an investment loan that comes with a variable rate and shorter terms.
Closing costs
Little fees here and there can really add up. Many of the closing costs for a buyer include fees related to their mortgage, like an origination fee, application fee, credit report fee, underwriting fee, a loan discount (or "points"), appraisal fee, escrow fee, and any prepaid interest if you take possession of the property prior to the first of the month. There may also be title fees, title insurance, or recording fees.
Good news for buyers: You actually don't pay your real estate agent commission fee, so getting an agent that can negotiate on your behalf is always a good move!
Prepaid bills and escrow
Usually, your lender will require you to pay into an escrow account to pay for future property taxes and homeowner's insurance. The bank pays out of this account on your behalf when these bills are actually due and wants to ensure the borrower is able to pay these large amounts so they split them up into smaller monthly payments that are added to your mortgage payment.
You may pay for a full year of homeowner's insurance plus another two month's worth when you close on the home and then a twelfth of the yearly each month following. Similarly, the lender will collect the prorated property tax amount from the seller and then require an additional two month's worth at closing. You'll then pay a twelfth of the annual tax payment each month following.
Inspections
As with your primary residence, we highly suggest getting a professional home inspection to verify the condition of the home and negotiate any needed repairs. This can run you $200 on a smaller property, or up to $500 on a larger home. As the buyer, you'll foot this bill.
Additionally, you may wish to get other, more detailed inspections done at the suggestion of your agent or the general home inspector. These may include a termite/pest inspection, structural inspection, land survey, or radon inspection. Each of these comes with an additional fee but can save you thousands — if not tens of thousands — of dollars if something new turns up.
High utility bills
When renting out a home as opposed to living in the home yourself or renting full-time, your bills will likely be higher. Short-term rental rates typically include any utilities, giving the vacationing tenants little reason not to crank the air conditioning or heat to be as comfortable as possible. And, they may not be too concerned about leaving the patio door open and letting that cool air out.
How to find renters
Airbnb / VRBO
The easiest and most popular option to find short-term renters for your vacation rental is to use a third-party platform like Airbnb or VRBO. They operate similarly and are easy-to-use, even for newbies. Owners post their listing (make sure to include stellar photos) and available dates on the site and set their own pricing, including deposits and feed, as well as a cancellation policy.
Renters select the place they would like to rent and their vacation dates — the platform collects all the fee and handles cancellations, while the owner preps the property for each stay. This option is great for new vacation property owners since there are less risk and learning curve than other options.
Create a website
Owners can also create a dedicated website for their vacation rental and handle all bookings on their own. While this is more of a hassle and you'll need to do more marketing to generate clientele and create your own renting agreements. But, you can avoid the 3% to 5% host fee charged by Airbnb, VRBO, and other rental platforms.
Google Adwords
If you're looking for quick results from more of a hands-on approach — rather than the "set it and forget it" approach of other listing sites, try out Google Adwords. You create a text, photo, or even a virtual walk-through video ad and pay to have that appear in Google search results based on keywords. Google also recently added a feature where vacationers can search directly for vacation rentals through the search engine.
You'll need to do a bit of research to determine the best copy, keywords, and spend amount for your ad, but this upfront work can really pay off and you'll be able to reach a diversified audience.
To make sure you at least break even to start, determine how much you make on average per visitor and pay no more than that for your advertising costs. As you modify your ads based on effectiveness, you'll be able to increase your bookings and decrease your ad costs.
Facebook / social media ads
Facebook and social media ads are similar to Google Adwords, but generally a little easier to manage. By creating a Facebook page for your business, you can serve ads you create to targeted users based on their likelihood to book a stay and other characteristics. Ads are also available on other popular social media platforms like Twitter, Instagram, and even LinkedIn (which may be useful for business travelers).
Bottom Line
Don't let these hidden costs of buying your vacation rental property stop you from investing. Just make sure you account for them and fees for marketing when you budget the cash flow and determine your rental price.
Additional real estate resources
When buying a vacation rental property is important to know that there are many things that differ from buying a primary residence. Joy Bender discusses 13 important things to consider when buying vacation rental property in informative article.
Joe Boylan has some excellent information on whether or not buying a vacation rental property is a good idea. Find out the good the bad and the ugly.
Debbie Drummond discusses 5 important things to contemplate before you buy a vacation home.
No matter what type of property you are purchasing if you are getting a loan you will be required an appraisal. Luke Skar has written a fantastic article on how to prepare for an appraisal on your home.