The Ultimate Home Buyers Timeline
Posted by Danny Margagliano on Thursday, June 18, 2020 at 11:42 PM
By Danny Margagliano / June 18, 2020
2 Comments
The home buying process can be an exciting time, but it can also be stressful if you don't stay organized. To keep you on track and on schedule with your goals, use this home buyer's timeline as a reference throughout your search.
Start Researching Homes (12–24 Months Before Closing)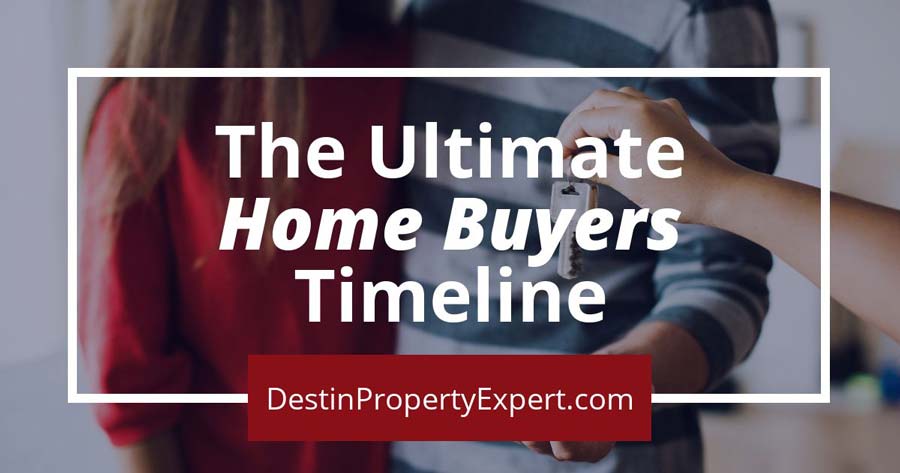 One of the most important parts of searching for a new home is doing your research. Evaluate what is most important to you when purchasing a home. This could include the size of the home, attractive features like a pool or a large backyard, and the neighborhood you want to be in.
Did you know that the neighborhood you choose plays a huge factor in the overall cost of the home? Make sure you compare all neighborhoods you're looking to move to and how their location affects the overall purchase price of the home.
Along with the type of home and neighborhood, you'd like to move into, research the current housing market. Is it a good time to buy or is it more of a seller's market? If you have the time to hold off on purchasing a home until the market is in your favor, wait until the time is right. On the other hand, if you're able to buy a home quickly when the market is hot, consider taking advantage of this period.
Research Home Buying Tips (8–12 Months Before Closing)
If this is your first time buying a home, you may want to consider finding first-time home buyer tips and articles. It's a good idea to learn key terms commonly used during the home buying process as well as tips on how to maintain a home. Furthermore, you'll get to learn about common real estate issues in your area and what the local market is like.
If you are purchasing an investment property you also want to do plenty of research. There are many different things to consider when purchasing a property that you plan on renting. Some things to consider are the HOA rules, financing, and taxes to name a few.
Understand Your Current Finances (6–10 months before closing)
This may not come as a surprise, but it's imperative that you have your finances in order before purchasing a house. Even if your finances aren't perfect ( many mortgage companies have some lenient loan programs), you should have a thorough understanding of your current financial state.
Key factors that are taken into consideration when you're applying for a mortgage include your credit score and your debt-to-income ratio. Other factors that banks may take into consideration include your current length of employment, student loans, and how much of a down payment you'll be putting down.
As far as finances are concerned, there is much more to purchasing a home than just having enough saved up for a down payment. Maintaining a home can prove to be very expensive. You'll have to pay for homeowners insurance, utility bills, and any repairs to major systems and appliances. Plan to have three to six months' worth of living expenses saved up in cash for any emergencies that might arise.
Get Pre-Approved for a Mortgage (4–8 months before closing)
Once you have an idea of the costs of purchasing and maintaining a home, start the process of getting pre-approved. This is one of the most important steps of the home buying process and lets you know how much home you can actually afford.
The pre-approval process is fairly straightforward—similar to applying for other loans, you'll go through an application process with the bank you have chosen to purchase a mortgage from, and then you'll discover if you're pre-approved and how much you're pre-approved for. To make this process more efficient, make sure you have important documents, like recent pay stubs and tax forms, on hand.
Hit the Market (3–4 months before closing)
Now that you know how much home you can afford, hit the market and "go shopping." Your realtor should have a good understanding of the type of home you would like, where you would like to live, and your budget. Take note of how much you can negotiate a home's price before jumping in with an offer.
Make an Offer (1–2 months before closing)
Once you find a home that you love and would like to purchase, work with your real estate agent to make an offer. When making an offer, be sure it's compatible with similar homes in the neighborhood as well as what the current market suggests.
This form will include any disclosures and stipulations and involve negotiations like the purchase price being contingent on a home inspection. Be sure to review this document carefully before signing.
Perform Your Home Inspection (10 to 15 days after going under contract)
It's always important to have a home inspection performed on the home you're about to purchase. Regardless of the condition that the home is claimed to be in, or even if a renovation was recently made. Always get the peace of mind that a home inspection brings to the table. At only around $300–$500, you will be able to either rest easy knowing your future home is in good condition or get insight into problems with the house that could lead to new contingencies or negotiations on the purchase price. Yet, most contracts will have the seller responsible for repairs to be made up to a value of 1.5% of the purchase price.
Get a Real Estate Attorney and Purchase Your Homeowners Insurance (1 month before closing)
Depending on the state either the buyer and seller will both have their own lawyer or they use a mutual real estate title company to review all the pertinent documents and to attend the closing. Now is also the perfect time to purchase your homeowner's insurance. You want to make sure you have a professional to look over all the necessary documents and ensure the paperwork has been filled out correctly.
You also must have homeowner's insurance before closing. Otherwise, you will not be able to get your mortgage. Research insurance companies to see what options are available. If you already have auto insurance, you may be able to get a bundled deal with your current provider. lastly, don't forget to purchase flood insurance. Some mortgage companies depending on the area may require flood insurance. Either way is typically worth the money to protect your home and have peace of mind.
Collect Your Keys
Once the previous steps have been completed, it's time to close on your home. You should have all the proper documentation filed away and the keys to your home when the closing is complete.