3 Things To Know Before You Consider Selling Your Land
Posted by Danny Margagliano on Wednesday, December 8, 2021 at 12:12 PM
By Danny Margagliano / December 8, 2021
Comment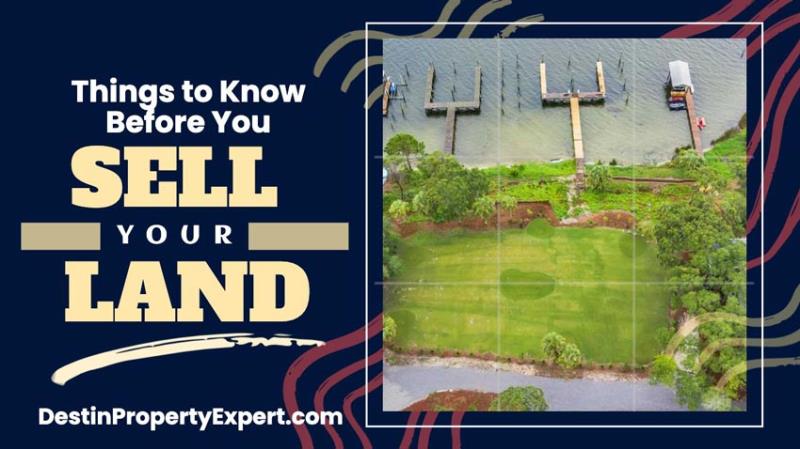 Like putting a home up for sale, selling your land requires careful planning and a few considerations. Unlike the former, listing a vacant lot on the market would require patience, as the market can be slower.
Whereas the housing market suffers from a supply deficit, the same may not be valid for the land-selling market. So, you need to understand a few things about your buyer and what they want from a property before learning how to sell your land smarter.
With the correct type of buyer or investor, you may be able to score a great deal. Below are the crucial things you need to know before selling that slice of real estate.
1. Know Your Selling Options
There are a few ways to sell your land, as discussed below. A good rule of thumb is to create a balance between reaching a broad audience and targeting the right prospects. Here's how to make that happen.
Suppose you want to avoid all the hassles of going through property selling like appraisals, document processing, paying for closing costs, hiring lawyers, and so on. In that case, you might want to consider selling your land to cash buyers. These companies are willing to purchase your land without you having to spruce up your ground and deal back and forth with interested buyers and real estate agents.
Cash buyers are also great when you need the cash as soon as possible. You also don't have to wait for several weeks for the buyer's mortgage to get approved. Most cash buyers commit to completing their property-buying transactions within two weeks.

Offering your land to a public auction is another good selling solution. Instead of accommodating each interested buyer to take a look at the land to kick start the negotiation process, you'll be gathering all interested buyers in one place and at a specific schedule. This allows you to speed up the selling process.
You can set a minimum selling price for your land in an auction. Interested buyers have to outbid each other if they want to acquire your property. Typically, a viewing schedule will be arranged before the auction date, so buyers can see the property you're offering.
You might take home more than what you're expecting, especially if you're selling in an area that buyers badly need. On the other hand, if it's located in marshland or possesses specific issues, you may end up with a failed transaction.
Traditional and Digital Advertising Channels
You can also try promoting your property to friends, neighbors, contractors, and other networks through word-of-mouth or social media advertising. Doing this allows you to reach out to a high number of individuals who may want to invest in and develop properties. Who knows, the homeowner next door might be interested in expanding their outdoor living space? The point of this exercise is to include people who've not shown interest in your property because they don't know that you're selling it.
Complement this by listing your land in property selling sites or printing out flyers that you can hand out or place in areas where people converge, like malls and churches. You can post your listing on your online accounts or in e-commerce marketplaces.
Another option is to sell the land by yourself. This way, you don't have to hire a real estate agent to whom you'll pay commission fees for a successful transaction. The cash you'll save means that you'll probably have to miss work for several days to weeks to follow up on documents, entertain buyers, negotiate with them, and organize the listing and preparation processes.
If you haven't done it before, consider working with a realtor so you can carry on with your life while waiting for the lot to sell. Besides, these professionals both have a broad and targeted network of investors to offer your property.
As mentioned, a real estate agent can help organize your land-selling process better. From knowing where and how to post to identifying a list of potential buyers and taking care of the paperwork, your agent can help make things easier. They can even help you get a fair market value for your land.
However, working with one doesn't guarantee a successful sale. The future of your lot selling journey will depend on many factors, as you'll find out in the following sections.
2. Learn How To Price Your Land
Coming up with a price is one of the most challenging stages in any selling process, and offering your land is no exception. You have to learn how to price your property right, so you don't walk away losing too much in a transaction. Price your land too high, and it might sit on the market forever. Price it too low, and you'll leave too much money on the table.
Find out how to come up with a reasonable price offer for your land:
Know Your Local Zoning Laws
Finding out your land's classification is a vital tool in pricing it, as you'd know the opportunities that your property can offer to buyers down the road. For instance, if your parcel is located in a combination zoning area, it means you can use it for multiple purposes, either residential, commercial, or industrial use.
A piece of land with this classification is irresistible to commercial investors looking to expand and to homeowners who want to build their own homes. As such, you may price the land high in anticipation of future developments. Inversely, land located in an area prone to natural disasters fetches a lower price.
Appraisers are professionals who can provide you with an accurate price for your property. Several factors are taken into account to arrive at a specific cost. These include the location, features, uses and classification, size, utilities, and current market performance.
Hiring multiple appraisers will likely give you different prices. Nevertheless, you'll have a fair basis on how much you're going to price your property. Besides, you can use the appraisal report to an interested buyer to justify your selling price.
Choose A Seasoned Land-Selling Agent
This tip may be common sense, but it's worth mentioning anyway. Remember that not all real estate professionals have experience selling vacant lots. For a successful sale, you'd want to get help from realtors who know how the land selling market works and who might be interested in your offer.
Pricing your land accurately requires you to know about your land, particularly the zoning and land-use permissions. Additionally, this vital land-selling exercise requires you to seek the help of professionals, so don't hesitate to hire one (or more).
3. Discover How To Sell More Efficiently
Even if you're working with a realtor, you can't just list your vacant lot on the website and wait until an interested buyer contacts you. Apart from the insights and advice coming from a real estate professional, it helps if you know what makes a property more attractive to buyers on the market.
Show Your Property in the Best Light
Make sure you have plenty of photos taken from different angles to highlight the property's features. If you can, include the lots nearby or other community amenities rather than just showing a vacant lot in the middle of nowhere. Make use of global positioning systems (GPS) or satellite maps to make the photos look better.
Capitalize on Your Land's Location and Zoning Classification
Your property's location and zoning classification aren't only crucial in pricing. It can also attract more buyers and can be used as an effective marketing tool. Most land buyers will be looking for land that can be used in multiple ways to fit their requirements. In addition, they might want to know whether they can change the classification, or whether is it's in an area that's been zoned as another. Vacant land classified within a residential zone wouldn't be helpful to buyers looking for commercial and industrial use properties. It's important to know that they have an option.
If your prized parcel of land is situated in a highly-sought portion of the community, you can highlight this is in your listing, as well. Lots located in the town center are priced a few times more than vacant lands in a remote area.
Find Out the Answers to Common Buyer Concerns
Unlike home buyers, land buyers are more practical and maybe less fussy with the aesthetics. This doesn't mean that they won't ask you questions about the property. They may be more meticulous about the status of the land more than anything else.
Before offering your lot for sale, it's essential to have the following questions answered:
What are the main features of the land (i.e., size, shape, etc.)?
How are the lands used in the neighboring properties?
What are the specific restrictions tied to the property?
What types of utilities are available?
Are there any environmental concerns about the land or its surrounding areas?
Are the taxes paid? How much is it?
How was the property used before?
Potential buyers may have more questions depending on how they're planning to use the property moving forward. It's best to have the answers to these questions for a smooth and fast transaction. Visit your local land use and classification office to help you get all the information you need.
The Bottom Line
The market may be different for land-selling, but the marketing strategies and options remain the same as offering a home. Choosing one or a few of these options will depend on how fast you need the money and how much time and effort you're willing to spend to get your property off the market.
When listing a vacant lot on the market, research the property's history if you hadn't yet. Knowing how your land can help investors reach their expansion goals gives you a competitive edge. And this advantage may be what you need to make a successful sale.