10 Proven Tips for Selling Your Home
Posted by Danny Margagliano on Tuesday, August 16, 2022 at 12:35 PM
By Danny Margagliano / August 16, 2022
Comment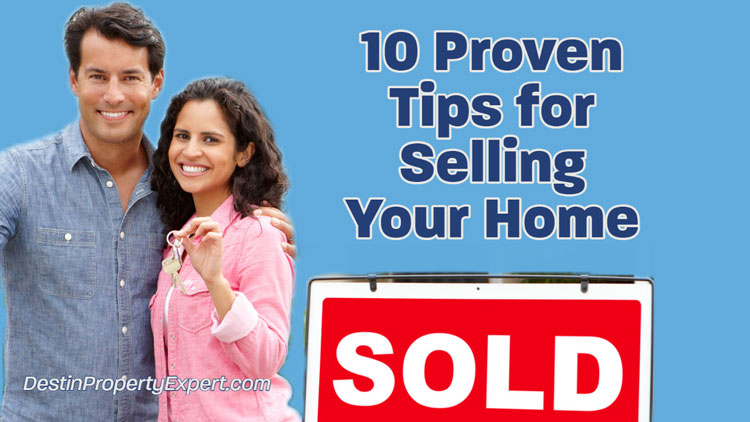 Selling your home for the first time can be both unnerving and exciting. You might be tempted to try out different things that you have heard about from others or seen online. However, it is a situation where it is best to take enough time to think through your options carefully.
It might take some time, but that is just what the home selling process is about. It is always a challenge that requires lots of effort and a degree of strategic planning. You definitely would not want to make any irrational decisions. The more cautious you are, the better.
There are a few important guidelines that you should follow to sell your home at a profit. If you want to know what they are, check out the rest of our article! Below, you will find a list of proven tips for selling your home.
Find a Good Realtor
Finding a reliable realtor is one of the best things that you can do while selling a house. With their help, you can be sure that you will get the best deal possible. However, keep in mind that not all realtors are worth working with. Some lack the motivation and dedication to their job. Others do not have the necessary skills and knowledge.
To find a great realtor, you could get recommendations from your friends and family members. Another option is to go online and join groups dedicated to the local real estate market. Try doing a Google search for "listing agent". Reading reviews or visiting websites such as Zillow or Movoto is a viable option as well.
Just make sure to check the credentials of your chosen realtor before agreeing to work with them. You should see if the person has been licensed by the state and if they have any complaints against them.
Make sure to ask lots of questions as well. How many clients do you have right now? Can you explain the home buying process from start to finish? What is real estate wholesaling? If someone seems surprised, then you might be better off working with another agent.
Research the Market to Determine the Right Price
Researching the market value of homes in your area is really important. Without doing so, you will not be able to set an attractive price for your house. Do not just rely on a realtor, either. They might not be able to give you an accurate picture of the local market. Instead, it is best to visit websites like the ones mentioned above. There, you can check the prices of nearby homes that have just been sold or put up for sale. With that knowledge, you will be able to set a fair asking price for your property.
On the one hand, you do not want to set a price that is too high. It might scare off potential buyers and make the entire process longer than it needs to be. On the other hand, you should avoid setting a price that is too low. While it might attract droves of potential buyers, it is an easy way to leave money on the table.
Avoid Selling During a Buyers Market
Selling your home when the market is down may not be the best idea. This is because the competition will be fierce. In addition, many people will be looking to buy properties at attractive prices. As a result, you are likely to end up selling your house at a lower price than you hoped for.
So, when trying to sell your home, think about the current trends. Consider whether or not they are beneficial to you. If they are not, then it may be best to wait until the market calms down.
Take Care of Your House's Curb Appeal
If you want to sell your house fast, you should pay close attention to its curb appeal. Curb appeal is a term used to describe the overall attractiveness of a property. You can boost it in a number of different ways.
The easiest ones include keeping the lawn well-maintained and applying a fresh coat of paint on your exterior. You could also consider renovating the backyard. Planting colorful flowers and keeping the bushes trimmed can really add to the look and feel of any house.
Having a good curb appeal has two main benefits. First, it will encourage potential buyers to have a look inside the house. Second, it could help you sell it at a higher price. If you have no idea where to start, do not worry! Instead, consider hiring a reputable landscaping company. They should be able to make some quick and effective improvements to your house.
Make Basic Repairs and Upgrades
Making basic repairs and upgrades is a great way to sell your home fast and for a good price. By taking care of things like a leaking faucet, you will be able to make your property more attractive. Another thing that you could do is update the appliances in your kitchen or bathroom. It is a great way to make your home feel more modern without spending a lot of money.
Depersonalize Your House
When selling your home, you should make an effort to depersonalize it. This means removing all personal items like family photos and children's drawings. The goal is to make potential buyers feel like they could see themselves living there. It will be much harder to achieve if your personal belongings are everywhere. So, pack them up and put them away.
Host an Open House
Hosting an open house can be tremendously helpful when trying to sell your home. It can let you gauge whether you have listed it for a fair price. Other than that, the opportunity to see the house in person will encourage hesitant buyers to make a purchase.
To make an open house as successful as possible, you will have to plan things out ahead of time. You want to make your property feel as welcoming and cozy as possible. With that in mind, you could rearrange the furniture in each room to make it feel more spacious and airy. You could also light up a few scented candles and prepare tasty snacks to make a great first impression.
In case you do not know how to go about it, invite friends and family members over. Ask them what they think you should do or get them to help you with staging. By doing so, you will be able to iron out any issues that might not be visible to you at first glance.
Hire a Real Estate Photographer
A picture is worth a thousand words. This statement is especially true when selling a house. Potential buyers will base their purchase decision on the photos that they see online. For that reason, you should consider hiring a real estate photographer. They will make your home look bright and inviting. With their help, you will have no trouble impressing potential buyers and selling your home fast.
Write an Interesting Advertisement
When writing a house for sale advertisement, you should focus on the best features of the property. For example, if your house is located in a quiet and peaceful neighborhood, make sure to mention it. Similarly, if it has a great view or a spacious backyard, be sure to highlight that as well.
You should also outline the potential benefits of living in this specific area. Is there a supermarket nearby? What about a kindergarten or a school? Such things can be really appealing to families with small children.
Aside from the things listed above, make sure that the advertisement itself is engaging and easy to read. And do not forget to proofread it before posting it online! Typos and grammatical errors might put some people off.
Weigh Multiple Offers
If you receive multiple offers for your home, do not immediately go with the highest one. Instead, take some time to consider all of them carefully. Imagine that someone offers you a lower price but is willing to pay in cash. They might be a better option than someone who offers you a higher price but wants to finance the purchase.
You should also try to find out more about the potential buyers. Do they have a good credit score? Are they employed? If they are, what is their job? How much money do they make? All of these factors should influence your decision.
In Conclusion
Selling your home can be quite a challenge, but it is far from impossible. The key here is to take your time and plan things out carefully. To begin with, you should find a great realtor that you can trust. Once you have done that, research the local market to determine the right price for your property.
It is also important to take care of your house's curb appeal. Doing this will make it more likely for potential buyers to want to have a look inside. In addition, make sure to host an open house and write an interesting advertisement. And if you receive multiple offers, do not immediately go with the highest one. Instead, take your time to weigh all of them carefully.
By following the tips listed above, you should have no trouble selling your home fast and at a good price!