Top 10 Qualities That Set Luxury Properties Apart From the Rest
Posted by Danny Margagliano on Tuesday, June 9, 2020 at 9:30 PM
By Danny Margagliano / June 9, 2020
Comment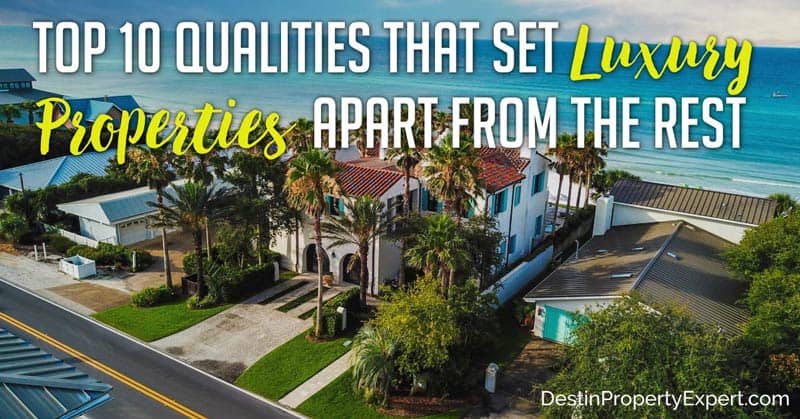 The advent of luxury properties is one indication of economic success. With a growing number of financially stable individuals and families, it's a must for real estate developers to provide suitable homes to such discriminating clientele. From detached homes to high-rise residential condos, all of these need to project a high-class image of living.
It's important to note, however, that true high-end properties are not just beautifully designed structures. Other elements determine how luxurious they truly are.
So, if you are considering investing in one, rounded up below are the top 10 qualities that make a luxury property completely worth its label and high purchase price.
1. Ideal location
Any real estate agent will tell you that location is one of the significant components that determine the high market value of a property. Most luxury condos in urban settings are in strategic locations. They are usually located near commercial hubs, but are also far enough from the noise of city life and are accessible to public transport.
These luxury communities are usually self-contained neighborhoods that have grocery stores, shops, restaurants, and city services.
2. Fantastic views
The other main attraction of luxurious properties is an excellent view because this is actually a prerequisite for most property buyers. According to real estate agents, the better the view from a condo in a high-rise building, the more expensive it is.
Some of the best views for property buyers are an overlooking view of the beach, the gorgeous skyline, and the Gulf of Mexico.
3. Impeccable services
You will find that luxury residences, particularly large multi-residence buildings, offer free services to ensure the convenience and comfort of residents. These usually include a concierge that arranges for the needs of residents and reviews the output of the firms they hire to provide services for the tenants.
Therefore, when they arrange laundry, housekeeping, babysitting, or even pet-sitting for you, you can trust that they have chosen the best professionals for the job to ensure your satisfaction.
Maintenance services are topnotch, as well. They stay on top of keeping high-standard living conditions. Gardens are cleaned and cared for every day, and necessary repairs and replacements are carried out immediately.
4. Beautiful leisure spaces
Exclusive premium properties always have leisure spaces; otherwise, they wouldn't be deserving of the title. These leisure spaces usually include a well-landscaped garden — a lush, green retreat in urban locations — a swimming pool free for the use of residents, children's playground, park seating, bike trails, and even function rooms that residents only need to book to use for whatever purpose. These amenities can be what helps a prospective buyer choose one condo over another.
5. Healthy environment
Luxury properties impart a look and feel that are supportive of people's desire to live healthy, active lives. They are clean, and there's greenery or patches of proliferating nature everywhere. Plus, there are other provisions for healthy living, such as a fitness center, special walking or biking paths, a community pool, children's playground, and other features that promote a well-balanced lifestyle.
It's important to note that there are strict rules imposed for residents to follow in maintaining this healthy environment. Failure to follow such regulations typically comes with penalties.
6. Private
Privacy is another prerequisite for luxury property owners and investors, so units have sound-proofing elements and are designed to ensure privacy. On top of that, there are special identification features such as house names, which create an identity for the property and do not divulge the identity of the residents.
1900 98 is an exclusive luxury condominium located in Destin Florida. Take a look at what this spectacular beachfront condo has to offer.
7. Secure
Top-notch security services and features are standard to all luxurious properties. Their type of security demonstrates the exclusivity of the community, so that no one can just drive or walk into the neighborhood without proper identification. This is why luxury communities are among the safest neighborhoods. They are usually protected with advanced security and surveillance equipment, so a lot of families do not mind paying a premium to live in these places.
Most luxury developments only allow access to residents through the use of custom keys or passes. The keys or passes are a must not only to get into the building but also to use the elevator or lift.
Additionally, every home has a built-in security system. This system automatically alerts residents about windows that are opened from the outside or attempts at opening the main doors without the use of a key. Likewise, the security system notifies the home security company, which is highly beneficial for households that are empty during the day.
8. Built-in healthcare technology
Most modern luxury properties developed by reputable real estate companies also possess thoughtful built-ins such as high-tech healthcare systems that help residents monitor their physical wellbeing easily.
These built-ins include smart toilets, weighing scales, automatic thermostats, and other smart home devices.
9. World-class interior design
Perhaps the most outstanding quality of prime properties is their gorgeous design. A lot of care is put into creating an interior environment that screams sophistication.
For example, if you would check out a property for sale in Rosemary Beach Florida, one thing's for sure, it will be impressively classy. Rosemary Beach on 30a, after all, is one of the most affluent communities in Florida. Y ou will find this out very quickly with the median home price of around $2.5 million and $1000 per ft.² is the norm. People who live and vacation in this area enjoy an enviable lifestyle.
Condos for sale at the Emerald Grande in Destin FL also reflect the elegant and world-class lifestyle. These condos are built to a high standard, and the construction work is impressive.
10. Premium pricing
Price is a reliable indicator of quality. The perfect example here at Thirty-One on 30a is how the best can be quite pricey not only because of the way it's built but also because of its location and other elements that make it an unquestionably delightful place to live.
The price tag is a representation of the essence of the property. With expensive luxury homes, the cost is always parallel to the worth or life value delivered.
So, these are the qualities that set luxury properties apart.
A luxury property is a worthwhile investment if you want a home that reflects the quality of life you envision for you and your family — simply because you only want the best for your loved ones.
Additional Real Estate Resources
Luke Skar has put together an excellent article about selling a luxury home. When attempting to sell a luxury home you need to treat it as one. Such things as photography and staging need to be high end to equal the beauty and expense of the home you are trying to sell.
Frederick Franks shows off some of Ocala Florida's best luxury homes. Ocala is a town area in central Florida with a mixture of a small city and gorgeous country estates.
When buying a luxury property you will need a home inspection. But there are certain things you should know about luxury home inspections. Joy Bender discusses 13 things to know when getting a luxury home inspection.