Top 10 Reasons to Purchase Property Along 30A
Posted by Danny Margagliano on Thursday, June 18, 2020 at 12:33 PM
By Danny Margagliano / June 18, 2020
Comment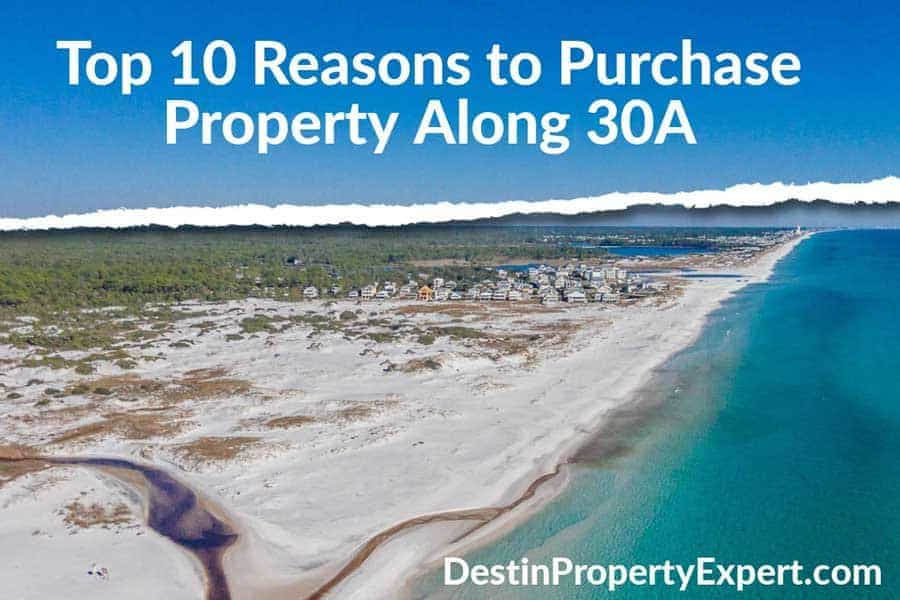 Wherever you go in the world, beachfront properties are some of the most coveted in real estate. But property along 30A takes beach properties to another level. 30A is a scenic stretch of beach along the Florida Gulf Coast. It is home to some of the best real estate properties in Florida, including many celebrity homes.
If you are looking for real estate in Florida, purchasing along the 30A corridor may be right for you for the following reasons:
1. The 30A Lifestyle
This stretch of the Gulf coast is more about lifestyle than even the property value. You will find it irresistible and easy to fall in love with the laid back beach lifestyle the 30a area offers.
Think beach parties in the summer or a swim in the ocean at dawn as part of your fitness regimen. How about the chance to sun yourself at any time of the day just because you feel like it? Interesting, right?
For those of you that love everything about 30a but would like a little bit of privacy and seclusion or perhaps you prefer more of a residential feel try Point Washington. Homes in Point Washington are almost exclusively full-time primary residents. There is a wide choice of homes to choose from and home prices in Point Washington can satisfy most people's budgets. The east side of Point Washington is about 5 minutes from Seagrove Beach and Seaside. The west side of Point Washington can quickly access Grayton Beach in about 5 minutes as well.
2. Highly Valued Property
Properties along the 30A stretch tend to be mostly luxury homes that tend to appreciate in value quickly as the economy grows stronger. Santa Rosa Beach, for instance, has had an average annual appreciation rate of 3.32% since 2000. This makes all 30A communities a prime real estate investment whether you are staying there or using it as a tourist rental.
3. Great For Rental Purposes
Along 30A, its vacation time throughout the year. With the surge of Airbnb, finding vacation renters for your property all year round is easy.
Dune Allen Beach, for example, has over 31 rentals listed on the platform, and the reviews speak to the availability of demand for these properties. Santa Rosa Beach appears to be the leading community with over 120 active listings.
This can be a source of passive income for you all year round as long as you maintain it right.
4. Your Vacation Spot
If you have property along 30A, you can take your vacations there instead of traveling all around the world in search of a beachfront villa. Imagine the convenience of having a vacation home in a coveted beachfront spot, no limits to how you want to decorate it, and staying there for as long as you like.
Are you a pet owner? South Walton Beach and 30A vicinity are extremely pet-friendly. Although, owning your own house or condo will allow you to bring your pets on vacation with you.
5. You Have Options
On the stretch of this beach, you have areas that provide a quiet suburban feel that is great for raising kids e.g. Seacrest, Beach Highlands, Cyprus Dunes, Old Florida Beach, Watersound, etc.
There's also a corporate side of the stretch where you can find offices, the most common being Santa Rosa, Destin, and Miramar Beach.
6. Has Nature Preserves
The lush coastline and pristine beaches along this scenic highway have nature preserves. These areas ensure the continuity of marine life along the coast despite you and all the other people settling in the area. For example, South Walton has 40% of its green lush land preserved, making it home to several numerous state parks and forests.
7. Plenty Of Outdoor Activities
You can hardly get bored when living along 30A. If the beach doesn't always appeal to you, perhaps kayaking will. Or hiking, biking, surfing, fishing, paddle boarding, or even horse riding. The area is dotted with plenty of excellent trails that allow you to keep fit including the 30A bike and running trail. 30A also gives you plenty of scenic spaces for memorable photographs.
8. Unique Neighborhoods
South Walton Beach, which encompasses the very popular area of the 30A, there are 16 neighborhoods popularly referred to as towns. These include Seaside, Seagrove, Watercolor, Grayton Beach, Alys Beach, and others. To their credit, no neighborhood is like the next. This gives you the feel of driving into a new town as you drive along the 20 mile stretch of the highway where they are located.
9. Excellent Cuisine
Just because the area is near the beach doesn't mean that they only serve seafood. You can expect a variety of other restaurants, from the best gourmet meals and fine dining to a local mom and pop establishment as well as restaurants with the tastiest seafood on the Gulf Coast. What most visitors and locals alike love about dining along 30a is that there are no franchises or commercial restaurants. You will only find authentic and original cuisines from casual to fine dining at this popular Florida destination.
10. Plenty Of Festivals
You can find a party anywhere along the 30A highway. From spring breakers who are breaking away (pun intended) from Auburn University as their go-to spot to
Although, the best time for anyone to purchase real estate is when they are financially and emotionally ready to make the commitment. An additional element that the 30a area has that many other beachfront destinations don't have is beautiful warm sun year-round. The attractive climate and surroundings actually make any time a good time to call this area home.
---
Authur Bio
Darren Robertson is a top-producing licensed REALTOR® in Northern Virginia, just outside Washington, D.C. Valuing service over sales, Darren is known by his clients for both his extensive local market knowledge, as well his patience and reliability as he helps them on their home buying and home selling journey. Darren is a tech-forward agent who places a heavy emphasis on internet marketing and blogging in his business.