A 12-Step Guide to Turning Your House Into a Vacation Rental Home
Posted by Danny Margagliano on Sunday, July 24, 2022 at 2:08 PM
By Danny Margagliano / July 24, 2022
1 Comment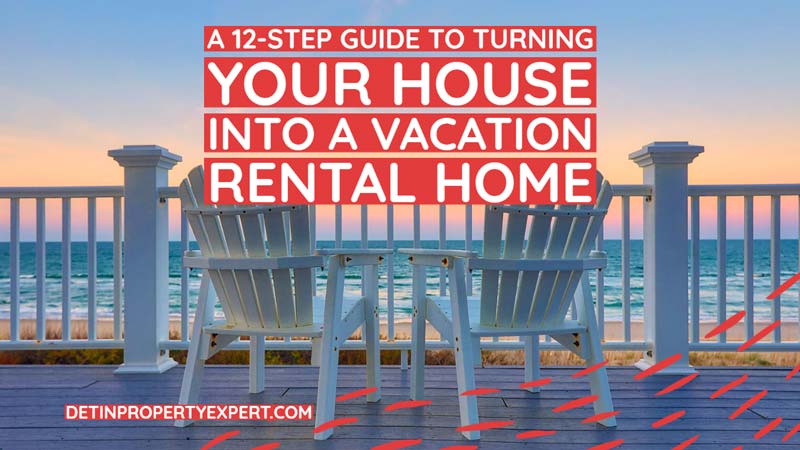 If you have a rarely used second home, you could earn a decent income from it. Whether you own a beachfront property or a cottage up in the mountains, there's a market for every kind. Even cozy apartments in the center of a busy city can earn you passive income. Vacation homes are usually located in scenic locations but even urban second homes can be a great investment.
All you need to do is prepare the home, manage some legal documents, and make it available to potential tenants. However, many people don't utilize this extra asset because they think it will be too much work. The process itself is quite easy. What makes the difference is how well-suited your accommodation is to the tenants. The better it is, the more they'll be willing to pay for it. If you have some extra cash and time to spare, you can earn passive income with this 12-step guide to turning your home into a vacation rental.
1. Deep Clean
The first step is to deep clean the property, especially if it is an older home that's been lived in. A lot of people make the mistake of going straight into renovating and upgrading their homes. During this process, they realize that certain things need to be repaired or replaced and this ends up costing them even more money. In some cases, such as a dirty bathroom floor, just deep-cleaning the site could remedy the situation. You would save yourself from additional expenses of completely redoing that area.
A thorough deep clean will restore things to a near-new condition. It will also give you a better understanding of what needs to be done in terms of repairs so you can then decide what renovations should take place.
2. Depersonalize
Your home is likely filled with photos, clothes, computers, and many other personal belongings. When you rent out the space, all of these personal items need to be removed or at least relocated to a secure location within the house or in a private storage shed. This will also be the first step to renovating the home and making it as neutral as possible. Ideally, you want the space to be completely plain, much like a hotel room. You can leave some neutral decorations in place but remove anything that is connected to you or your family.
Also, be sure to go through drawers, cabinets, and any other storage spaces to make sure you aren't leaving things behind.
3. Services
The kind of services you offer your tenants will depend on the home, and the kind of package that you are selling. Generally, rental homes don't include dining services, but you can offer them as an additional service. For this, you will need a chef on-site. You can either hire someone full-time or you could have a chef come in at certain hours of the day. One of the basic services you will need to provide is cleaning.
In some cases, the property owners have on-site staff that is available throughout the day. In other cases they will collaborate with a local cleaning service and professional cleaners will visit the house at predefined hours. Look into the specific services you will need for your property and find suitable staff or service providers.
4. Smart Locks
If you live close to your second property, you can deliver the keys yourself to the tenants when they arrive. However, it's usually easier to have some other solution to transfer the keys to the tenants. One of the most common solutions is a lockbox. You can simply store the keys in the box and the tenants can access the box when they arrive. A smarter and easier solution is to get keyless entry locks at least for the main entrances of the home.
This way you can simply email the tenants the code and they can dial that into the lock and gain entry. Moreover, you will know exactly when someone is accessing the property and it is far more secure than traditional locks.
5. Storage
One of the biggest challenges in homes that aren't designed to be rental properties is storage. Since the home is designed for a family to use, there is often just one large central storage space. When you are looking to convert it into a rental property you need to manage storage according to the number of guests you are expecting. A quick solution is to get customizable storage sheds for the tenants as well as for your own belongings. You can empty out the storage spaces in the home, give those to the tenants, and have your belongings in the shed for when you need to access them. If your guests will be staying for a longer period of time then you can have an extra shed where they can store their own belongings too.
6. Extra Supplies
When you rent out your property, you will use a lot of things that are there just for the guests, such as extra towels, bed sheets, pillows, blankets, etc, to make their stay more comfortable. Rather than using the storage space within the home to store these supplies, you can store them out in the extra shed you have. This will help leave more room for the tenants and help you keep track of your own belongings more easily. If you have service staff visiting the premises to clean and do other chores, they will need access to the extra supplies storage.
7. Security
You need to keep an eye out for the safety of the guests, the property, and your personal belongings. If you don't already have security solutions in place, this is a highly recommended investment. You can install security cameras, motion sensors, door sensors, an alarm system, and many other tech solutions depending on your needs. Make sure you let the guests know about the security solutions you have and instruct them on how to use these devices in an emergency situation.
8. Entertainment
Entertainment is a critical part of the rental home. Especially if you have guests that are going to be spending a lot of time on the premises, you want to have some good entertainment. However, TVs, sound systems, and other electronics can be quite expensive. A pool table or billiard table is an excellent addition but again it will require maintenance. Investing in good entertainment can be expensive but it will be well worth the money when you see how much of a return it can create for you.
9. Accommodation
In a studio apartment, for instance, you might have that space configured to meet your needs. When you are renting your property, some changes to the structure might be necessary to make it more convenient for renters. If your rooms have single beds in them, you can get an additional bed in each room and make room for a larger group of people.
How you manage accommodation will depend on how many people you are willing to accommodate and what the regulations will allow. Make sure you look into regulations before making changes to accommodate more people.
10. Special Amenities
In some cases, your tenants will have special needs; for instance, having child-safe solutions for a family with young children. Or have easy access solutions for the elderly. You can make many different changes to the home to cater to a very specialized clientele. While these are going to be expensive to install, they will make your property a lot more desirable for everyone. However, make sure you get quality work done to ensure the tenants have a trouble-free experience.
11. House Rules And Rental Agreement
It is highly recommended to have a professional agent look into your house agreement and house rules contract. When it comes to property damage, theft, and other related problems, it can be quite difficult to carve out an agreement that will cover all your needs. Working with a professional lawyer or contract specialist will ensure you are getting the coverage you need for your particular situation.
12. Publish Your Listing
The final challenge is getting tenants. You can do this through a lot of different channels. The easiest solution would be to publish your property on travel websites and through platforms that sell rental accommodation packages. There are a number of apps and websites that will let you list for free and then charge a commission once you get a client (VRBO. & Airbnb). Be sure to read the terms and conditions before signing up for any of these services. You can also use referrals and your own network. This will get you a far higher quality of clients but it can be slow to start and hard to maintain a regular stream of business.
The vacation rental business is challenging to start. However, once you get the ball rolling and are properly set up, it requires minimal attention. The main thing to watch out for is that your property is in great shape after each tenant leaves. Also, make sure you charge a deposit fee before the tenant uses the property. Otherwise, managing payments can be difficult. Once you have these minor things sorted, you can sit back and earn passive income.