Why Vacation Homes Make Excellent Investments
Posted by Danny Margagliano on Monday, May 9, 2022 at 3:10 PM
By Danny Margagliano / May 9, 2022
Comment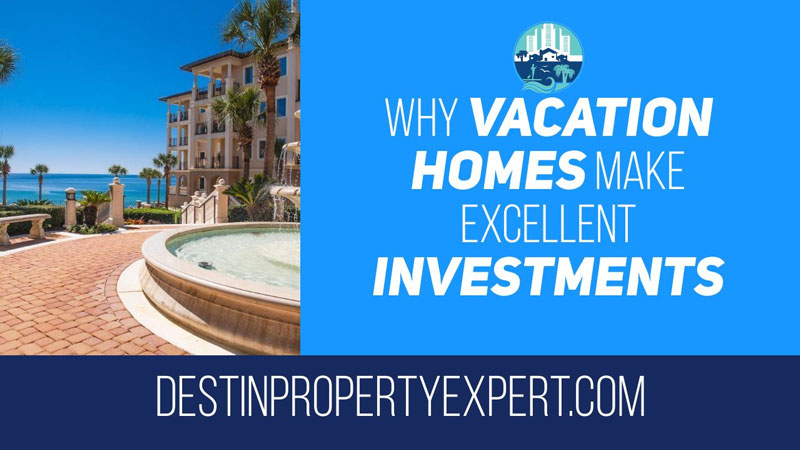 If you're thinking of investing in a vacation home, you're on the right track. Purchasing a property away from home can pay off with passive income and property appreciation over time. Even better, it can provide new adventures and memories that last a lifetime.
This blog post will discuss why vacation homes are a good investment. We'll also look at the different factors you need to consider when making this type of investment. So if you're on the fence about vacation homes, keep reading! You may be surprised to learn what an excellent investment a second home can be.
You Can Prioritize Personal Enjoyment
Whether it's your first home or the latest addition to your portfolio of investments, you don't just buy the property when you buy real estate. You buy the lifestyle that comes with it. A perfect example is when you buy a home along 30a in South Walton Beach, FL.
For this reason, personal enjoyment is the most important return on investment when it comes to vacation rentals. Owning a second home can be lucrative, but success takes work. Even passive income takes a little effort to get started and maintain.
Even the best vacation homes take work. If you prioritize personal enjoyment, it'll always be a labor of love. To ensure you're truly investing in your enjoyment, consider a few of the following items before you buy:
How often do you come to the location? You should invest in an area you already love vacationing in, not one you haven't been to before.
What's in your budget? Taking on a second mortgage requires careful financial planning, especially if you're still paying off your primary residence. Vacation homes should ideally grow your wealth, not drain it.
Will your friends/family use the property? Owning a vacation home can provide a central hub for loved ones living all across the country to meet up. You can't put a price on quality time.
The old real estate rule "location, location, location" is just as crucial for vacation homes as for primary homes. Beyond the financial implications of choosing the right location, you need to consider the less-tangible elements of your investment. If you find a property that fits your financial plan and elevates your lifestyle, then you can immediately relish the quality of life payouts.
You Can Offset Ownership Costs With Passive Income
Another popular reason to buy a vacation rental is for the potential income it can bring in. Unlike other types of investments that can take several years to pay off, vacation homes can start instantly generating passive income if you decide to rent them out.
That said, it's essential to set realistic expectations regarding passive income. Don't expect to get rich after renting out your property for one season. Instead, plan to use passive rental income to supplement ongoing expenses like property taxes, HOA fees, insurance, utility bills, and maintenance fees.
Not all people who operate their vacation home don't profit from it, although they certainly can under the right circumstances. However, profit isn't the only indicator of wise investments. Long-term benefits can provide much more value than short-term profits.
By generating just enough passive income to break even on ownership expenses, you can reduce your financial overhead over the life of the investment and will maximize your "take-home pay" should you decide to sell the property.
You Can Enjoy Faster On-Average Property Appreciation
Buying real estate is a long-term investment. Even with the perks of passive income, owners should anticipate experiencing the most significant wealth growth from property value appreciation.
While property appreciation can be hard to predict, real estate in vacation destinations tends to experience higher appreciation than in other locations. This sentiment is, of course, subject to numerous variables, but it's a helpful consideration when you're in the pre-buying phase.
For example, people interested in owning a beachfront home will be pleased to know that waterfront homes tend to appreciate faster than their inland alternatives. Waterfront real estate is inherently limited, so the demand remains higher in most scenarios.
There's a similar phenomenon among mountain properties, especially those with ski-in, ski-out privileges at a major ski resort.
To make the most out of your investment, you should plan to hold it for several years. If you sell within less than two years, significant capital gains taxes will take a chunk out of your bottom line. If you've done your research and you're confident in the property value projections for where your property is located, then you don't need to jump to sell at the very first opportunity.
You Can Experience a Better Work-Life Balance
In the past, the dream of owning a vacation house represented an unattainable luxury for most people. Even if you had the funds, it was hard to imagine being able to escape work for several weeks every year.
Today, corporate work is changing faster than some people can keep up with. The increased acceptability of work-from-home benefits makes it easier than ever to get year-round use out of a vacation home.
Imagine you live in a colder state with long, dark winters. Wouldn't it be nice to escape to a beachfront condo in the middle of January? Work-from-home employees have the option to do so.
Even better, they can make the trip without interrupting their work schedule. This means they can preserve their PTO and enjoy a change of scenery without jeopardizing their employment.
Now, imagine that same cold-state dweller loves to be in their home state for the summers to enjoy the mild warmth and longer days? Their beachfront condo would then be fully available for rentals, which is the peak booking time for tropical vacations.
By using their investment during off-seasons and renting it out during busy seasons, they're able to maximize personal enjoyment and passive income simultaneously.
You Can Save Money on Amenities & Activities
You have to factor in the year-to-year earnings and savings with any investment. The best place to buy a vacation home is somewhere that you're comfortable vacationing every year.
By establishing in advance that most of your vacations will be at the investment property, you can project how much you'll save by owning instead of renting.
There are a few ways that owning a vacation rental saves you money every time you use it.
If you purchase a resort-style condo, it will most likely include top-tier amenities like a pool, hot tub, and even excursion packages like bike tours or snorkeling for free or at a discounted rate. You'll save money on daily activities by owning an amenity-rich property.
Choosing the best location can also save you money in your daily budget while vacationing. For example, parking and transit fees are an underestimated expense of traveling. If you go on a beach vacation but stay on a short drive away property, you'll need to account for gas expenditures and possibly parking at the beach.
Owning a vacation home can also provide everyday conveniences that reduce expenses. A full kitchen in your vacation home makes it easy to prepare tasty meals instead of eating out three times a day.
One of the biggest bonuses that someone can take advantage of when owning a vacation home is the tax benefits. Each person owning a vacation rental property as an investment will have slightly different tax benefits. This is a question that should be brought up between you and your CPA. But most likely you will be pleasantly surprised with the deductions you're able to take advantage of.
Don't underestimate small savings if you're looking to get the best value out of your vacation home.
You Can Consider The Downsides & Plan Around Them
Of course, as with any investment, there are risks and downsides to owning a vacation property.
The most significant risk is that your property may not appreciate as quickly as you'd like. This can be for many reasons, including a change in the local economy or a decrease in the location's popularity.
You can avoid feeling the ramifications of fluctuating property values by establishing an affordable budget and choosing a location that you're willing to stick with through thick and thin.
Many people who rent out their vacation homes worry about property damage. It's a legitimate concern, especially for people who can't be on-site for emergency maintenance. Fortunately, hiring a vacation rental property management company can ensure the home is safe when you're not there. In most cases, they'll provide regular cleaning and maintenance in exchange for a commission rate charged on all bookings. If you partner with the right rental company, you can quickly recoup the commission cost and enjoy complete peace of mind.
Vacation Homes Offer Financial Returns & Priceless Memories
Are you ready to invest in your relaxation? Vacation homes provide an opportunity for personal enjoyment, passive income, and property appreciation. They also offer a better work-life balance and can save you money on amenities and activities. However, it's essential to consider the downsides of vacation homeownership and make a financial plan to reduce your risk. Where do you love to vacation? It just might be your new home away from home.